Guest house renovation builds commitment to Habitat for Humanity ReStore: Meet Lynn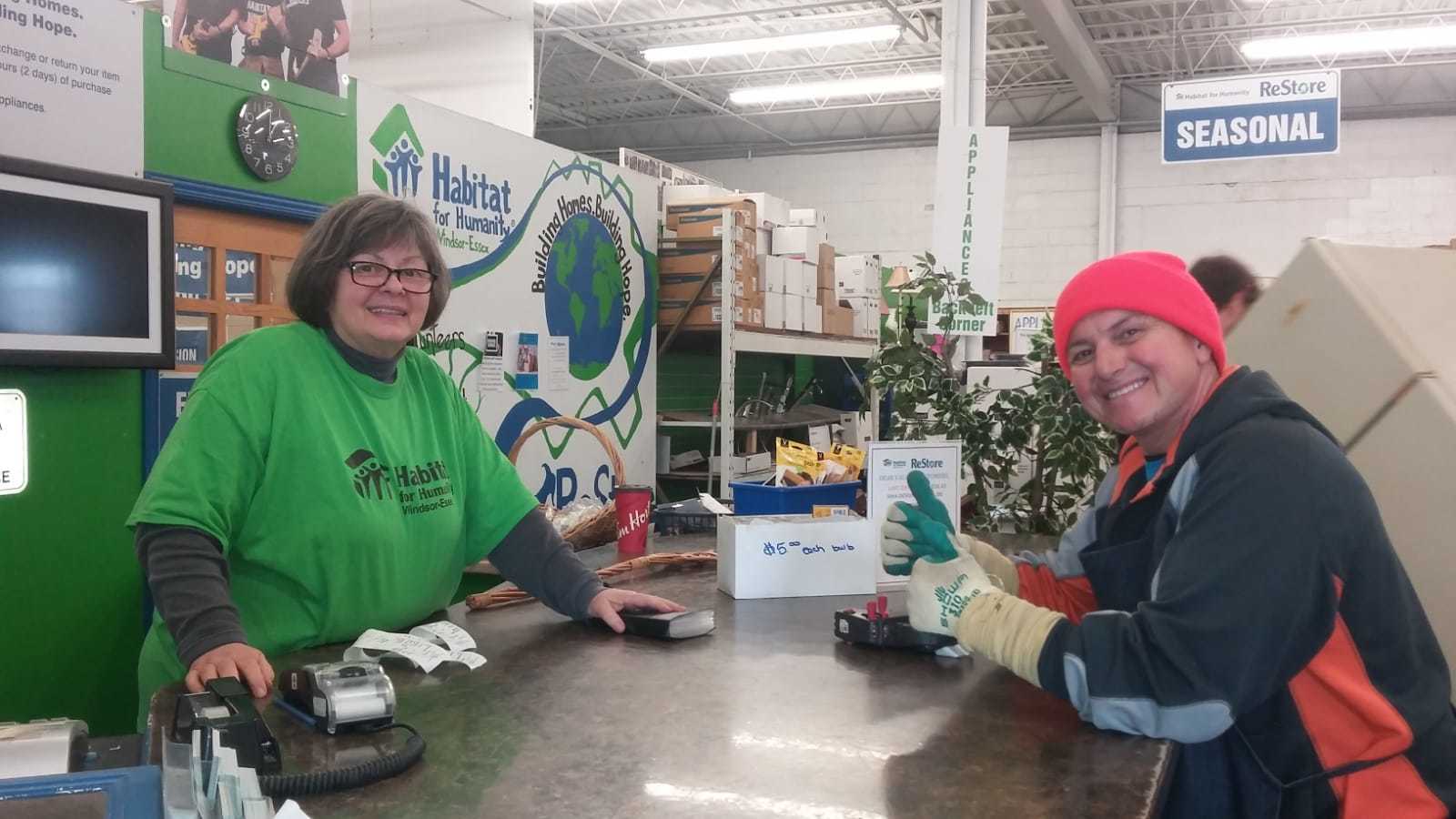 Most Saturdays, you can find volunteer Lynn Chalut (pictured in green shirt) at Habitat for Humanity Windsor-Essex's ReStore. Her volunteer journey began with a renovation project on her guest house.
"I hadn't heard of the ReStore, so when I first walked in, I thought, 'I've hit the gold mine.' About 90 percent of our reno was done with ReStore materials and furniture," Lynn says. "When I travelled for work, I would visit other ReStores and drive stuff home."
Habitat ReStore makes a professional design impression
Her friends were so impressed that they assumed Lynn's guest house was the work of a professional designer using high-end materials.
Smitten by the whole Habitat ReStore concept, Lynn decided to start volunteering at the store six years ago and hasn't looked back. She does whatever is needed: helping on cash, pricing items, answering phones or testing lights.
But Lynn's real passion and talent shines through when she spots an overlooked item that could benefit from some creativity before being put back on sale. "I'm happy taking things like chairs home and refinishing and recovering them. It's a win-win, because Habitat gets the sale proceeds." Lynn says.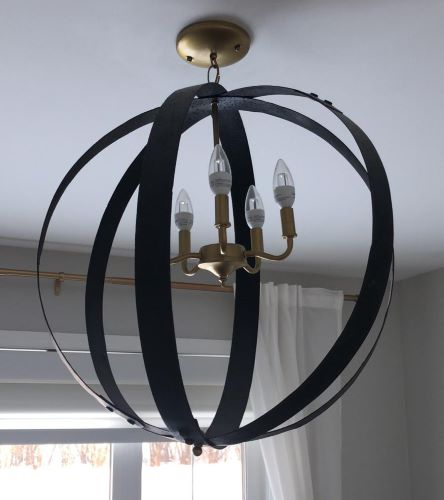 Seeing hidden treasures
The Habitat ReStore's wide range of new and used material and furniture was an ideal outlet for Lynn's creativity and talent. She is also known for being able to visualize an end use for materials that others would overlook. One day, she asked one of her fellow volunteers to drill some holes in a set of metal bands for a wine barrel. Lynn cannibalized some parts from an old lamp and voila! A chandelier was ready for sale.
Lynn is also known for the other creative ways she supports Habitat for Humanity Windsor-Essex. She started a DIY project album for the Habitat ReStore and has taken to posting projects on her local Habitat Facebook page. She has shared her knowledge of repurposing furniture with other Habitat ReStore volunteers and customers and also has started planting and selling her own jade trees through the Habitat ReStore.
"We had some sugar bowls that weren't selling, so I started sprouting the jade petals in them, and now we can sell them for $5 each," Lynn says.
The Habitat Windsor-Essex ReStore sells materials donated from businesses and individuals within the boundaries of Essex County. Donated materials include appliances, kitchens, home furnishings, furniture, building supplies (plumbing, electrical, flooring, etc.), and a variety of other goods.
Lynn likes the community vibe that comes from being at the Habitat ReStore, which extends beyond the support for Habitat Windsor-Essex to an informal community of upcyclers and craft gurus. "So many of our customers are so talented. It's amazing to see what they produce, and some of it gets resold as well," Lynn says.
A new ReStore with more space for workshops
Lynn is also excited about the new Habitat ReStore location in her area, which is expected to open in the spring. At over 22,000 square feet, this new Habitat ReStore will be one of the largest in Canada and will help Habitat for Humanity Windsor-Essex build capacity for major neighbourhood revitalization projects on the horizon. The new location will also feature a bigger space for Lynn and other volunteers to run workshops for the public.
"It's just such a fun place to be and a great way to help my community. I joke with my family that they should never plan anything important for a Saturday because I won't miss my shift at the ReStore," Lynn says.
Happy National Volunteer Week! We've had a great time sharing stories this week of some of the amazing volunteers who generously give their time and expertise. There are so many different ways to get involved with Habitat for Humanity. Here are a few more amazing volunteers, nominated by local Habitat for Humanity organizations across the country for their volunteer efforts. You can also catch up and read about George, who has been volunteering for over 25 years, or John and Karen, a couple who volunteers together and believes no job is too big or too small and Gail, who volunteers on her local Habitat's build site, board of directors and volunteers internationally through Habitat for Humanity Canada's Global Village. Find your local Habitat and start volunteering today!