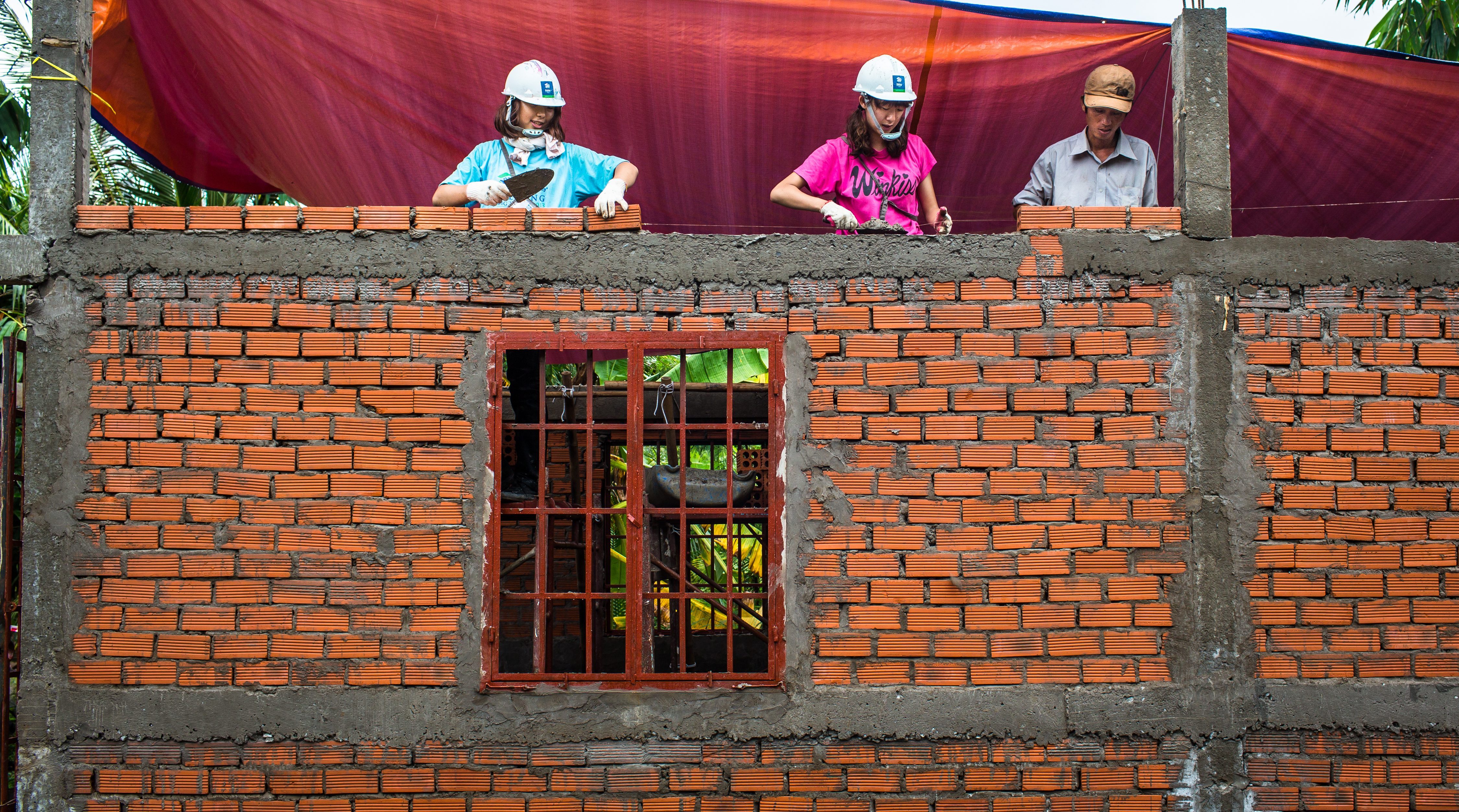 International Projects
We believe in a world where everyone deserves a safe and decent place to live.

Habitat for Humanity is a global leader. As a global organization delivering local impact, Habitat is uniquely positioned to address the housing crisis, globally. Globally, Habitat for Humanity plays a key role in mobilizing and investing funds as well as sending volunteers to Habitat program implementation countries in an effort to partner with communities in need of access to safe housing.
Through Habitat Canada's global engagement work we partner with high-priority countries to implement high-impact and sustainable projects in Africa and the Middle East, Asia Pacific, Latin America, and the Caribbean. This work is designed to empower families and communities to build strength, stability, and self-reliance through housing and community development solutions including:
building and repairing homes
training in wills writing, homeownership, property rights and safe household management
improving access to safe water
education in hygiene and sanitation
preparing for disaster recovery
skills training and financial literacy
Current Projects
Thanks to the support of local Habitats across Canada and Canadian donors, we have partnered with Habitats in Malawi, Guatemala, Honduras and Vietnam for the following Global Neighbours projects in 2022.
Malawi
Empowering Families with People with Disabilities in Salima (multi-year)
This five-year project which wraps up at the end of 2021, is improving the physical living conditions of families with people with Disabilities (PWDs) in Salima District, in the central region of Malawi.
In the first four years, the project has built 102 homes and brought support and care for people with disabilities.
Planned interventions:

Construction of an additional 15 houses complete with Ventilated Improved Pit (VIP) latrines and bathrooms
Inheritance, property rights, and will writing training
Training in care and support for families with people with disabilities
Livelihood training for parents/caretakers of people with disabilities
Malawi
Building Back Better in Chikwawa
Intense and unpredictable rainfalls concentrating in the southern parts of Malawi, including Chikwawa, have created floods and heavy rains, causing significant damage to homes and public buildings. Over the last few years, Habitat for Humanity Malawi has increased its capacity and technical expertise in environmental disaster risk management through various projects and partnerships with other non-governmental organizations and agencies.
This project will focus on reinforcing building practices and materials with disaster resilient construction methods, and build on the disaster response initiatives to help households transition from temporary shelters to permanent homes.
Planned interventions will include:
Construction support, including flood resilient material to 8 families
Training of building more resilient houses for the whole community
Provision of materials better resilient bricks and roofing material
Community preparedness on disaster mitigation
Guatemala
Empowering Families with People with Disabilities in Solola (multi-year)
Objectives: To improve the quality of life of people with disabilities, and improve community inclusion in the
In Guatemala, the majority of families of people with disabilities are living in poverty. Disability further aggravates their economic situation and prevents them from breaking the cycle of poverty. Additionally, society has created physical, structural, organizational, and worst of all attitudinal barriers, that continue to oppress and exclude people with disabilities and their families.
In this context, most families that have members living with disabilities, do not have a decent home, lacking basic amenities like water, electricity, bathroom, kitchen, etc.
Planned interventions:
7 new houses, 8 houses improved (annually)
Care and support for families with disabilities
Access to health care, nutritional programs, and education integration
Capacity building activities and training on livelihood, and advocating for empowerment
Honduras
Building Dispersed Housing in Santa Elena
In the community of Santa Elena, 46% of the population live in poverty conditions. 90% of the housing is built of substandard material like wood, which deteriorates more rapidly resulting in poor structural conditions. The isolation and location of Santa Elena on the island of Roatan means limited access to the rest of Honduras, and much higher costs to repair or build homes. Many of the housing solutions built by families are temporary and in very poor condition because of the inferior construction material.
The construction of new homes for qualified families, including some teachers, would improve their living conditions. Habitat for Humanity Honduras will work with the local Rotary Club, the municipality and other members of the community, to select families with the highest need for adequate housing and can manage the payment requirements.
Planned interventions include:
Construction of 10 homes with cinderblock, a better building material
Promote community learning, training families in healthy housing and in construction processes
Vietnam
WASH (water, sanitation and hygiene) Solutions in Van Lang
Objective: To enhance the quality of life through improved living conditions of vulnerable families, through improved housing, water, sanitation and hygiene (WASH)
Van Lang Commune is home to the H'mong people, one of the poorest of Vietnam's minority groups. The H'mong people dwell in small, damaged, make-shift thatched houses without proper sanitation, ventilation, and little protection from the extreme cold in the winter. Women are especially prone to indoor pollution due to exposure of smoke from cooking with firewood, without proper ventilation.
Planned interventions:
92 houses built and/or renovated
60 low-cost latrines built
Community interventions and training on WASH, household safety and management, and financial security
Three communal houses built and four communal water facilities rehabilitated
WASH Solutions in San Juan, Baja Verapaz – Guatemala
Baja Verapaz is one of Guatemala's 22 departments and is situated in the northern region of the country. The main source of income for Baja Verapaz's inhabitants extend to farming (coffee and sugarcane are some of the main crops), raising cattle and other livestock, and handcraft production. In addition to Spanish, the other languages spoken in the area include the Mayan dialects Achi' and Ki'che.
This project specifically focuses on the village of San Juan, which was once the largest community outside of Salamá, the urban capital of Baja Verapaz. Before its internal conflict and subsequent division into two communities, San Juan was composed of more than 500 families. Currently, there are two villages, of which the new community has self-organized and developed features such as a main paved road, their own sewage treatment plant among other projects. Unfortunately, the remainder of the San Juan community has been abandoned by the local government with regards to development programs
On a national level in Guatemala, only 1% of the municipal wastewater that is produced annually is treated by the local government. Pollution as a result of poor wastewater and sewage treatment infrastructure, such as this, has a direct impact on human health and the environment. As stated per the United Nation's 6th Sustainable Goal, everyone deserves access to water and sanitation, which is crucial in achieving better quality of life. By offering healthier conditions, the vulnerability of obtaining gastrointestinal diseases will be reduced. In partnership Habitat Canada and Habitat Guatemala have worked to provide 56 families in the San Juan with a personal waste management systems well as better access to water. The project focused on the construction and installation of water treatment systems that break down organic waste through naturally produces gasses before it is discharged to an absorbing well, and eventually filtered before being absorbed in the ground.
Building Success for a Healthier Simon-Pele – Haiti
Haiti has the lowest rates of access to improved water and sanitation infrastructure in the western hemisphere. Public schools across the country struggle to provide quality school services to children within a healthy environment, and the schools in Simon-Pele are no exception. Most schools are free to attend and the limited financial support they receive is used for teachers' salaries and some school activities. Due to limited resources, access to quality water and sound sanitation facilities do not exist. For the past three years, Habitat Haiti has implemented a water, sanitation, and hygiene (WASH) program, which provides access to quality hygiene and sanitation facilities and equips children and their families with the knowledge necessary to live healthier lives. Habitat Haiti is committed to continuing to build on its work in Simon-Pele to best serve the community. Access to adequate water and sanitation facilities are key to long lasting development and are considered essential components to basic health services. Sound hygiene practices can prevent infection and the spread of disease within vulnerable populations.
In partnership, Habitat Haiti and Habitat Canada have worked to reduce water-borne and sanitation related diseases through effective provision of safe drinking water and improved sanitation practices for children, their families and the community and to support youth in the community through conflict-resolution and job training. As a result of this partnership, we were able to provide access to safe drinking water, latrines, and handwashing facilities at seven schools. This was accompanied by training on proper hygiene knowledge and practices to over 300 students and 40 teachers throughout the seven schools.