Trading an office for a construction site and loving it: Meet Gail
Happy National Volunteer Week! This week, we're celebrating just a few of the amazing volunteers who generously give their time and expertise on Habitat boards and committees, on build sites, in Habitat ReStores and offices, or on Habitat for Humanity Canada Global Village trips. There are so many different ways to get involved with Habitat for Humanity. Here are a few more amazing volunteers, nominated by local Habitat for Humanity organizations across the country for their volunteer efforts. Find your local Habitat and start volunteering today!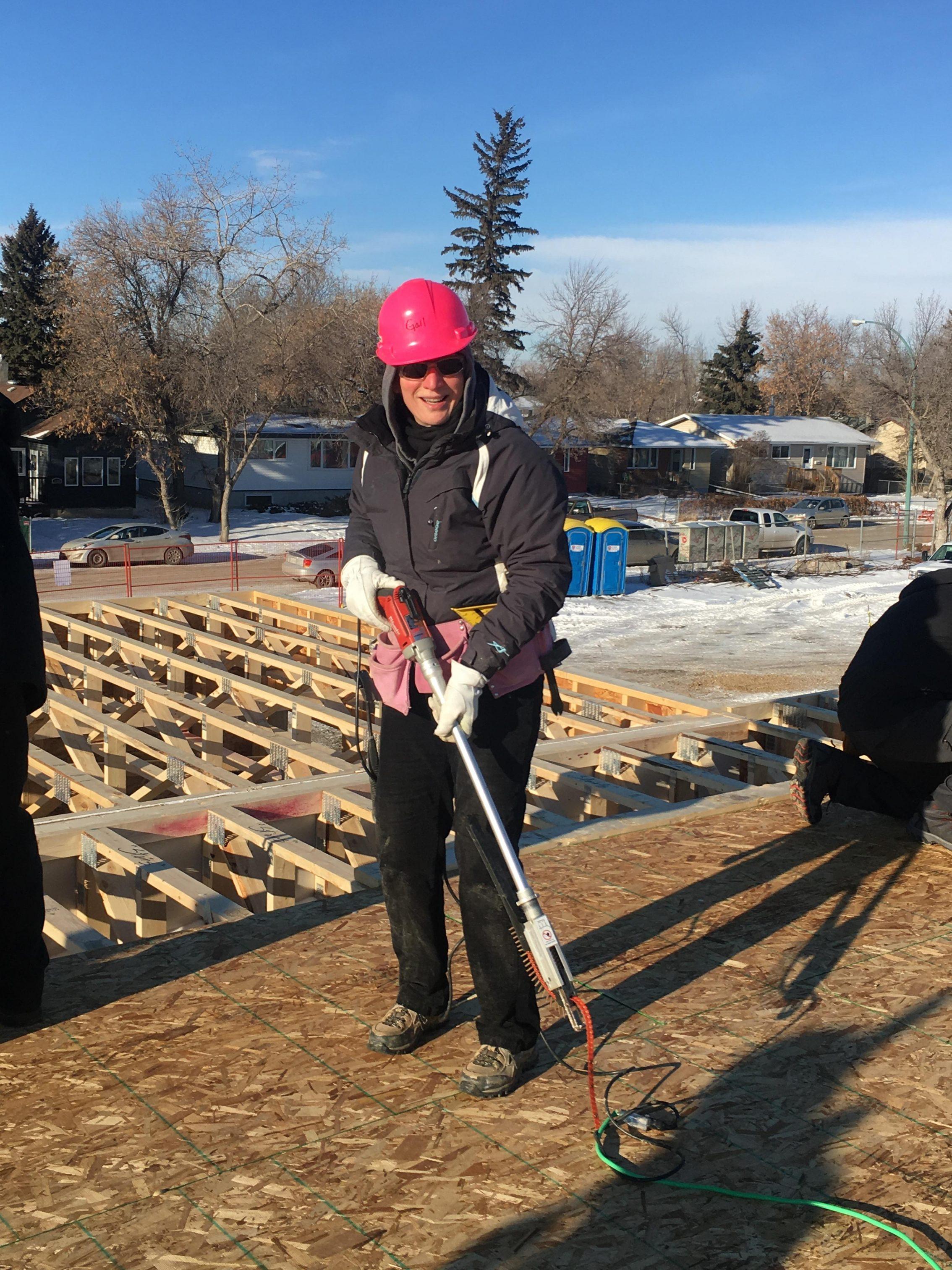 When Gail Lefebvre told her co-workers at SaskTel that she was going to volunteer at a Habitat for Humanity build site, she was greeted with some friendly jibes and asked, "What can you do in construction?" The short answer was "not much," but she went on to say, "they'll show me what to do." Back in 2013, Gail was confident that Habitat for Humanity Regina would harness her can-do spirit and teach her what she needed to know.
Today, she is a regular on Habitat Regina build sites and has also improved her construction skills on 11 Habitat for Humanity Global Village builds across Canada and around the world. She has helped build homes in B.C., Yukon, Nunavut and P.E.I., as well as in Portugal, Macedonia, Fiji, Chile and New Mexico, co-leading eight of these builds with her husband, Allen.
"With the right teachers, you can do whatever the build needs. Everyone at Habitat for Humanity is patient and friendly. I'm comfortable with all kinds of tools and I'm even pretty good at building brick walls," Gail says. "I tell other people who are thinking about volunteering not to be intimidated. All you need is a desire to make a difference."
Habitat Regina is currently building a 62-unit townhome development called Haultain Crossing, in Regina's Eastview community. This development will cost about $12 million to complete, including site preparation and servicing, home construction, three laneways and two community parks. Gail is on site most Thursdays.
"Habitat provides stability for working families. The benefits of homeownership pay off in so many ways, it really does kick off a positive cycle," Gail says.
Gail also appreciates the day-to-day, tangible progress that comes with construction work. "I drive by a house in Regina that I worked on and say to myself, 'I helped do that.' With an office job, you can't always say that." Gail retired from her senior management position at SaskTel in 2017.
Gail is also an active member of Habitat Regina's board of directors, where she spends most of her time working on governance issues when she isn't wearing a hard hat on the build site.
"You work hard on a site, but the people are so great. We always have a lot of fun," Gail says. "It's really good for your soul to help Habitat for Humanity."