Thank you volunteers!
It's National Volunteer Week, and we want to thank all the amazing volunteers who have picked up a hammer, sorted donations in Habitat ReStores, helped out in the office, on a committee or on a board, or joined a Global Village project building around the world! Every single volunteer helps support our mission building decent and affordable homes for people in need of housing. We're so thankful for their efforts, and for believing in what we do. Below are just a few of the volunteers nominated by local Habitat for Humanity organizations from across Canada to be recognized for all their amazing work. Throughout the week, we'll be sharing even more stories of some amazing volunteers who have given their time, effort and talents to help us serve more families. Happy National Volunteer Week!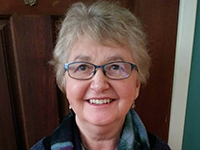 Ruth Ford
Ruth has been a valued volunteer on our Family Service Committee since 2003, and was the chair of the committee for three years. She has an in depth and valued source of knowledge on the process of selecting families. Ruth shows her passion and belief in affordable homeownership through her thorough, and caring, analysis of each family selection, sincerely wanting each one to succeed. Ruth has a true heart for helping families in our community and is a great advocate for Habitat for Humanity Camrose.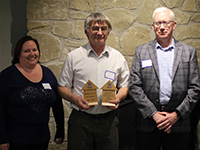 Kim MacRae
Kim has been volunteering with Habitat Fredericton since January 2017. As a licensed electrician, he has offered his services to assist with wiring in our office and Habitat ReStore location, and in several Habitat homes. As business manager of IBEW Local 2166, Kim has recruited members to volunteer and together they have very generously provided all of the electrical install for our two most recent local home builds along with other work at our Habitat ReStore! It is support such as this that allows us to build homes and hope for families who otherwise would not have a home of their own.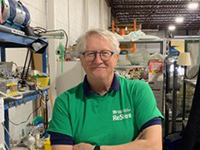 Barry Gray
Barry first volunteered with Habitat Greater Ottawa in 2016 during our build in Carleton Place. Over the years, he has contributed countless hours taking beautiful photographs at our build sites and community events and has become an integral and treasured member of our Habitat ReStore Stittsville team. His positive attitude and calm demeanor have made Barry popular among volunteers and staff, and overall, our team is richer for having the opportunity to work with Barry. We would like to say a heartfelt thank you to Barry for all of his support!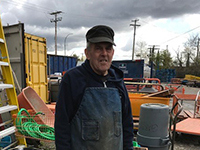 Carl Eden
Carl is a dedicated, supportive and kind Habitat Greater Vancouver volunteer who has contributed over 6,000 hours. He continues to volunteer for three, sometimes four, shifts per week usually in a Habitat ReStore but also on several build sites over his years of service. He even takes it upon himself to fix tools for resale in the Habitat ReStore, picking up and searching for parts on his own time. Carl is described by his fellow volunteers and staff as a staple to Habitat for Humanity Greater Vancouver and we are eternally grateful for his commitment to our organization.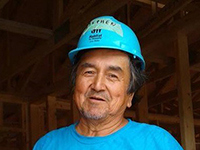 Stephen Pedoniquott
Stephen began volunteering alongside his daughter Stephanie, one of four homeowner families, on the Neyaashiinigmiing Build this year. Naturally, Stephen was ready to contribute volunteer hours for his daughter's house, however, 640 personal hours later Stephen's contribution to the build became immeasurable. He didn't just work on the houses, routinely driving other volunteers to and from the build site, brewing the morning coffee and completing every task asked of him. Stephen was very committed to the success of our 2018 Neyaashiinigmiing Build and the families and Habitat Grey Bruce staff are very grateful.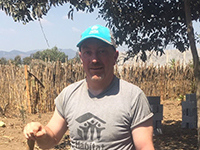 Simon Gould
Simon began volunteering with Habitat Greater Toronto Area in 2016 after previously volunteering with Habitat Greater Vancouver. Simon has become a key member of the construction team completing over 3,500 volunteer hours. He has volunteered on 10 Global Village builds including Fiji and, most recently, Guatemala. Simon's background is in infrastructure project management and he has been able to use these skills and his extensive construction knowledge on our Build Sites. We are grateful for Simon's work ethic, dedication, and clear focus and are thankful to have him as a volunteer with our build team at Habitat GTA.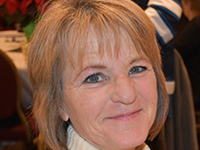 Cathie Campbell
Cathie is an extraordinary member of our volunteer team contributing to several different areas within our affiliate including Family Services, Special Committees and the Volunteer Department. Cathie is our most experienced Volunteer Assistant Coordinator working alongside us to on-board all new volunteers and brings a wealth of knowledge and experience. Through nurturing and developing her teammates, Cathie stands out as a leader within the team. Cathie has contributed over 1000 hours in just over two years with us and has recently taken on a position with our 20th Anniversary Committee! We are the luckiest Habitat on Earth to have her!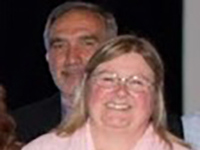 John and Karen Celeste
John and Karen Celeste embody the term "going above and beyond". This husband and wife team volunteer in nearly every aspect of Habitat Hamilton's operations; at build sites, in the Habitat ReStore, at events, in the warehouse, in the office, and helping to lead other volunteers. Since 2010, John and Karen have volunteered more than a combined 1,900 hours, going so far as to donate some of their hours to future Homeowners. Habitat Hamilton wants to recognize John and Karen for their outstanding commitment to tackling the affordable housing crisis in Hamilton, and to thank the duo for their ongoing contribution.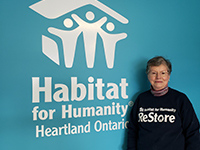 Belle-Anne Luce
Belle-Anne has been with our affiliate for 13 years. She is dependable, efficient, and the kind of person who goes out of her way to help others. She is a great ambassador for Habitat and represents us well at the front of our Habitat ReStore. Quick to answer calls, or assist customers with their purchases, she is always on the go! When she is not busy at the front of the habitat ReStore, you will find her cleaning or putting away products. Our Habitat ReStore is very lucky to have her as a member of our team.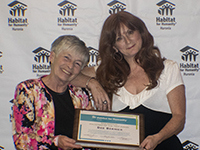 Dee Bernier
Dee has volunteered in the Barrie and Alliston Habitat ReStores for the past five years. She also volunteers at events where she often oversees other volunteers; in addition to running small events on her own, and is a vital member of the Health and Safety Committee! Dee takes the responsibility of coordinating volunteer orientations for both of our Habitat ReStores, having new volunteers job shadow her on their first shift. Dee is dependable, an amazing ambassador for our mission and values, carries expertise in HR, Safety, policies, and interacts with all members of our team with confidence and ease.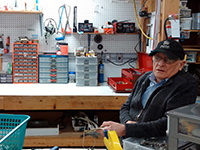 Bill Don
Bill joined Habitat Huron County's board of directors in 2014 and has held the positions of treasurer, vice chair, chair and past-chair. He has led a buy-back renovation and re-sale and he has contributed many volunteer hours on two new construction projects and countless hours in the Habitat ReStore. Bill has also provided support to several committees and attended every community and fundraising event. We are grateful to call Bill part of our Habitat team – thank you for all you do!
Alan Carrick

Habitat Kingston Limestone Region
Alan has been a volunteer with Habitat Kingston Limestone Region for more than eight years, helping on build sites and in the Habitat ReStore. He penned many of the safety policies in use and models those safety ideals every day. When the build season comes to an end, Al moves in to the ReStore to supervise the donations receiving and processing area keeping everyone working there on task. Al helps everyone around him take pride in the work of Habitat and all of us at Habitat Kingston Limestone Region appreciate Al's hard work and his contributions to our mission.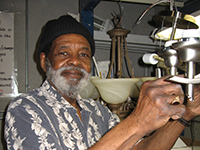 Reginald Hodge
Reg volunteers weekly in the Habitat ReStore making sure all of the electrical components of donated goods are in working condition and ready to sell. Reg is very popular with the staff and is often sought out by customers for advice. When asked why he keeps coming back to volunteer, he said, "I enjoy working with the staff and I like helping customers. This place keeps me sharp!" Reg is the Habitat Restore's longest standing volunteer, as he is now in his 25th year!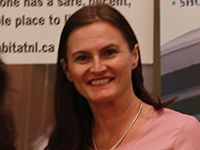 Michelle Blundon
Habitat Newfoundland and Labrador
Michelle has been a member of the Family Selection Committee since 2016. She brings a wealth of experience and knowledge to her role as a family interviewer, taking the time to get to know the families and explain the homeownership process to them. Taker her role very seriously, Michelle advocates for families to ensure that partnering with Habitat for Humanity will set them up for a successful future. We are lucky to have an individual with such passion and spirit supporting our families.
Myra Leffler

Habitat Niagara
Myra is tireless in her willingness to do whatever it takes to make a difference for Habitat Niagara. Not only does she volunteer in the Grimsby ReStore location, but she also drives to our build sites to act as a site host (anywhere in Niagara, despite the fact that she lives in Grimsby). Whether on builds, at events and in the ReStore, Myra willingly offers to help out does it with a big smile. Some of the Grimsby ReStore staff even call her Mom! For all you do Myra, thank you – you truly embody the spirit of Habitat for Humanity!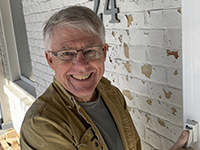 Paul Laing
For over ten years Paul has been a regular volunteer on our build site, most weeks he is out for two full days and quite often he comes out more. Paul is continually looking for innovative ways to improve operations and empower others, providing the tools, authority and trust necessary for volunteers, board members and staff to do their jobs and fully employ their individual talents. Paul actively promotes the Habitat Northumberland vision, encourages awareness of, and educates the community around, low income housing issues. Prior to volunteering with Habitat Northumberland Paul volunteered with Habitat Windsor-Essex.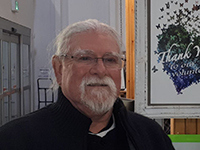 Chris Field
Chris comes in to the Habitat ReStore four days a week for about six hours pricing all the smalls. He not only helps market the products, he tries to make sure we get a good profit for everything. He has added to our efficiency by implementing a number of changes to how we put out product. Chris is a pleasure to work with and we are glad to have him on our team. To date, he has completed 1762 volunteer hours.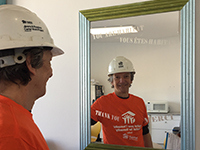 Danny Ferguson
After seeing a television program on Habitat for Humanity, Danny knew that this was exactly the kind of volunteer experience he was looking for – bringing together his interest in construction and his desire to work on a team. After a long career in the printing industry, he began volunteering with Habitat Quebec on a build in Montreal. He has since completed over 530 volunteer hours and is now a construction supervisor. Danny is a great asset to the volunteer team – friendly, reliable and courteous – and we are looking forward to having him on the Habitat Quebec Women Build in June 2019.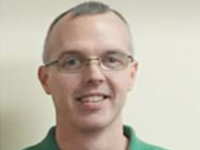 James Wright
James has served on our board of directors since April 2015. He was instrumental in leading the organization through a period of significant change in 2017, including an ED/CEO transition and recruitment process. In addition to his board duties, James wears many hats while serving the Habitat mission: volunteering on build sites, attending Habitat events, supporting ReStore initiatives and regularly donating to the cause. He has been a tireless advocate for Habitat in the Red Deer community as we continue to increase the number of families served through affordable housing. Thank you, James, for your inspired leadership over the past four years!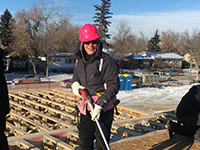 Gail Lefebvre
Gail Lefebvre is one of our dedicated volunteers at Habitat Regina. She has volunteered at the build site, in the Habitat ReStore and is now a member of the Board of Directors. She has also participated in 11 Global Village Builds since 2014, co-leading eight of these builds with her husband, Allen. Gail most enjoys working alongside homeowner families, getting to know them and hearing their stories. Prior to volunteering with Habitat Regina, Gail had no construction experience however she is now a seasoned volunteer, comfortable using many of the tools and tackling all projects related to building.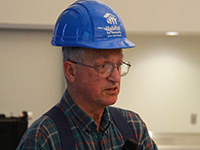 David Beaudin
David has served faithfully in many capacities including board member, board chair, Family Selection Chair, and is a weekly volunteer at our Habitat ReStore. David embodies the true meaning of the word volunteer, giving generously of his time to help us serve more families. I continue to rely on his guidance and input. David has stepped down as Family Selection Committee Chair after many years at its helm. This has been a significant contribution as this committee has served both as selection and support.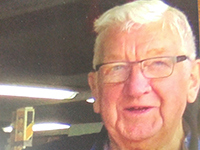 John Ridder
Habitat Wellington Dufferin Guelph
John has been a volunteer with us since January 2016. He has volunteered more than 1000 hours to date working primarily in our repair and testing studio. John demonstrates a wealth of knowledge repairing anything from furniture to grandfather clocks. When asked, what brought him to Habitat to volunteer, John very humbly stated: "I have had a very good life. I am neither rich nor poor and am fortunate to still have my health. I feel blessed, and for that, I want to give back." We are humbled and thankful to have the privilege of working with him.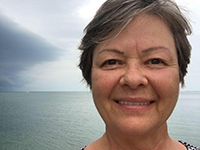 Lynn Chalut
Lynn is a mother, wife, grandmother, works full-time, and volunteers every Saturday at the Habitat ReStore. Lynn started the DIY project album for Habitat Windsor-Essex and has now taken on posting them on our Facebook page, as well as posting ReStore items on Facebook Marketplace to help increase sales. She has shared her knowledge of repurposing furniture and has also started planting and selling her own Jade trees, donating the funds she raises to Habitat. Lynn is a woman who thinks outside the box and is a true team player, always willing to lend a hand.
Earl MacDonald

Habitat Brant-Norfolk
Earl has volunteered with Habitat for Humanity Brant-Norfolk since 2015 and has contributed over 1000 hours to help us better serve our community. While in our Brantford ReStore he helps out wherever he can; in the warehouse, on the truck, in testing and repairs, and on the health and safety committee. Earl is hard working, kind, thoughtful, and serves as a mentor to many volunteers and staff. This past year, Earl's years of professional experience in health and safety, have been instrumental in ensuring a safe, healthy and happy experience for all of our shoppers, builders, volunteers and staff.