Homeownership
Oct. 18, 2017
Jason and Ann help build their 'forever home' with Habitat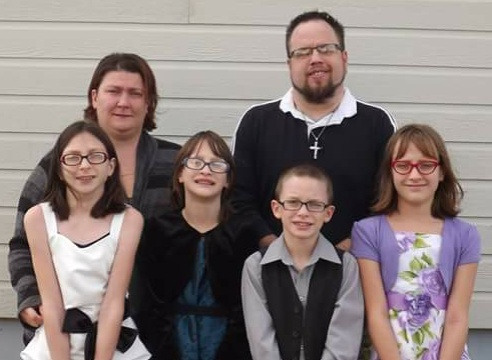 They haven't started wiring the house, or even finished framing the walls, but Jason says their new Habitat house feels more like home than anywhere his family's lived before.
"This will be the first place that's permanent," he says, and that sense of stability is what he and his wife, Ann, are looking forward to most.
"With this place, we won't have to worry about whether we're going to have to move because rent is going up, the landlord is selling the place, or there's a leak that can't be fixed — it's our forever home," she says.
Before partnering with Habitat for Humanity Nova Scotia, Jason and Ann moved their four young children from one subsidized housing unit to another in attempt to find a decent and affordable place to live.
Moving from one leaky house to the next
When Ann was pregnant with their oldest daughter, Jocelynn, the couple moved into a three-bedroom rental, where they planned to stay for a while. But just 15 months later, Ann gave birth to their triplets — Angelina, Dallas and Chelsea. To add to the financial pressure, their landlord raised their rent by hundreds of dollars per month. With Ann off work to take care of their four young children, the couple knew they wouldn't be able to keep up with their bills, so they decided to apply for social housing.
After being approved, the regional housing authority moved them to a seemingly "okay place" in another part of Sydney, Cape Breton. That is, until the couple started to notice water in their unit during heavy rains. Eventually, the leaks started happening every time it rained, and after a particularly bad January storm, their entire place was filled with more than two inches of water. Not long after, they were given the opportunity to move into their current place—another subsidized home in Sydney, where they still have to keep an eye out for leaks whenever it rains.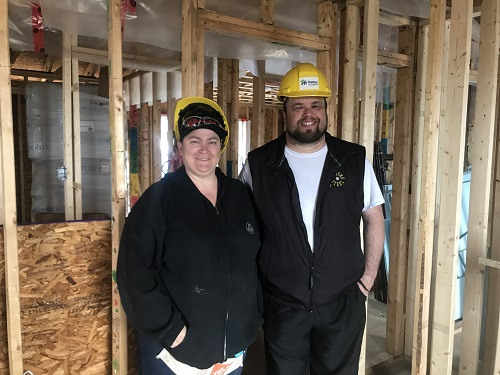 When they compare it to their last place, Jason and Ann say the water that comes through the fan in their bathroom ceiling "isn't so bad," even though there's mold growing around it and behind the tub (which may be associated with their son Dallas' allergies) and Jason still wakes up in the middle of the night to check the walls for water every time there's rain in the forecast. They will, however, admit that they could use a lot more space.
Because the room off their kitchen can barely fit a bed and a dresser, they've converted it into a pantry for extra storage and put their three girls in the master bedroom. In an effort to give the girls their own space, Ann divided the room into three. It started pretty simply at first — each of them could decorate the wall closest to their bed. But as soon as one of them wanted to hang something from above, Ann was forced to draw a "peace sign" on the ceiling to divide it between them. Putting three pre-teen girls in one room isn't a great long-term solution, which is one reason Jason and Ann decided to attend the information session that Habitat Nova Scotia hosted at their local legion.
While there, the couple learned more about what a partnership with Habitat would entail: paying an affordable, interest-free mortgage toward the fair-market value of the house, taking classes in home maintenance and financial budgeting to make sure they had the tools to maintain their home moving forward, and contributing 500 volunteer hours toward the organization. With "nothing to lose" Jason says they decided to apply, and much to their surprise, they were accepted just a few months later.
Gaining home renovation skills – and confidence in themselves
Because the couple's partnership with Habitat Nova Scotia was announced shortly before winter, they didn't "break ground" on the house until spring, and the pair managed to accumulate all 500 hours before the foundation was laid. Still, that hasn't stopped them from helping with their new home – whether they're together or apart, Jason and Ann are at the build site every chance they get.
"It's just an awesome experience to be able to see the house progress day-by-day and know you contributed to it," Jason says. So far, the couple has logged an additional 500 volunteer hours on the build site. They've also gained a ton of home renovation skills, and even more confidence in themselves.
"I've used power tools that I would have never dreamed of touching before, and I've learned how to use them properly," Ann says, still sounding a little surprised by the notion. Jason's also reveling in the opportunity to swing a hammer – something he never had the chance to do before partnering with Habitat.
Building alongside their Habitat family
Spending so much time at the build site has also given the couple the chance to meet and work alongside volunteers from the community, who were near strangers when they helped the couple raise the first beam of their house, but are now more like an "extended family," according to Jason. Witnessing the community come together to help build their house, and a better life for their family, is unlike anything they've experienced before.
"It's a bit hard to describe — it gives me butterflies when I think about it," Ann says with a bit of a laugh.
It's a feeling she and Jason hope to never forget, which is why they've been asking each of the volunteers to sign or leave a note on one of the house's wooden studs. Even though they'll soon be closed-in with drywall, the couple has been documenting each step of the build with photos. If they do ever need to remove part of a wall to renovate or repair the house, the volunteers' messages will be a welcome reminder of the experience. For now, they're happy simply knowing they've captured the names of everyone who's helped.
"It feels like so much more than just a house," says Jason. "It may not be complete, but you can really feel the love in the home already."