Why does Charles volunteer? It's his time to give back to society.
For the past five years, Charles Fonseca has donned his hard hat and work boots and spent nearly every Saturday working on a Habitat for Humanity build site in Halifax. "It doesn't matter if it rains, snows or sleets. I'll be there at 8 a.m." he says.
While Charles is now a crew leader, where he's in charge of training and overseeing a group of volunteers, when he first started volunteering with Habitat for Humanity Nova Scotia he had little experience in home building. "My skills were limited to hanging pictures on the walls," Charles laughs.
How volunteering through work became a personal passion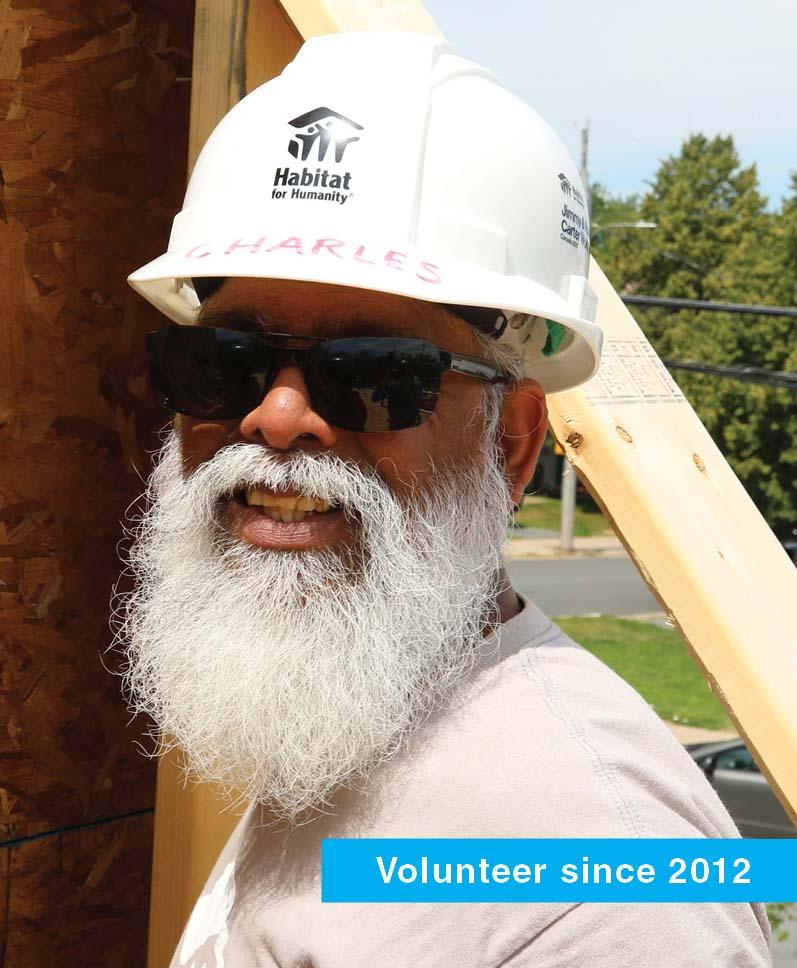 He started volunteering because his workplace started building with Habitat for Humanity Nova Scotia as a way to engage its employees. These yearly, one-off shifts with his workplace started in 2011. But after a couple of years, Charles was hooked. He started going every Saturday and helped out on the build sites in whatever way he was needed, whether that was building walls or decks, laying sod or painting new drywall.

Charles now enjoys teaching new volunteers, many whom have no previous experience in construction – in other words, who are just like him when he first joined Habitat.

"We get volunteers from all walks of life," he says. "Retired people and students, doctors and scientists, and regular folks who work in offices. The most important thing is safety on site."
Giving back to the community
One of the reasons Habitat for Humanity appeals to Charles is because it gives him the opportunity to give back to the community that helped and supported his family when he first moved to Canada.
He was born in India and then moved to Kuwait in his early 20s. He worked as a project manager coordinating the construction of a 152-kilometer-long canal in Iraq and then later as an immigrant consultant at a law firm. In 1990, Charles and his wife helped evacuate 80 people from a warzone in Kuwait and relocated them in India. After two decades in Kuwait, Charles moved to Halifax with his wife and two daughters in 1998.
"As immigrants, Canadians opened their arms and homes to us. They made us feel accepted," says Charles. "That had a great impact on us."
Along with volunteering with Habitat Nova Scotia, he has also volunteered at the local food bank, and as an ESL teacher for the past nine years. "This is my time to give back to society," says Charles, who is 61 years old. A love for volunteering also runs in the family. Charles proudly says that his 12-year-old granddaughter is excited to volunteer with Habitat when she's older.
With Habitat for Humanity, Charles takes pride in knowing that he's doing his small part in helping someone in his community achieve their goals of affordable homeownership.
"Everybody needs a safe, comfortable home and Habitat for Humanity gives you that opportunity. It helps people rise up," says Charles. "And at the end, it's really satisfying to see the smile and tears of joy when the keys to their home are handed over to them."