Volunteering at home and abroad: Peggy's story
Peggy started volunteering with Habitat for Humanity in 2005 after she retired as managing director at TD Securities. She spent the next few years working on multiple build sites throughout Calgary and learning more about Habitat's diverse initiatives and programs, including Habitat for Humanity Canada Global Village.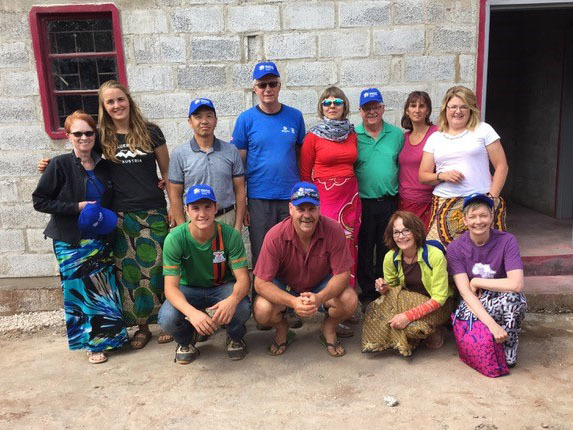 First time on a Habitat build site
Even though it was 13 years ago, Peggy Bell vividly remembers her first day volunteering with Habitat for Humanity Southern Alberta. She worked on a build site in the eastern part of Calgary in a neighbourhood called Dover. "I was very nervous because I had no construction skills," says Peggy. "I knew one end of the hammer from the other, but that's about all."

When she arrived on the site that day though, her nerves instantly calmed. The crew leaders were welcoming and patient as they taught her everything from the basics to how to use power tools. "One of my earliest experiences was using a jackhammer on some concrete and I think the jackhammer weighed more than I did!" says Peggy.

"At the end of the day you go home feeling like you actually accomplished something."
Helping locally and globally
In 2010, Peggy discovered another way to get involved with Habitat that would take her across the world. That's when she learned about the Habitat Global Village program, an international volunteer program that sends Canadians around the world to build homes. In 2010, it was a trip to Zambia that resonated with her the most.
Peggy (pictured with her Habitat Global Village team, front row, second from the right) has deep connections to Zambia. She lived there until she was 16 years old with her parents and seven siblings when the country, then called Northern Rhodesia, was a British colony. Her Canadian parents moved there during the copper mine rush and stayed for 20 years. After Zambia gained independence from Britain in 1964, Peggy and her family returned to Canada.
She had fond memories of growing up in the beautiful country, but had not been back since leaving as a teenager. She decided to join the Habitat Global Village team to explore the country in a new light, all while volunteering for a cause she was deeply passionate about.
Building homes in Zambia
Along with two of her sisters and two friends, Peggy and the Habitat Global Village team traveled to Zambia in 2010. Over three weeks, they completed two houses. "It was wonderful living in the community with the families and playing with the kids after the work days," says Peggy. "The best part was being able to go with a different point of view and work alongside people in the communities and learn a bit about their culture."
Since then, Peggy has organized several more trips to Zambia's capital city Lusaka through Habitat for Humanity Canada's Global Village and working with the local Habitat in Zambia. This summer Peggy will lead her eighth trip to Zambia. Her sisters have joined her for every trip since 2010, making it a family affair.
As the volunteer team lead, she's in charge of selecting the team, budgeting and sorting out of visas. In addition to her sisters, she has a core group of volunteers who have also been with her since her first trip. Several members of her team are usually Habitat Southern Alberta volunteers who want to give back locally and globally. "I couldn't do it without them," says Peggy. On top of planning these yearly trips, Peggy still makes time to volunteer every Friday on build sites in Calgary.
"I believe volunteering is the only way you can truly get to know a country," says Peggy. "You really come away with a very different perspective. You learn so much doing these builds and working alongside the people who live there. It's a very rewarding experience."