Studying, building and designing efficient homes: Peter's volunteer story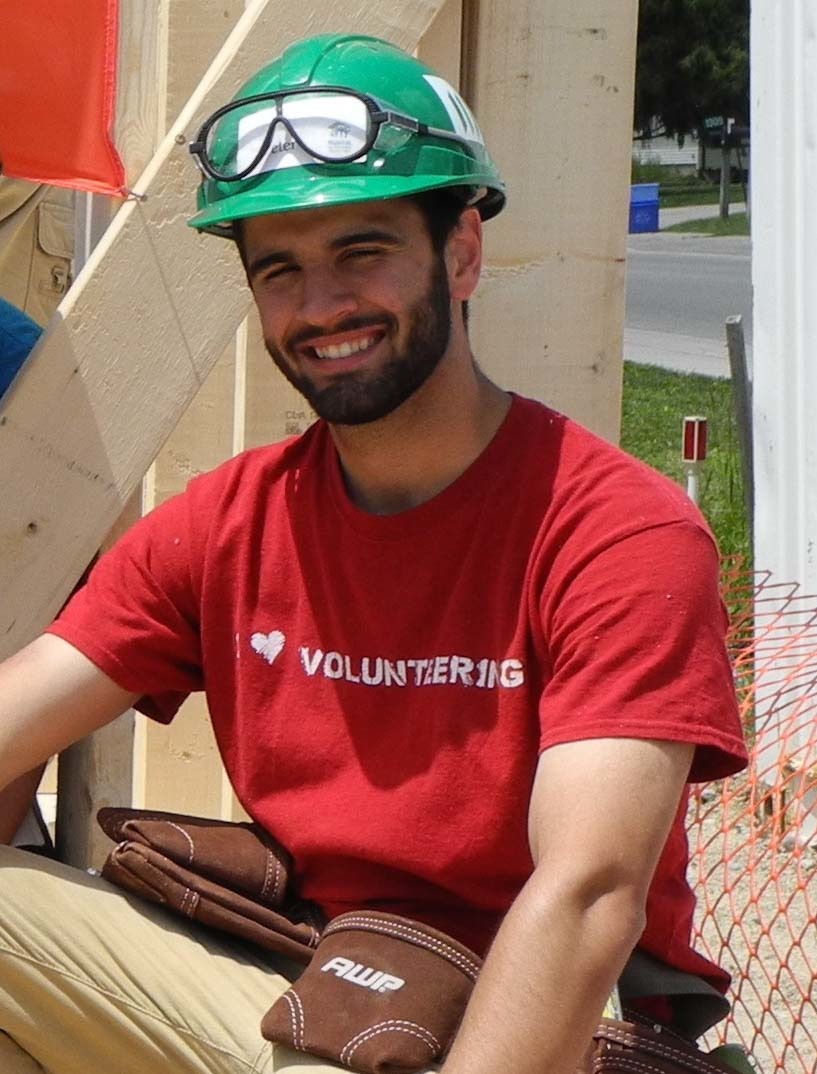 Peter Oliveira is not your average university student. While most students struggle to keep up with their readings, assignments and exams, Peter has done all that AND made the time to start his school's first-ever Habitat for Humanity campus chapter. While studying civil engineering at the University of Waterloo, he also co-founded Warrior Home, a student-led project focused on designing energy-efficient Habitat homes.
Peter Oliveira first started volunteering with Habitat for Humanity while working as a co-op student in Houston during the summer of 2016. "I showed up on the site one day and I fell in love with it," Peter says.
Volunteering in-between classes and on weekends

When he returned to Waterloo that fall, Peter started volunteering with his local Habitat, Habitat for Humanity Waterloo Region, in-between classes. One day, a classmate spotted Peter on his way home from a build site wearing ripped jeans and covered in drywall dust. "She asked me where I was coming from and when I told her, she said she wanted to start volunteering too," says Peter.

That's when Peter and his classmate, Quynh Chau, began thinking about somehow incorporating Habitat for Humanity into their final capstone engineering project. "We started talking about how it would be really cool if we could design an energy efficient house for Habitat," says Peter. They brought the idea to a professor and after they got the go ahead, they brought two more students on board, Ola Suchon and Matt Roberts.
In May 2017, Peter, Quynh, Ola and Matt founded the University of Waterloo's first campus chapter, which mainly focuses on community outreach, fundraising and organizing events. Within a few months, around 100 students and faculty members had already signed up.
Warrior Home: designing energy-efficient Habitat homes
Meanwhile, Peter's capstone assignment transformed into Warrior Home, which has over 50 student members focused on various aspects of the house design including architecture, interior design and renewable energy. Peter and the team have designed the home to be as energy-efficient as possible while also still being practical. Since many families live in their Habitat homes for long periods of time, the house is also designed to be easily adaptable, whether that means being able to add an additional bathroom or renovating the basement. For Peter and the team, the dream would be for Habitat to include some of their design ideas in future homes in the Waterloo region.
Students involved in Warrior Home also visit Habitat Waterloo Region's build sites, which gives them the opportunity to get some hands-on experience and connect with the community. "Since one of the biggest things I love about Habitat is actually building with the homeowners, I'm trying to share that with more students," says Peter.
And Peter adds, volunteering is a really great way for students to take a breather when schoolwork can feel overwhelming.

"When students are struggling, sometimes being a part of a club is a really great stress reliever," says Peter.
When Peter graduates this spring, he plans to road trip out to the east coast for a well-deserved vacation. He plans to volunteer at different local Habitats as he travels through new towns and cities. "My ideal traveling style is road trips, hiking and volunteering in the local communities and meeting some great people."