Team Building
Nov. 26, 2018
How corporate Canada gives back with Habitat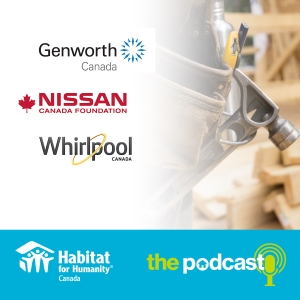 In this week's podcast episode we hear from three long-time corporate supporters about why they're so connected to Habitat's mission, and how engaging their employees in their corporate social responsibility efforts are not only reflective of their organizational values, but are integrated into their operations. Go to habitat.ca/thepodcast or listen on iTunes!
Whirlpool Canada not only provides their employees with opportunities to volunteer on Habitat build sites, the company also donates a fridge and stove for every new Habitat home in Canada.
Genworth Canada is the country's largest private residential mortgage insurer. In addition to creating an employee engagement program, Genworth is the founding sponsor of Habitat Canada's Meaning of Home youth writing contest. More than 7,000 grade school students submitted essays to the 2018 competition and raised $170,000 to help build homes across the country.
Nissan Canada has been a Habitat Canada sponsor and supporter for 10 years. The company's President and CEO Joni Paiva says the Habitat mission is a perfect fit for Nissan.
"We're very fortunate to work and do business in Canada, so we must give back to the community," said Paiva. When it comes to having employees volunteer with Habitat, Paiva says that employees come away feeling like they are doing something bigger than themselves, and something that they couldn't do alone, reinforcing the fact that employee volunteering is a great way to build better teams.