Homeownership
Oct. 18, 2017
Natalie and Ivan's kids can be 'kids' in their new Habitat home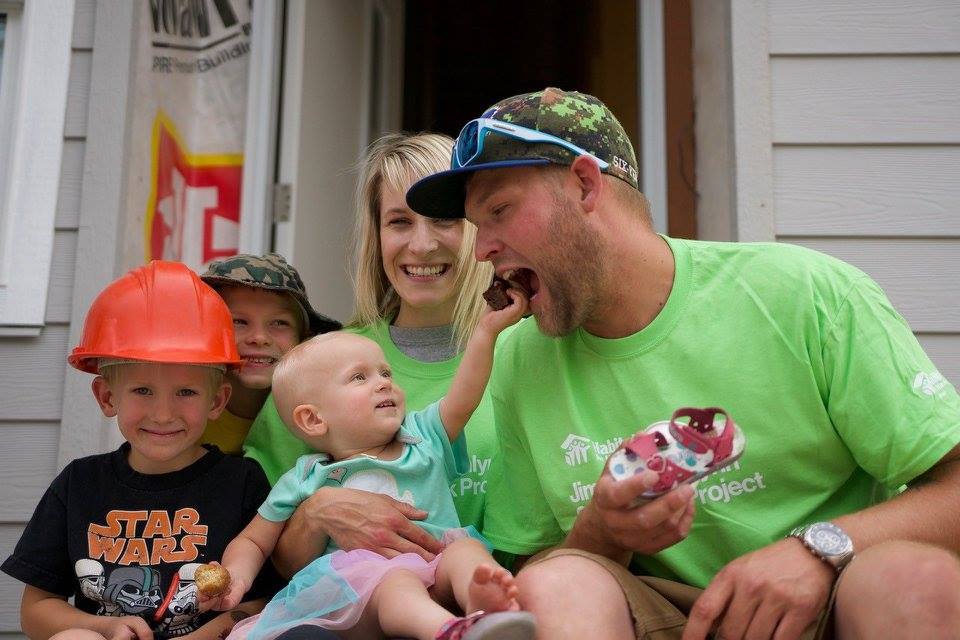 A mouse-infested apartment
"Kids should be able to leave the Cheerios out on the counter," says Natalie. "That's just what kids do." Natalie's desire for her boys to have a space where they can just "be kids" comes up a lot when she talks about her family's living situation. In this case, she's referring to the mice they lived with for three-and-a-half years. Because when you're living with mice, Cheerios left out on the counter are more than just a little mess.
She and her husband Ivan did their best to keep the rodents at bay, setting out traps, putting poison in crawl spaces, and even moving pantry staples, like sugar, flour, and cereal into sealed plastic containers. Even so, they often found mouse droppings on their countertops, in their cupboards and, sometimes, in unexpected places like old boxes of Christmas cards. Some days, it felt like a never-ending battle.
"I would clean and sterilize the kitchen counters, and the next morning the mouse poop would be back," she says. "It was gross — and frustrating."
Things got even more frustrating, and nerve-wracking, when they were trying to fall asleep and they'd hear the mice scratching in the walls of their small basement suite.

With three young children, Natalie and Ivan worried for their kids' health, especially for their daughter Maddy-Kay, who was just a year old at the time and still crawling around the floor, trying to put whatever she could into her mouth. Their boys — seven-year-old William and four-year-old Dominik — certainly weren't oblivious to the mice, especially not after finding one dead on top of their toy cars.
Free from pests but overcrowded

It wasn't until a few months ago, when they found another place to rent in the upper level of a house, that their landlords considered getting an exterminator, and even then Natalie was skeptical that they'd follow through. In their current place, they're free from pests, but it's certainly not a long-term solution for the family. The five of them share just two bedrooms — the boys have a bunk bed in one and Maddy-Kay sleeps with Natalie and Ivan in the other. The TV is in Natalie and Ivan's room, because there's no living room, so that's where the kids hang out if they're watching a movie. When asked where they play otherwise, Natalie hesitates.
"Hmmm, well, there's the kitchen and dining room," she says, adding that the small circle dining table they have may be too small for them all to eat at, but it does provide the kids with a bit more room to play on the floor nearby.
But space isn't the only thing that hinders their play – they're now living above their landlords, who often tell Natalie that the boys are noisy. She admits that she has a tough time telling them to be quiet all the time, "because they're kids." And with just a small front yard and another strip of a grass along the side house, neither of which are fenced in, she can't simply send them outside.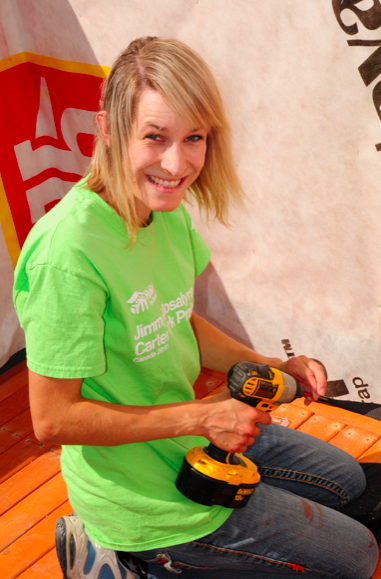 She says they get the young boys' energy out by going for bike rides. Every evening after dinner, they ride around the neighbourhood, often passing by their new Habitat home, which is being built just two blocks from where they live now.
The search for an affordable home
Natalie and Ivan applied to become Habitat homeowners in 2015, when they were still living in their mouse-infested apartment. The couple struggled to find an affordable rental in their community that was both free of pests and big enough for their family. They always dreamed of having a "forever home" where their kids would have the space to grow and play, but the high cost of rent made it difficult for them to set money aside for emergencies and, consequently, save enough money for a down payment.
"Things always seem to come up — something breaks, the kids need dental work," Natalie says. For families in need of a hand up, like Natalie and Ivan's, Habitat removes the barrier to homeownership, providing families with a zero-interest mortgage that requires no down payment and is never more than 30 percent of their gross income. When they were told that they'd been selected to partner with Habitat for Humanity Okanagan, Natalie says it was a "dream come true."
Building their own Habitat home
In addition to paying the mortgage, families also commit to 500 volunteer hours with Habitat, also known as "sweat equity," which can include working at their local ReStore or helping with the construction of their own home. According to Natalie that's another big reason they decided to partner with Habitat. She says that she and Ivan are both "handy" people, so they're more than happy to have the opportunity to help build their house.
"It's really neat to learn how to do these things, to be able to show off what you've done and to see all of the pieces come together," she says. "It's very rewarding." So far, they've helped with the foundation, insulated the house, put up the vapour barrier, and sanded, stained and installed the rooftop patio decking, among other tasks. Once complete, their house will have a proper living space for them to gather, separate bedrooms for the kids and, perhaps most importantly, a dedicated play space in the basement that will allow the boys to run around, be as loud as they need to be, and maybe even make a mess from time-to-time.