Indigenous Partnerships
Jun. 03, 2019
Indigenous training and skills-building
As part of Habitat Canada's Indigenous Housing Partnerships, local Habitats across the country have engaged Indigenous communities in training and skills-building initiatives. We partner with schools, educational institutions, and facilities for youth offenders to enable Indigenous youth and women to access training opportunities. Participating on Habitat for Humanity builds provides students of all ages and backgrounds with valuable skills, confidence and work experience that they can apply towards educational credits, as well as towards future employment opportunities or further schooling. In 2018, almost 200 Indigenous youth and women were engaged through this initiative.
A sustainable solution in Pikangikum, Ontario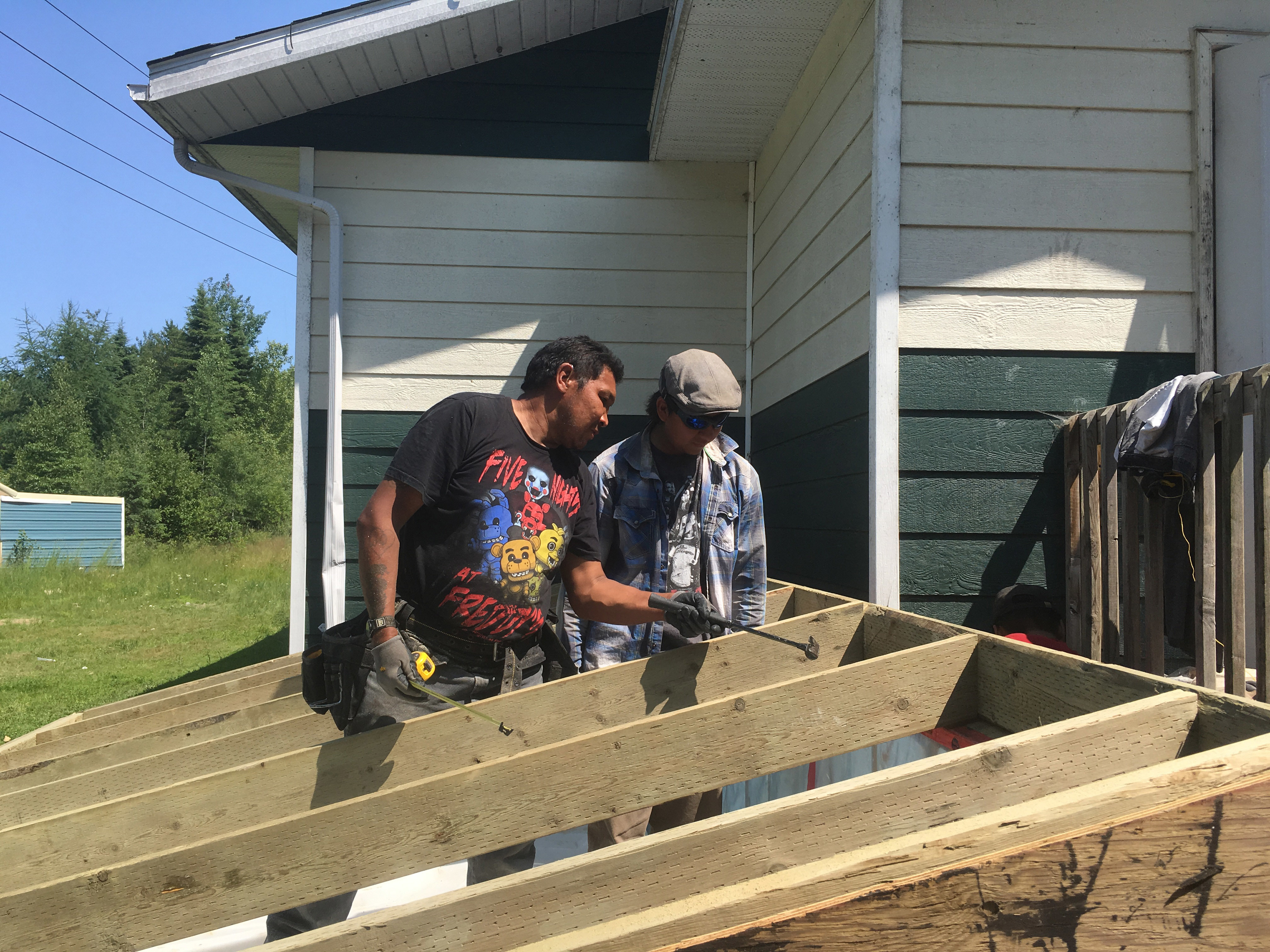 As part of a project to bring access to clean, running water to homes in Pikangikum, a remote Ojibwe community in Ontario, Habitat for Humanity Manitoba partnered with the Pikangikum Working Group (PWG) and the Anglican Church's Primate's World Relief and Development Fund (PWRDF) to retrofit 10 homes. In addition to retrofitting the homes and installing water tanks, five youth from the community worked and learned alongside Habitat Manitoba and professional tradespeople.
In phase 3 of the project, the youth trained will manage the retrofitting of another 15 homes, through funding provided by the federal and provincial governments.
"It's tough to find work around the community," says Raymond Suggashie, economic development project officer for the Pikangikum First Nation. "Now (the young people) have skills, and they are eager to work."
Experiencing education outside of the classroom in Regina, Saskatchewan
Habitat for Humanity Regina partners with both the Trades and Skills Construction Apprenticeship Program (TASCAP), the Regina Trades and Skills Centre and local school boards that provides apprenticeship opportunities to students enrolled in grade 11 and 12 carpentry and trades programs. TASCAP students, some of whom are Indigenous, have been working on Habitat builds since 2014, when they worked on the first of three builds with Indigenous families in Fort Qu'Appelle, Saskatchewan.
"It's real life", says Brian Shankowsky, executive director at the Regina Trades and Skills Centre. "They get to be involved in all aspects of construction trade from the hole in the ground to the end of the project. There's no better way to learn a trade than to experience it."
Students participating in these kinds of hands-on work experiences with Habitat are engaged and excited about what they are learning. Their parents often report that their children have a focus and hope for their future that wasn't there before. Six students from Piapot First Nation attended a day to learn about the TASCAP program with Habitat Regina and by lunch the students were talking excitedly about their future.
"I think this program is perfect for both aboriginal and non-aboriginal students because they get to receive a hands-on experience in the work field. They learn skills and traits that could be used in everyday life," said Everet Chase Sayer, Piapot student leader. "I would like to see more First Nations take advantage of programs like this because it give students an advantage in life's journey."
Habitat Regina is hopeful that they'll be able to collaborate on finding funding to enroll additional Indigenous students from local First Nations in this program in the near future.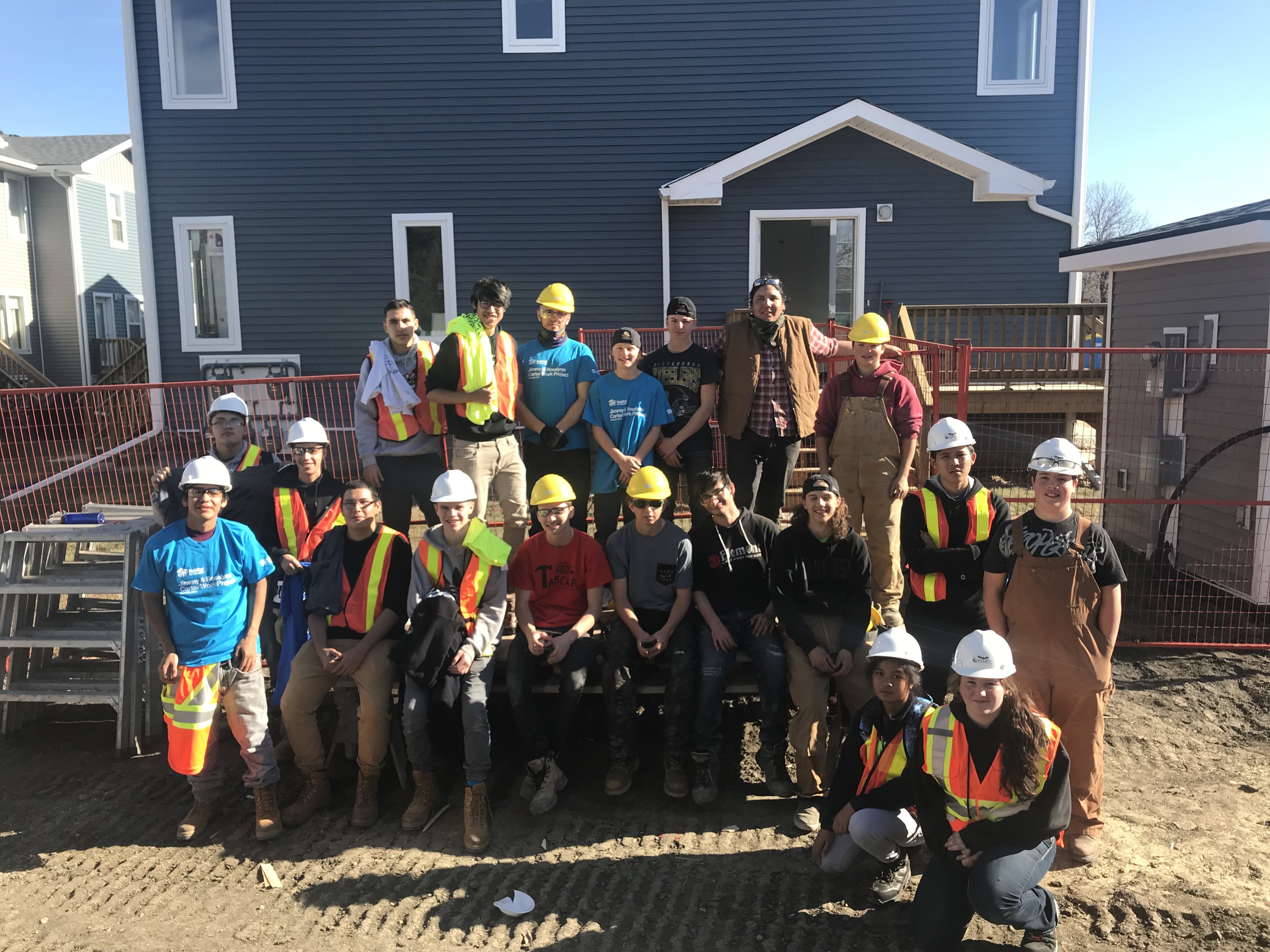 Partnering with the Indigenous Leadership Development Institute and Stony Mountain Institution in Manitoba
The Indigenous Leadership Development Institute (ILDI) provides pre-apprenticeship training to young Indigenous peoples. The students have an opportunity to apply their classroom learnings on the build site, helping Habitat for Humanity Manitoba build decent and affordable homes for people in need of housing. Students learn not only employable skills in trades and construction, but also confidence in themselves.
In addition to high schools and colleges, Habitat Manitoba also partners with the Stony Mountain Institution, the only Federal Correctional Facility in Manitoba and Northwestern Ontario. Since developing this partnership in 2012, over eighty inmates have worked on Habitat build sites. These inmates have received certification for their work and practical experience to add to their resume. Often, they are able to find work in the construction field after they are released with the skills and experience they have gained – a key component in successfully reintegrating back into their community.
Partnering to help Indigenous women in Edmonton, Alberta
Habitat for Humanity Edmonton has two unique and successful partnerships that train Indigenous women in building and construction skills.
A partnership with the Edmonton Institute for Women, a Corrections Canada facility, helps the women enter back into society with skills they can use to obtain employment. The majority of the program participants are Indigenous, and are first trained at Habitat Edmonton's indoor 'prefab' shop where they learn how to safely use tools as they build various components of a home that are then moved to a build site for installation. The women also work on Habitat build sites where they can put their new skills to use and continue to gain experience in a professional work environment.
Habitat Edmonton also works with the Alberta Women Building Futures program, which has an Indigenous Services program with a goal of getting women into construction work, an industry where woman are often under-represented. After their initial training is complete, the women in this program are able to gain hands-on experience by participating on Habitat builds.