Homeownership
Nov. 10, 2023
Home is for making memories - Mavis's story
Despite having a good job, Mavis, a single mom, struggled to find aff­ordable housing for her family. After being evicted from their rental home for the third time –each time due to a landlord or their loved ones wanting to move back into the home– she discovered that the rental market had vastly changed, and the rise in demand meant she was no longer able to find or afford a home in her community.
Mavis and her two boys, now 16-and 7-years, lived in transitional housing for a while, stayed with family and then finally moved to a campground where they lived for six years—at first in a tent, then in a camper, and finally in a travel trailer Mavis's aunt helped finance.
Mavis continued to apply for affordable housing right up until being approved by Habitat for Humanity Vancouver Island North. "It was such a huge relief to be accepted. I'm an RN and I work in long term care as a charge nurse, but as a single parent it's very hard to make ends meet."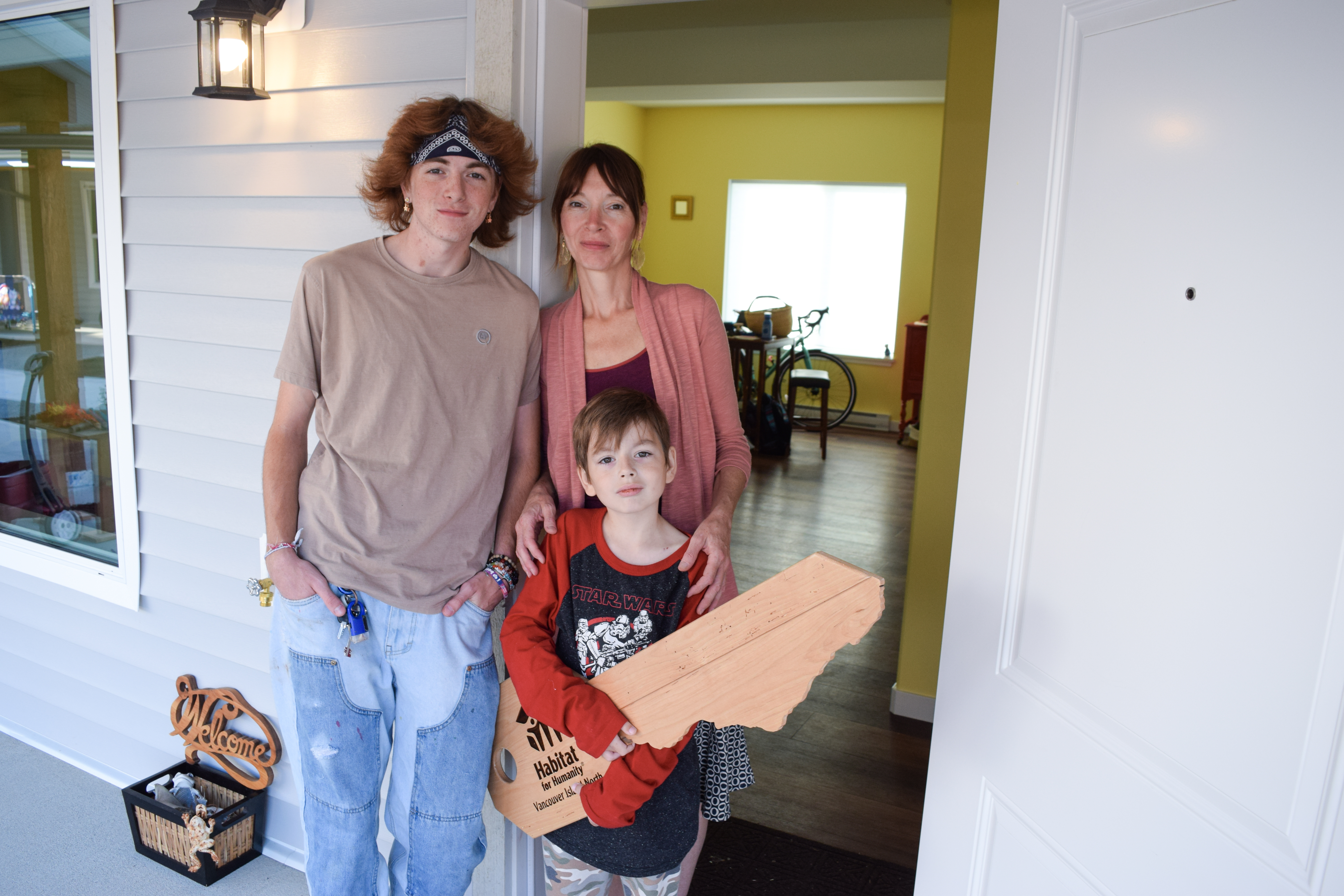 A life-changing impact
Partnering with Habitat for Humanity means Mavis was able to buy her own Habitat home with a no down-payment, a­ffordable mortgage geared to her income. She volunteered 500 hours of her time at her local Habitat ReStore and at the build site. The family recently moved into their new home, and the financial stability, physical space, sense of community and confidence she's already gained has truly been impactful. Life changing.
No longer having to consistently worry about her finances and their living situation means Mavis finally has the physical and mental space to focus on other things. With a full-sized kitchen, she's now able to cook and prepare nutritious meals for her family. With a grant from her alma mater, Mavis intends on taking a wound care course and other hospice courses to further her education and career and looks forward to being able to save for her boys' education.
Volunteering at the ReStore has given Mavis the confidence to be a successful homeowner. With the encouragement of ReStore staff and other volunteers she's learned valuable skills and recently refinished a cabinet for the house and has already painted the downstairs floor.
And she's paying it forward: "I love everything Habitat. Even though I finished my 500 hours long ago, I continue to volunteer at the Habitat ReStore because I can pass on some of those community hours to future Habitat homeowners, and that feels good to me. Plus, it's really fun just to get out there and volunteer."
Best of all, her boys are thriving. They have their own rooms, and her eldest son Clyde is proud to have a home and a safe space to host his friends. The family now lives around the corner from her mother, who looks after her youngest son before he goes to school, and he has playmates who live next door and in the neighbourhood.
"Homeownership makes me feel proud. I feel part of the community, I don't feel like I'm in the margins. I just have that sense of fulfillment, that sense of accomplishment or achievement. I can't explain it, it's just like I'm able to provide for my family. I'm able to contribute in a way that I couldn't before."
"This is our safe haven. I'm looking forward to making memories in our new home and no longer having to worry about the future."