Homeownership
May 19, 2020
Habitat Vancouver Island North celebrates new homeowners
When the World Health Organization (WHO) declared COVID-19 a global pandemic, organizations around the world were forced to adapt quicker than they ever thought possible. For Habitat Vancouver Island North, that meant finding a way to safely get two families into their newly built duplex — and celebrate their long journeys to get there.
Luckily, the city of Campbell River's planning department worked with the local Habitat to complete the final safety inspection for the newly-built homes while respecting the recently-implemented physical distancing guidelines. It was the last step before the two families could move into their new homes, and once the local Habitat ensured this could be done safely, they started looking for ways to celebrate, says Karen McKinnon, Habitat Vancouver Island North's family services manager.
"We knew the world needed good news, and we wanted to celebrate the tenacity and hard work of the families, who've been on this journey for a long time," she says.
Celebrating a new way – virtually
Typically, this is done with a key ceremony, which brings together local dignitaries, donors, volunteers who've helped build the home, and of course, Habitat homeowners and their loved ones — both those moving into the home, and those who've already had a key ceremony of their own. With physical distancing measures in place, this simply wasn't possible, but Habitat Vancouver Island North still found a way to bring together the community.
Karen suggested they work together to create a video that would stand in place of the key ceremony, which would allow them to celebrate the family from afar, and with a much bigger audience. It would also become a special keepsake for the new homeowners: Kiley, her husband Adam and their two children, Marley and Izzie, who moved into one side of the duplex, and Marisa and her daughter, Nayeli.

Welcoming new Habitat homeowners Kiley and family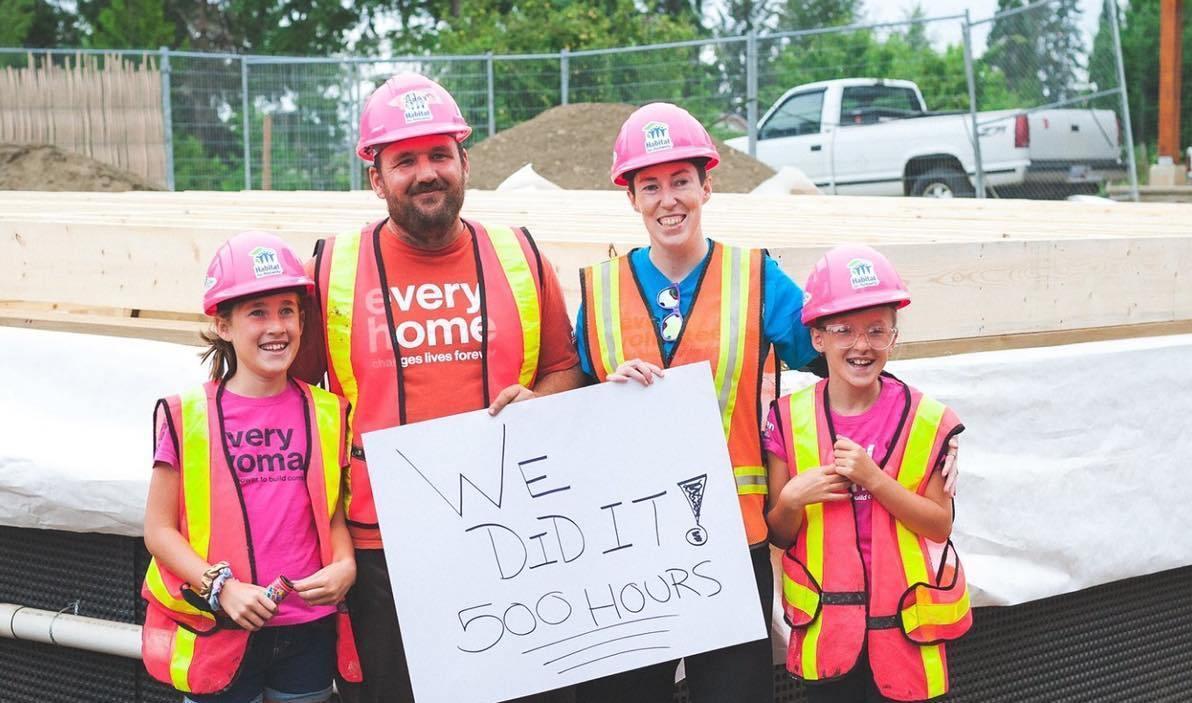 In the video, Kiley thanks all the volunteers who helped make their dreams possible, and shares some of her family's story. They'd been living in a one-bedroom basement suite at Kiley's parents' house, which they moved into four years earlier, when Kiley was unexpectedly hospitalized and they lost their home.
She was working as a medical office assistant when she says her "feet fell asleep and never woke up" and had to be taken to the hospital. That night, she got a call from their landlords who said they were selling their house, and gave her the contact information of their new landlords. Shortly after, she learned that their new landlords would be nearly doubling their rent to keep up with the exploding housing market.
"We panicked," says Kiley. "We had been in that house for five years, so we had no idea how bad the rental market had got, and we had no idea when I would be out of the hospital." She was eventually diagnosed with Guillain-Barré syndrome, a rare autoimmune disorder that attacks the nerves, which left her whole body paralyzed. Through intense rehab, she gradually regained some of her strength, and was discharged from the hospital four months later. But she was still struggling with some weakness in her extremities, so she wasn't able to return to work.
"When I went into the hospital, I had my house. When I came out, I'd lost my job, all of my stuff was in storage, and my family was living in the one-bedroom basement suite at my parents' house," says Kiley. "It was pretty hard to swallow."

She was seeing a counsellor, who encouraged her to apply to be a Habitat homeowner. She didn't know much about Habitat, but as soon as she reviewed the application and website, she eagerly gathered all of the necessary documentation and applied. After three interviews, and eight long months, she got a call — they needed to do one more interview. But when the two Habitat staff arrived at their home that evening, they quickly let the family know that they were going to be homeowners.
"We all burst into tears, even the kids," says Kiley. "It was pretty special." Now that she and her family have officially moved into their new home, she says it's given her a renewed sense of independence, and this is echoed by her new next-door neighbour and Habitat homeowner, Marisa.
From volunteer to Habitat homeowner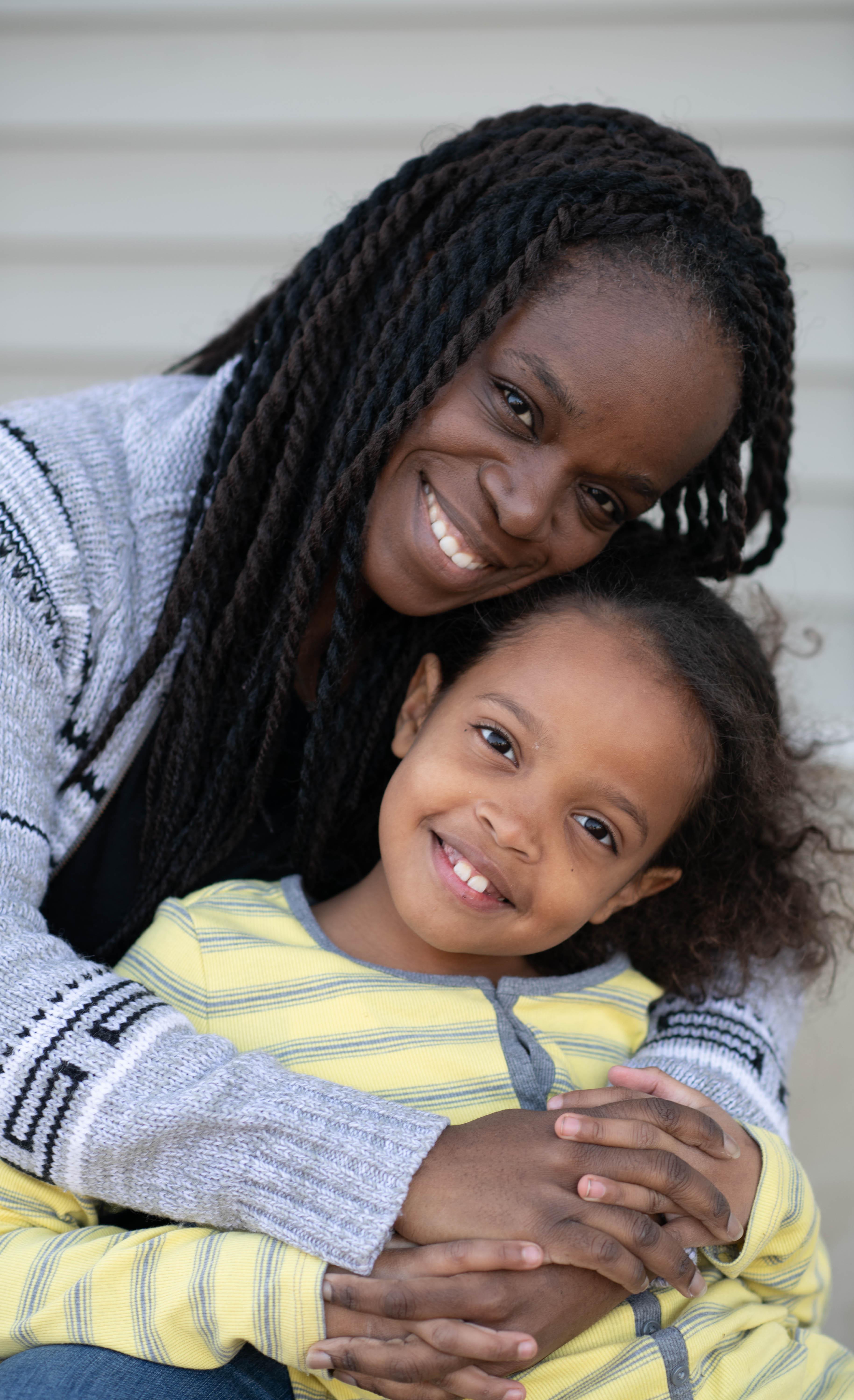 "I felt so discouraged in terms of ever being able to own a home," says Marisa. "I was just kind of down a lot of the time, because I thought owning a home was something I was never going to be able to do, and then in comes Habitat. It's like a dream come true."
Marisa learned more about Habitat's mission while volunteering with her colleagues as part of an employee build on one of Habitat Vancouver Island North's build sites.
"When the project manager was talking about who they build for I thought, hey, wait a minute — that's me!" she says. At the time, she was living in a small apartment with her daughter, Nayeli, who had no space to play without disrupting their neighbours.
When she realized that Habitat provides working families like hers with a no down payment, affordable mortgage to help bridge the gap between rental and market housing, she thought she might have a shot. Her boss encouraged her to apply, so she gathered all of the necessary documents and met with their family services manager to answer questions. A few months later, she found two Habitat staff sitting in one of the meeting rooms at her office.
"I just knew right away and I started crying, and everyone congratulated me," she says. "It was a moment I'll never forget." She's now unpacking boxes in her new home, and despite what's happening in the world around her, she's feeling more confident in her ability to take on challenges.
"I feel so much more secure now," she says. "I know that whatever comes up in the future, we'll be better prepared to manage."
She's part of the Habitat family now, and that kind of determination permeates everything the team at Habitat Vancouver Island North does. They're always encouraged to innovate, in any way they can, to push the mission forward, says Karen. And working together remotely to develop the key ceremony video is the perfect example of that.
"It's really reminded us that even when we're faced with situations where there's a lot of limitations, there's always a way to move forward," she says.
Find your local Habitat to learn more about their response to COVID-19, and what you can do to help families impact in your community.