Homeownership
Apr. 04, 2022
Forty-one new Habitat homeowners celebrate a place to call home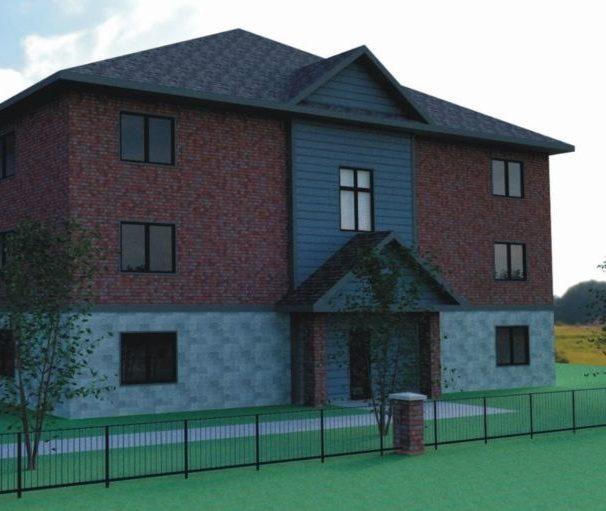 Three years ago in Peterborough, the federal government, Habitat for Humanity Canada and Habitat for Humanity Peterborough & Kawartha Region came together to celebrate the groundbreaking of a 41-unit affordable housing condominium. And today, 41 families celebrated the completion of this project, opening the doors to their new, affordable Habitat homes. These families include seniors, singles and couples who pay an affordable mortgage geared to their income.

"At a time when housing prices are skyrocketing locally, this innovative development will help 41 local families including seniors, singles, and couples to pay an affordable mortgage geared to their income. Because of the generosity of our many partners, these 41 families will have an opportunity to save more, invest in education, and have more financial stability."
– Susan Zambonin, CEO, Habitat for Humanity Peterborough & Kawartha Region
Jody is a single mom of two young adults with special needs. "Life has knocked us down on more than one occasion, but we have persevered. For Jody, the dream of being a homeowner has always been out of reach, but Habitat's affordable homeownership program has made it possible.
"It's a fresh start in life for us," says Jody. "Purchasing a new Habitat home will give us a sense of pride and stability. Jody adds, "it's an investment that will give us peace of mind and a place where we can build lifelong memories together, in a place that we actually own."
Every Habitat for Humanity build requires a monumental mobilization of partners including donors, volunteers, tradespeople and the homeowners themselves who volunteer 500 hours as part of their partnership with Habitat. It takes a village to build a Habitat home. Key funding and financing provided by the federal government and Vancity Community Investment Bank (VCIB) were essential to completing this project, a first of its kind for Habitat Peterborough & Kawartha Region, who have significantly scaled up their building efforts and impact through this project.
On hand to celebrate the new Habitat homeowners was Ryan Turnbull, Member of Parliament for Whitby, on behalf of the Honourable Ahmed Hussen, Minister of Housing and Diversity and Inclusion to announce the $4.1 M in federal funding that supported the construction of these homes.
The investment by the Government of Canada was made possible through the Canada Mortgage and Housing Corporation (CMHC) and Habitat for Humanity Canada's three-year $32.4 million agreement under the National Housing Strategy's (NHS) National Housing Co-investment Fund (NHCF).
Last year, VCIB worked with Habitat for Humanity Canada to arrange a $30 million credit facility to support the construction of 414 affordable housing units across the country. Habitat for Humanity Peterborough & Kawartha Region was the first local Habitat for Humanity to access these funds to support a new project, which was crucial to the project being completed.
"We need the government, the private sector and non-profit organizations to continue to come together to ensure everyone has a decent and affordable place to call home," said Julia Deans, Habitat for Humanity Canada's President and CEO. "That's why this project is such an important one – from the federal government to VCIB, local donors and the municipality, it is an example of what happens when everyone comes together to prioritize affordable housing and deliver solutions."
"Every Canadian deserves a safe and affordable place to call home. Our Government is dedicated to helping those in need which is why we are pleased to partner with Habitat for Humanity to make a real difference in the lives of families here in Peterborough and everywhere in Canada. This is something our government is, and will always champion."
– The Honourable Ahmed Hussen, Minister of Housing and Diversity and Inclusion
Before moving into his new affordable Habitat home, Jordan lived on the third floor of a local apartment building – a fire safety issue for someone who uses a wheelchair. Jordan also has hearing impairments and depth perception challenges. Rather than providing Jordan with a strong foundation and stability, his apartment is a challenging space full of daily obstacles. Established in his career, Jordan began looking to purchase a home but found very few accessible homes.

"I am at a stage in my life where I'm ready to take on the responsibilities and financial obligations of homeownership. I am confident I will be successful in this endeavour," says Jordan.
Thanks to Habitat for Humanity Peterborough & Kawartha Region and the generous support of 100 Men of Peterborough, Jordan's condo at Leahy's Lane will be customized to ensure that it has all the necessary features for Jordan – such as a roll-in shower, wider doorframes – ensuring that it is barrier-free and that Jordan can access all areas of his home. Leahy's Lane was built with a universal design which works to ensure a building that is accessible to a wide range of abilities and accommodates homeowners' accessibility needs (current or future).