Local Build
Jun. 17, 2019
Chippewas of Nawash housing project has Canada-wide potential
A housing partnership between the Chippewas of Nawash Unceded First Nation, Habitat for Humanity Grey Bruce and the Canada Mortgage and Housing Corporation (CMHC) is so successful that it promises to serve as a model for other interested Indigenous communities across Canada.
"There has been an unbelievable response from other First Nations. I have been invited to speak at conferences, and people approach me to find out how to adopt this housing model," said Shane Chegahno, the Chippewas of Nawash Housing Manager. "All First Nations care deeply about our children, and healthy homes are key to their future. We want to help offer this housing model to all First Nations."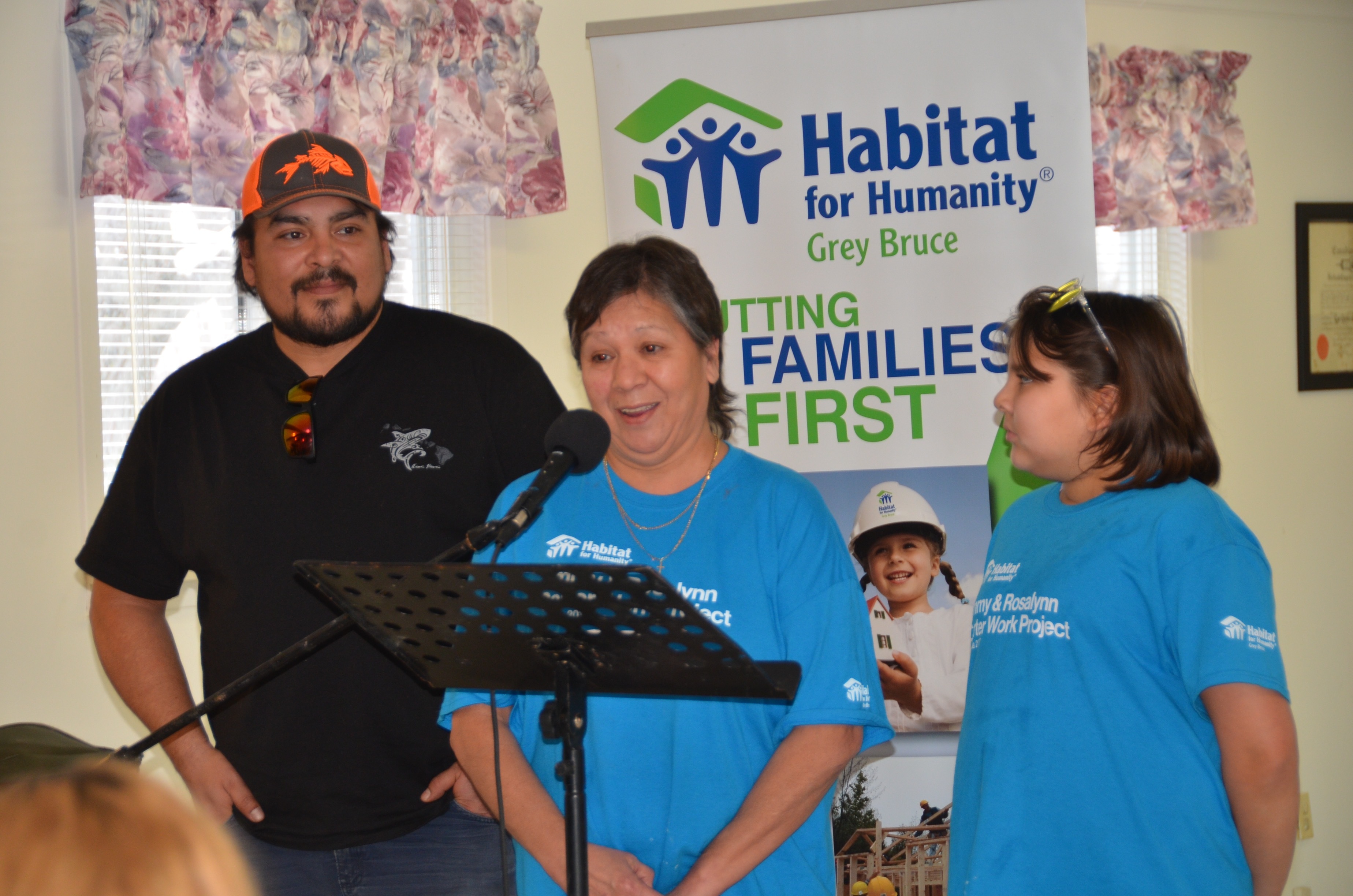 The Chippewas of Nawash Unceded First Nation is on the eastern shore of the Saugeen (Bruce) Peninsula on Georgian Bay, Ontario. Four families took possession of their new homes in November of 2018. This project builds on the partnership between Habitat Grey Bruce and the Chippewas of Nawash Unceded First Nation that began with their first Habitat home completed earlier in 2018 with funding from Habitat, the First Nation and the community. The homes are part of a new 19-lot development that is being built by the Chippewas of Nawash Unceded First Nation, Habitat for Humanity Grey Bruce, selected families and volunteers from across Grey and Bruce counties.

This project can be viewed as a pilot that has the potential to be rolled out across Canada," said Sandra Hails, a First Nations housing specialist with CMHC, which is a Crown corporation of the Government of Canada. "Habitat for Humanity has a lot of expertise in this area, and it seemed a natural fit to bring Habitat together with Chippewas of Nawash and CMHC through our On-Reserve Non-Profit Housing Program."
Three partners, one shared vision
The idea to work together on the housing project was sparked at a conference. "We talked with a CMHC adviser at a conference in Thunder Bay and explored their funding options. This led to collaborating with Habitat and putting in a proposal," Shane said.
The federal government, through the CMHC's On-Reserve Non‑Profit Housing Program, provides financial assistance to First Nation governments, First Nation development corporations and First Nation housing providers to build new housing, renovate existing housing and provide rent supplements in newly constructed units."Partnering with CMHC enables Habitat to serve more families with our limited resources because CMHC is the primary funder," said Jayshree Thakar, Manager of Habitat for Humanity Canada's Indigenous Housing Partnership.
Habitat Canada offers more than just a wealth of experience in homebuilding. The Habitat Canada Indigenous Housing Partnership helps improve living conditions for Indigenous families, both on and off Traditional Territories, and offers construction skills training for Indigenous youth. With the help of local Habitats across the country, 221 families have achieved homeownership through the Indigenous Housing Partnership, including 48 families on First Nations, Métis Settlements and Traditional Territories.
In 2018, 30 Indigenous families moved into their new Habitat homes. By 2020, Habitat Canada's goal is to partner with more than 300 Indigenous families, cumulatively, and provide 200 Indigenous youth and women with skills training opportunities annually.
Ahead of schedule and on budget
"The build came in two months ahead of schedule and on budget," said Greg Fryer, Executive Director of Habitat for Humanity Grey Bruce. "We are the first local Habitat organization to partner with Canada Mortgage and Housing Corporation in this unique partnership project. The CMHC funding allowed the Chippewas of Nawash to contract us to do the build. We put together a quote, which included an estimate for gift-in-kind."
Construction started in early July 2018, and the four 1,200-square foot, three-bedroom bungalows were finished at the end of November. Volunteers were key to this success. More than 60 businesses and organizations donated building materials and funds to support the build to pay for additional equipment and tools that were needed for Habitat Grey Bruce to complete the houses. Bruce Power, the Realtors Association of Grey Bruce Owen Sound and the United Way of Bruce and Grey were among the many organizations that supported the project. Many community members from the Chippewas of Nawash Unceded First Nation volunteered on what Fryer describes as an "almost full-time basis."
The new Habitat homeowners also worked alongside teams of volunteers. Families applied using Habitat's family selection criteria, and the homes were purchased under a deferred homeownership, or a 'rent-to-own' model, with the mortgages held by the Band, rather than Habitat for Humanity.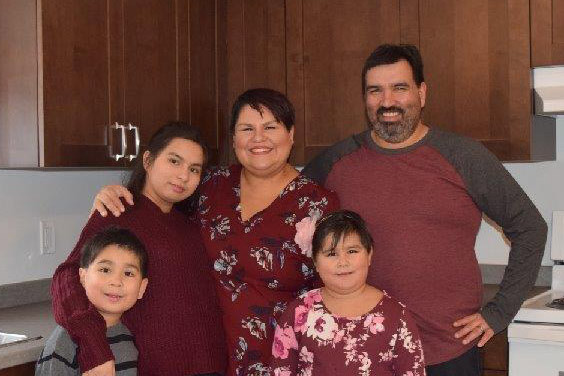 "At first, the thought of putting in 500 hours seems overwhelming. But when you realize you're part of a team, you draw strength from that. It's a real feeling of community. Now when I'm at home, I feel the work that my community, my neighbours put into specific parts of my house," said Josie, who along with her husband, Tim, is one of the new Habitat homeowners. Their family also includes three kids aged five, six and 13.
"With everything I've learned about construction, I'm looking forward to helping with the next houses being built," Josie said. Six more homes are planned for 2019.
The Habitat homeowners also benefitted from custom home maintenance training and manuals, with specific references to their homes, which will help them take care of their homes over the long term.
New homes are just part of the story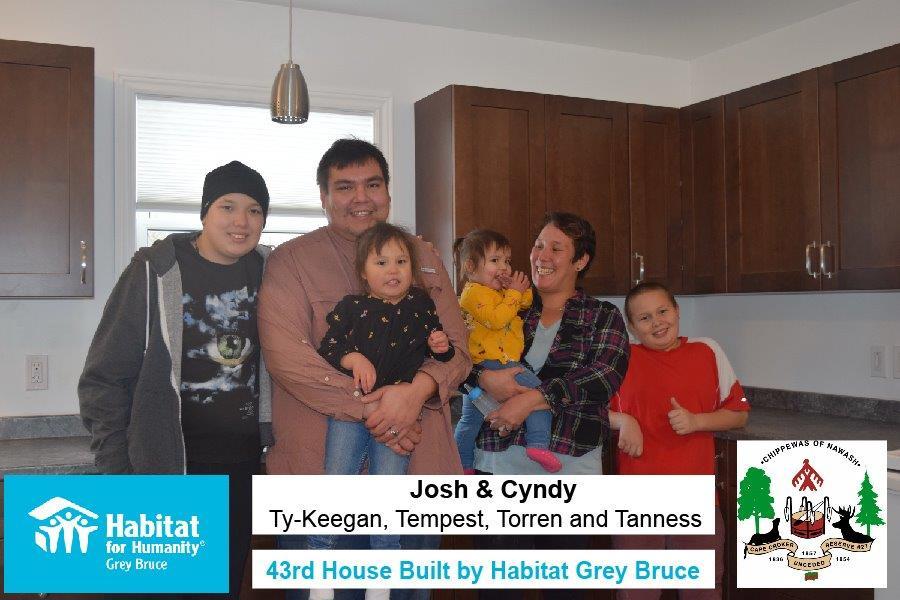 Many Indigenous communities face housing challenges like overcrowding and poor air and water quality. Josie's former rental had mold and mildew that she said left her feeling "defeated." Her 13-year-old daughter, Malia, couldn't sleep through the night because of breathing problems, which then spilled over into issues at school with focus and concentration. Since moving into their new home, Malia has been sleeping through the night and is happier at school.
The wider community also benefits as people from inside and outside the Chippewas of Nawash Unceded First Nation come together to work for a shared goal. The project has allowed these partners to bring together limited resources, achieving a far greater impact on families in need of housing than what may have been accomplished alone.
"We are breaking down barriers with people outside our community. It's an opportunity to work together, learn from each other and see past stereotypes," Shane said. "The relationships we are building will only grow. As a result of having their own space, the children in these families will now have many opportunities that children across the country take for granted. To me, that's the start of something great."
Learn more about Habitat Canada's Indigenous Housing Partnership.