Homeownership
May 18, 2023
A place to dream – Travis and Jordan's story
To an outsider, Travis and Jordan, and their sons Zion and Salem appeared to have a place to call home. But in reality, the family had severely outgrown their small rental house in Peachland, British Columbia and were facing several safety concerns including mold, rodents, poor insulation, extremely expensive heating, structural issues and a busy highway right outside their front door. It simply wasn't a safe place to raise children. But rents in the Okanagan region were increasingly unaffordable and buying a home seemed impossible.
"The house was starting to fall apart, and the landlord wouldn't fix it as he was thinking of selling the property," says Travis. "But as soon as our first-born became mobile, the highway became our biggest safety concern."
Travis and Jordan wanted a home of their own, but couldn't afford a down payment, shutting them out of the housing market. That is until a friend who volunteered for Habitat suggested they apply for Habitat for Humanity Okanagan's affordable homeownership program. They never thought they would be approved, given the number of families struggling with housing, but finding out that they were accepted into the program months later was "the most amazing surprise ever."
Travis and Jordan purchased their home in 2015 with a no down payment, zero-interest mortgage geared to their income and completed 500 partnership hours, a Habitat requirement.
Jordan put in the majority of the hours on the build site as she was home with her young boys while Travis worked 10-hour days with a long commute. With her mother living nearby, Jordan was able to drop off the boys for care while she volunteered. She worked on all four units within the Habitat complex. She did a little framing – she built the door frame on her own home – and a lot of painting, along with taking care of other build volunteers with coffee and baked goods during timed breaks. Travis and Jordan ended up volunteering 620 hours in total and contributed most of those extra hours to two other families (now their neighbours) in the same complex.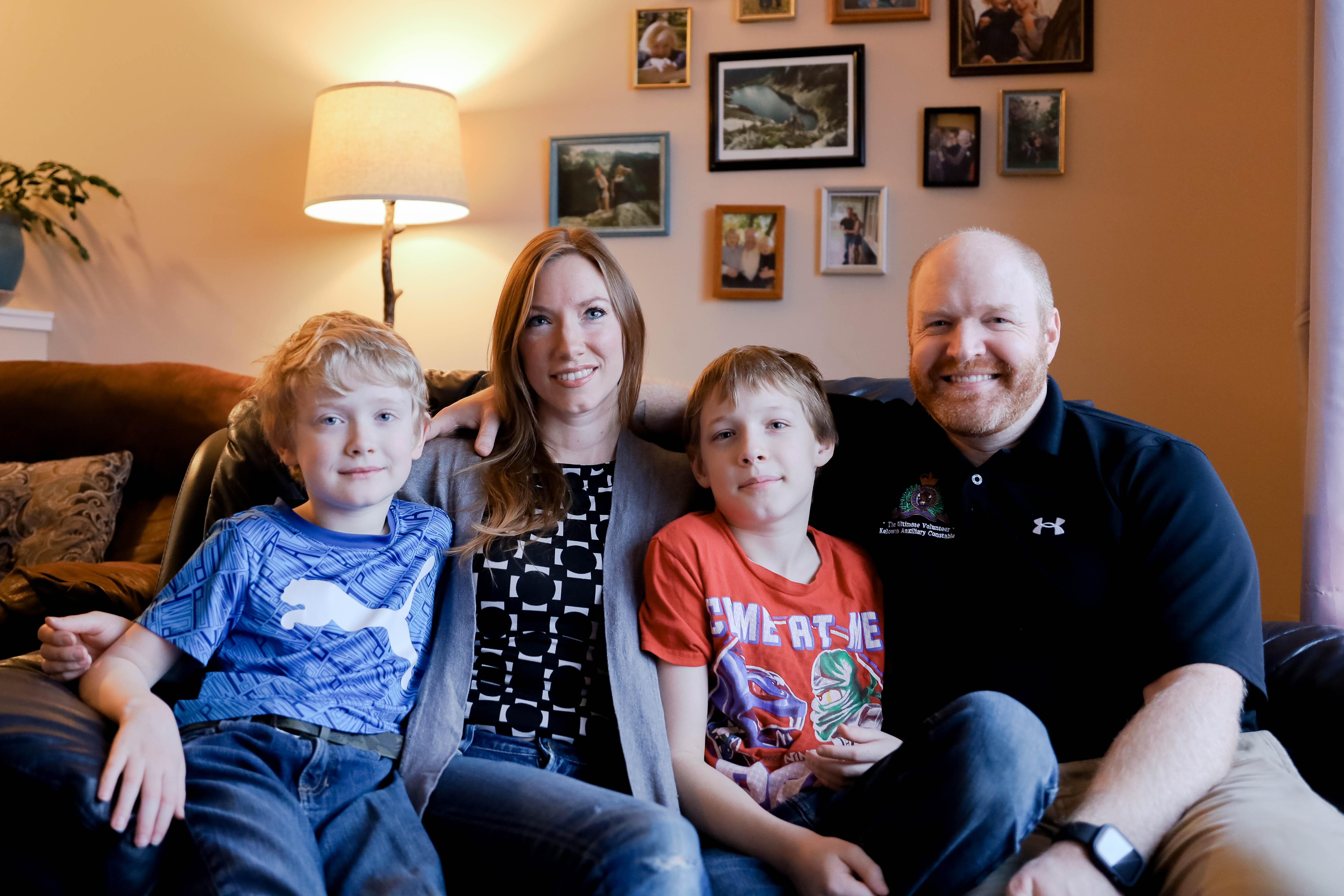 The financial stability they've gained in being Habitat homeowners has been life changing. Without financial worry, Travis was able to retrain for a new career and is now the bylaw enforcement and business licensing officer in his Peachland community, a job he loves with much better pay, and a short five-minute commute that allows Travis to spend more quality time with his family. Travis and Jordan have been able to pay off their debt and save for their children's post secondary education. They have gained a sense of community with neighbours who share similar journeys and look out for each other, and the kids have outdoor space – a big, shared driveway – that enables snow forts in winter and sidewalk chalk obstacle course fun year-round.
"Homeownership has given us the possibility of a future. The ability to dream. It means stability and security, a place the kids can call home," shares Travis. "Our kids love this place. I'm grateful they don't ever need to worry about being told 'our lease is up, and we need to move on.'"