Standard Products receives EFC Marketing Award for Habitat partnership
We're proud to announce that our generous and committed partner, STANDARD Products, was the recipient of Electro Federation Canada's (EFC) Marketing Award in the Social and Sustainability category for their work with us.
In November, STANDARD was recognized for the year-long campaign they launched in 2017 to promote our partnership, donating a portion of the sale of every LED Ceiling Luminaire to Habitat Canada. In total, they raised $30,000 to support local Habitat homebuilding projects across the country.
"Giving back to the community is ingrained in our corporate culture here at STANDARD. We believe in the Habitat for Humanity mission, and are honoured to be partners with such a strong organization," says Jason Prevost, Executive Vice President of STANDARD Products.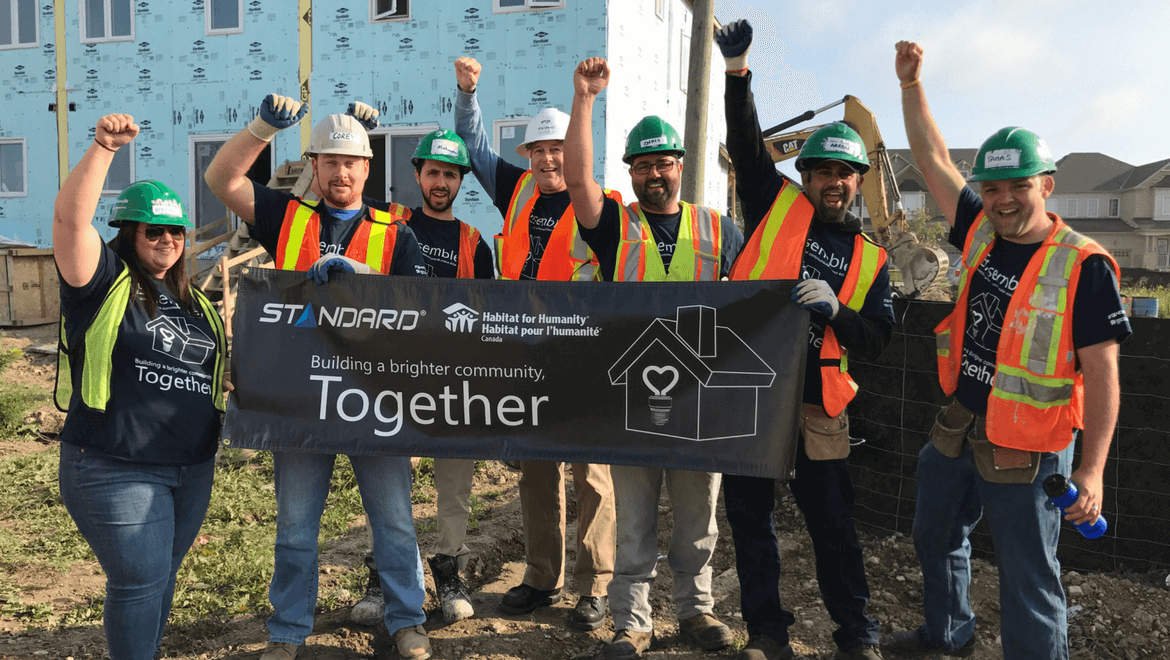 STANDARD Products first partnered with Habitat Canada in 2016 to become the national corporate lighting sponsor. Today, they continue to donate funds, light bulbs for every Habitat home, and now tens of thousands of dollars of product to our Habitat ReStores.
STANDARD employees also participate in Habitat Build Days, volunteering their time helping to build safe and decent homes for Habitat families. In fact, all of the volunteers featured in the ad campaign (pictured right) were STANDARD employees. In 2018, 30 STANDARD employees contributed 210 hours on Habitat build sites in Montreal, Vancouver and Calgary.
"We're so grateful to have generous and committed partners like STANDARD Products, who share our belief that we can transform lives through affordable homeownership," says Mark Rodgers, President and CEO of Habitat Canada. "We would not be able to help these families build stronger and more stable futures through affordable homeownership without corporate donations of cash and building materials, and volunteer time—and STANDARD Products generously supports us with all three."
To learn more about our partnership with STANDARD, please click here.