Habitat Canada announces national award winners
Habitat Canada's National Awards Program recognizes the outstanding performance and achievements of our local Habitat for Humanity organizations, staff and volunteers across Canada. Twelve awards were handed out on May 11th, 2018. Congratulations to all the winners – and thank you for helping us provide decent and affordable homes for people in need of housing in Canada and around the world.
2017 National Award Program Winners
Housing Innovation Award
Awarded to those who are serving more families by employing new and improved, cost-effective construction technologies, or innovative processes. The 2018 winners are:
Habitat for Humanity Heartland Ontario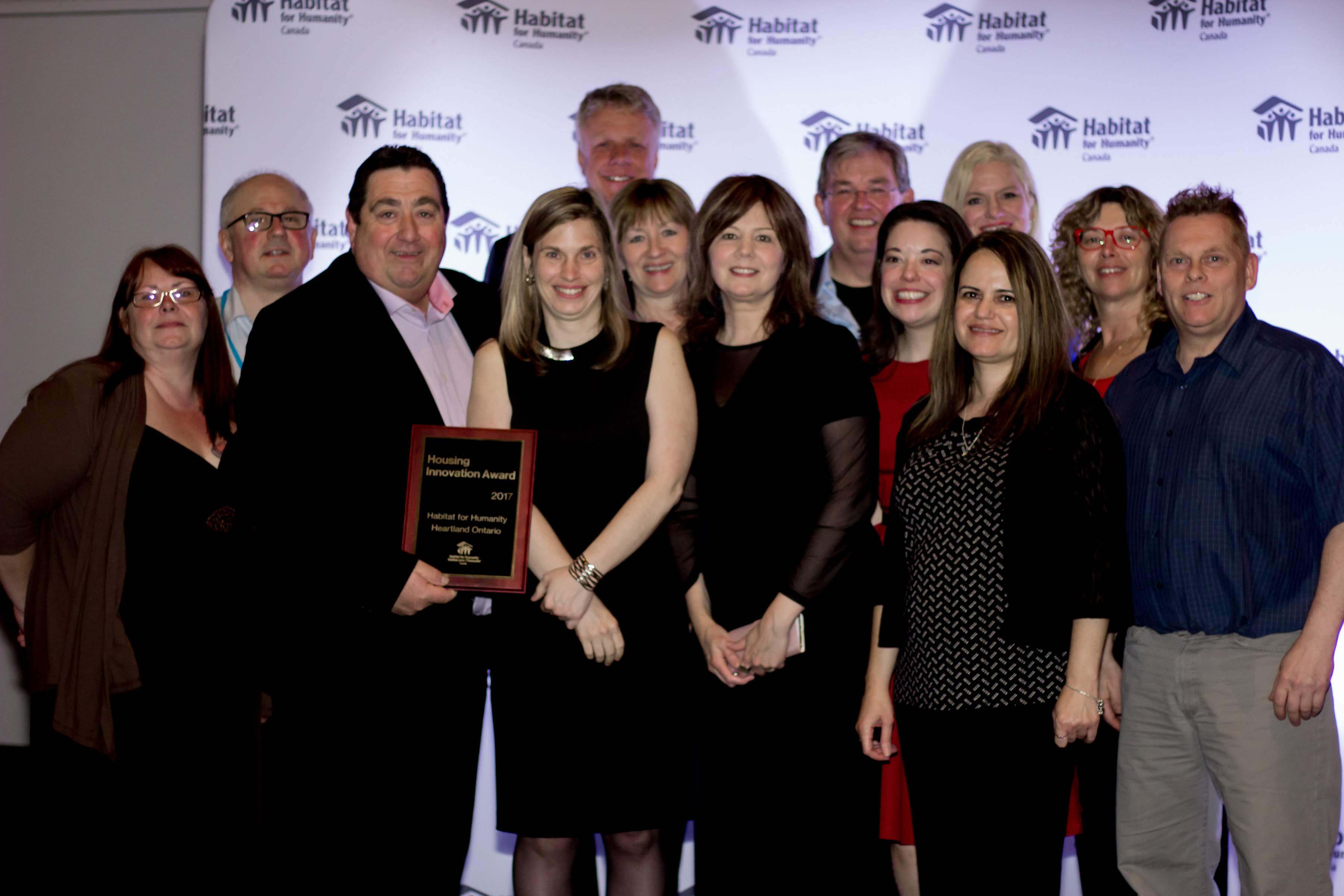 Habitat Heartland Ontario took on an ambitious plan to build on the site of an old elementary school partnering with a developer who was already building one-bedroom units on this land. Nine of the seventeen single-family homes have already been built and they expect the entire project will be completed by the end of 2020. Strong, engaged relationships with trades, unions and trade schools has been vital to their success. When properties are zoned multi-residential, land costs per unit are reduced which ultimately helps them to serve more families – an important strategy Habitat Heartland Ontario aims to pursue with future projects.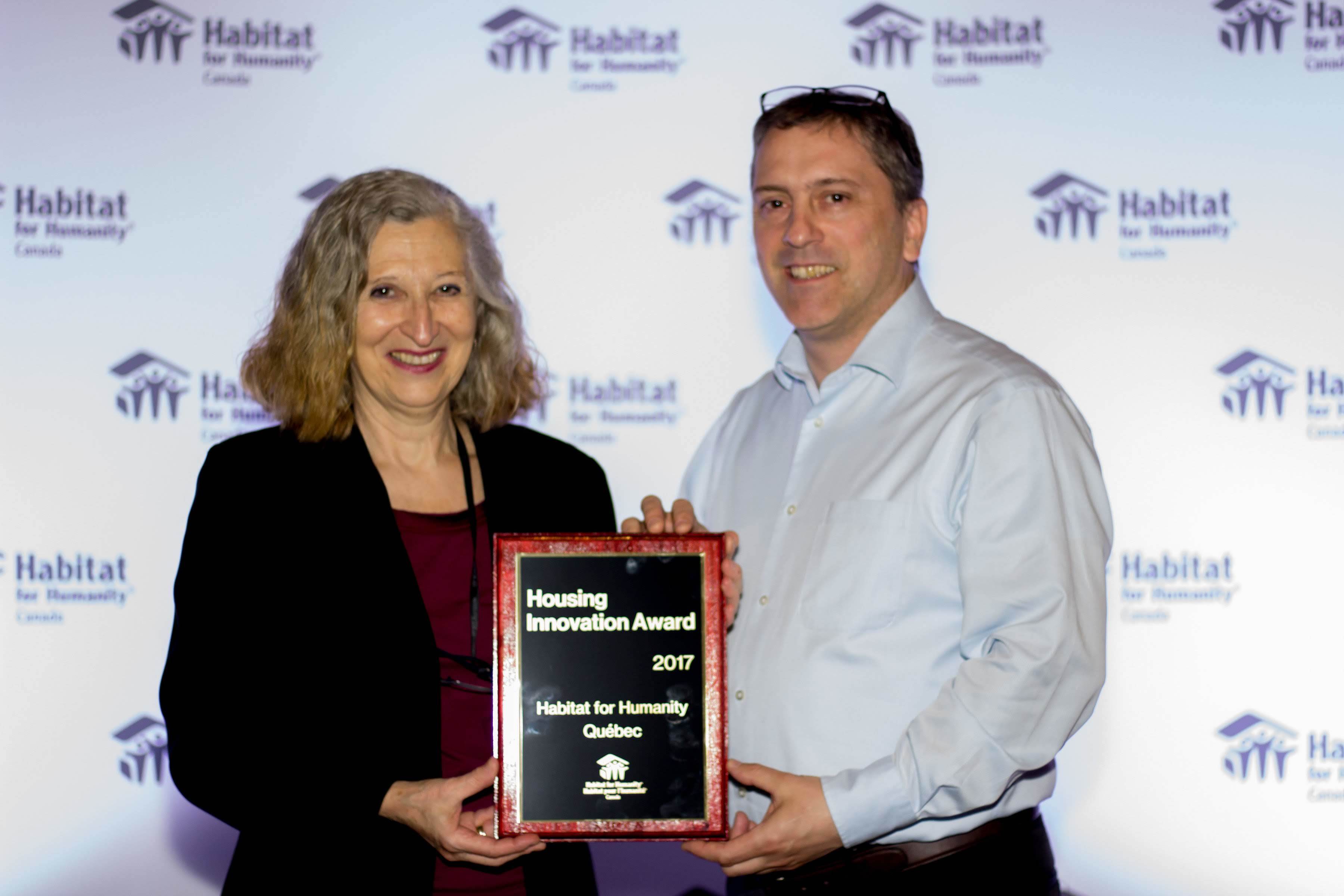 Habitat Québec is building with a commitment to energy efficiency and increased environmental responsibility. The results mean helping more families benefit from lower energy costs because of the well-insulated walls and roof spaces – creating low heating consumption – and a home insurance rebate based on the LEED certification of these homes. Compared to an average home in this province, these Habitat homes have heating costs that are 76 per cent more effective and consume 55 per cent less energy. Utilizing a concrete slab foundation for a build made it much easier for the homes to be accessible by installing a main floor bathroom and a modest ramp to access the units. This project was accomplished with 3,500 hours from local volunteers and an additional 15,000 volunteer hours donated by students connected with the local school board. Habitat Québec plans to replicate many of these processes in future building projects as they expand their operations throughout the region.
Optimal Performance Award
This award goes to those who demonstrate they have optimized organizational capacity and resources while sharing operational best practices with other local Habitat organizations to serve more families. The 2018 winners are:
Habitat for Humanity Greater Toronto Area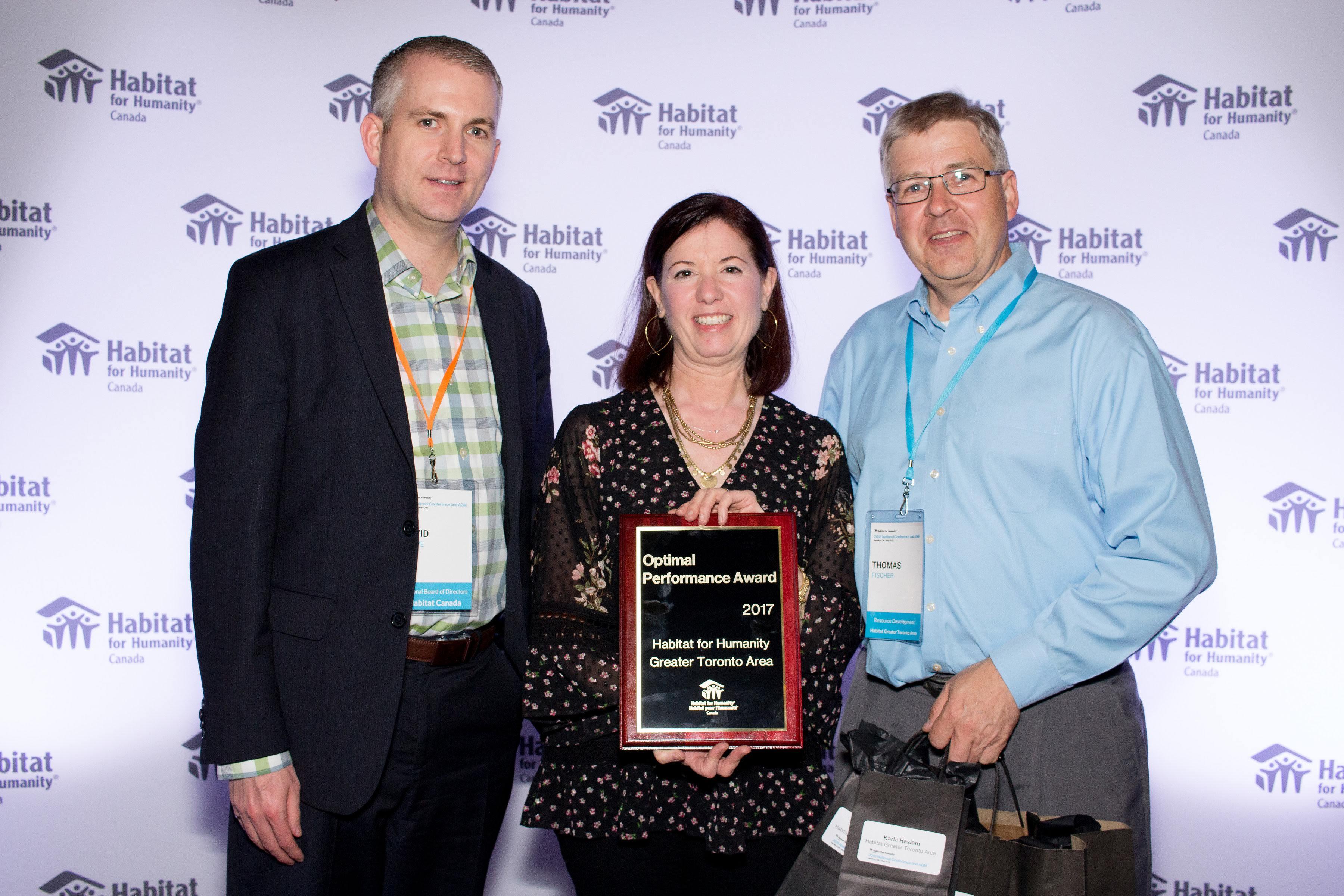 Habitat GTA focused on improving Habitat ReStore donation procurement. Proceeds from sales at Habitat ReStores help us serve more families, and is a valuable social enterprise that supports our work. Habitat GTA's program was optimized with a custom Salesforce CRM developed in partnership with CGI. The changes made to their operations were dramatic. As the largest Habitat ReStore network in Canada, and the world, this system provides their operation with a significant capacity boost as they continue to expand their store network. In addition to being customized to Habitat ReStore operations, the platform is scalable to any size operation so the opportunities for replication at other local Habitat ReStores are exciting.
Habitat for Humanity Halton-Mississauga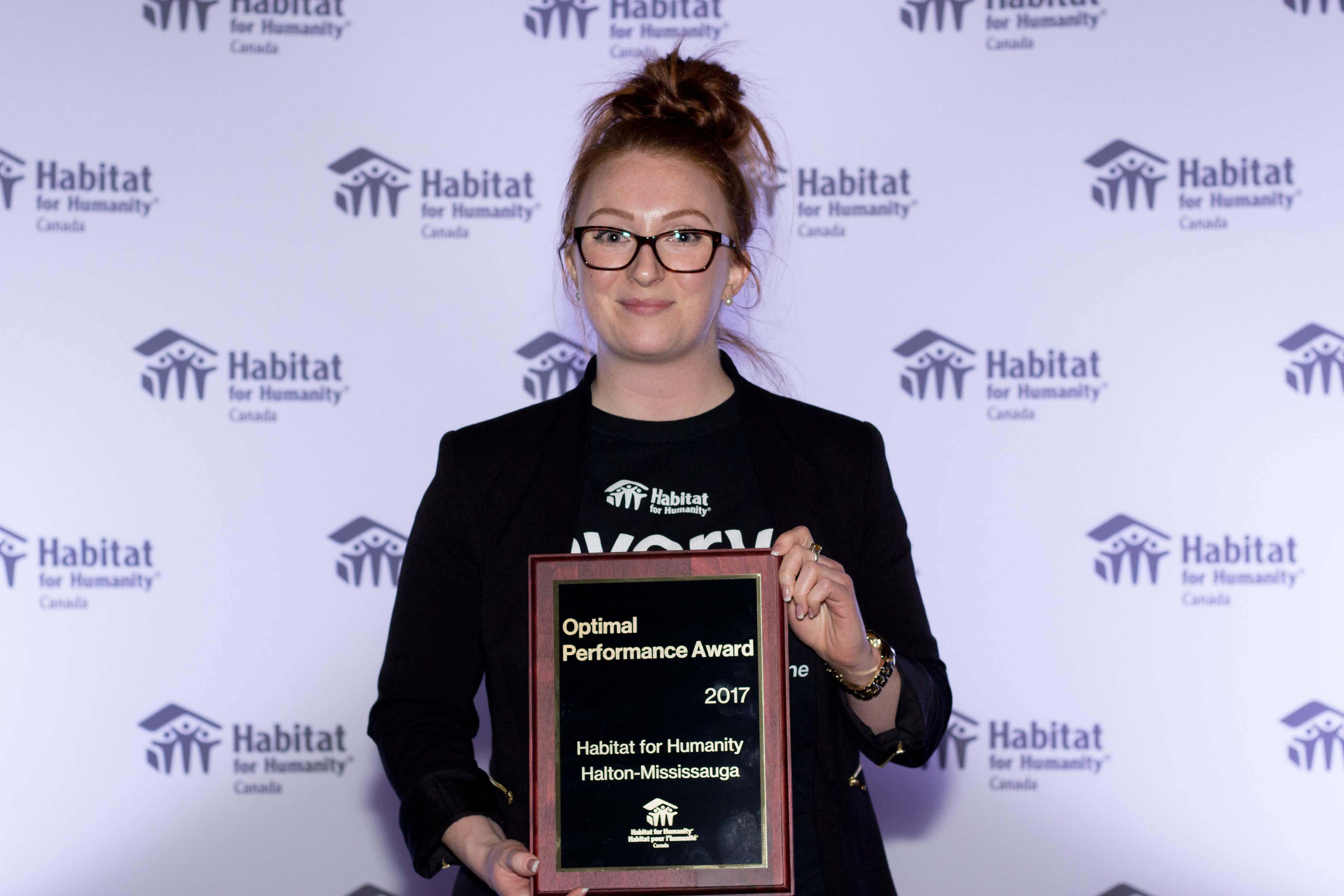 Habitat Halton-Mississauga understands that the Habitat ReStore faces increased competition from the growth of for-profit entities such as liquidators, non-licensed deconstruction companies and junk removal organizations. One way Habitat Halton-Mississauga is facing it is by focusing on improving the customer experience by offering new and unique performance strategies. The introduction of new services, driving efficiencies through new technologies, and enhancing existing technologies, has resulted in increased revenues and increased engagement through the organization.


Mobilized Leadership Award
This awards goes to those who foster and enable a culture of leadership that inspires people at every level of their organization. The 2018 award winners are:
Habitat for Humanity Greater Vancouver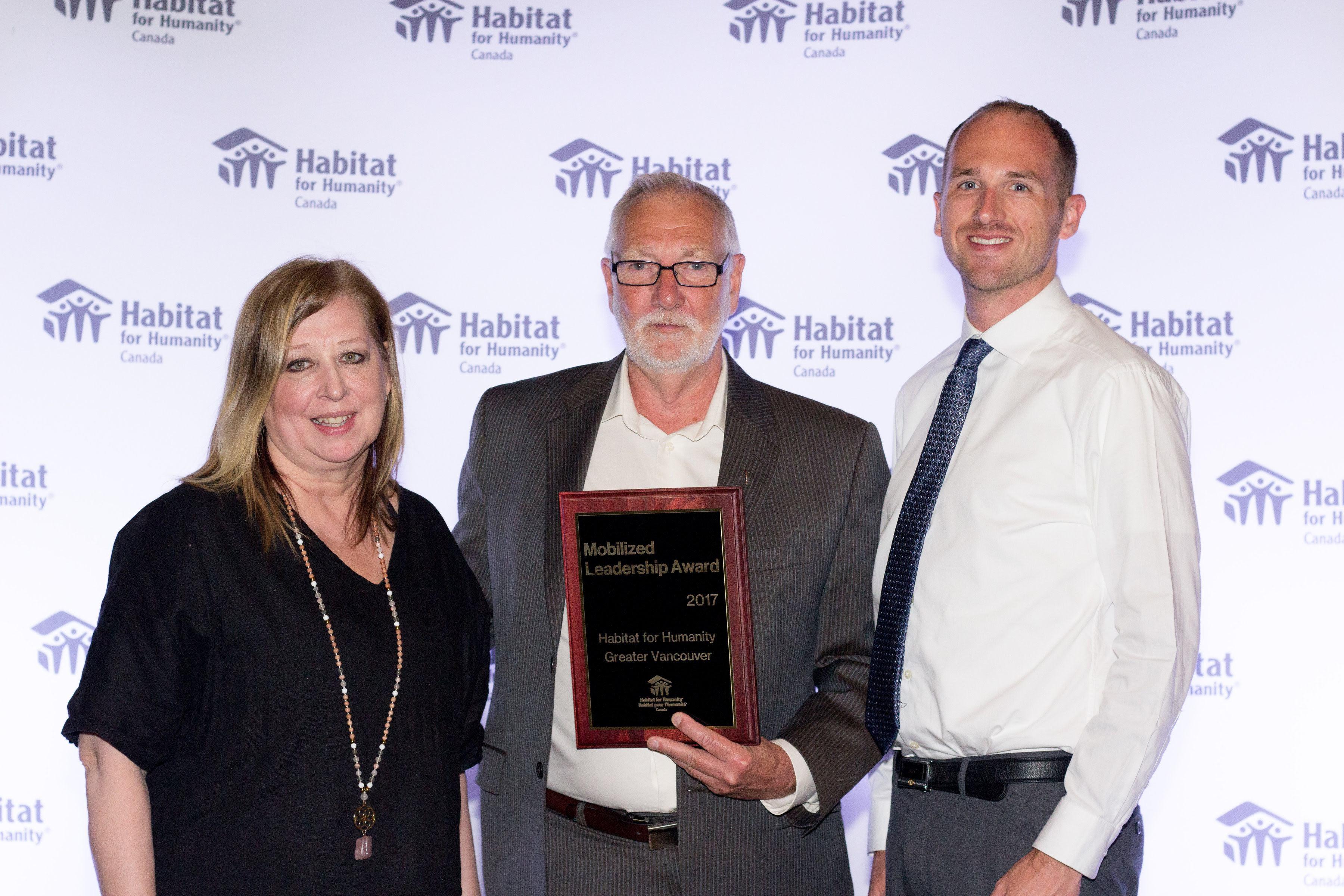 In recent years, Habitat Greater Vancouver has excelled at embodying the "One Habitat" spirit -- supporting other local Habitats from an operational and a leadership perspective. They have been a true catalyst for Habitat for Humanity growth in the province of British Columbia over the past two years. While expending significant energy focused on building their own capacity to serve more families they have never turned their back on the bigger picture. The continued collaborative style of Habitat Greater Vancouver's leadership team has brought true change to the family of local Habitats in British Columbia. They have also secured a land donation in Coquitlam that will serve up to 50 new Habitat homeowners and will break ground in 2018.

Habitat for Humanity Waterloo Region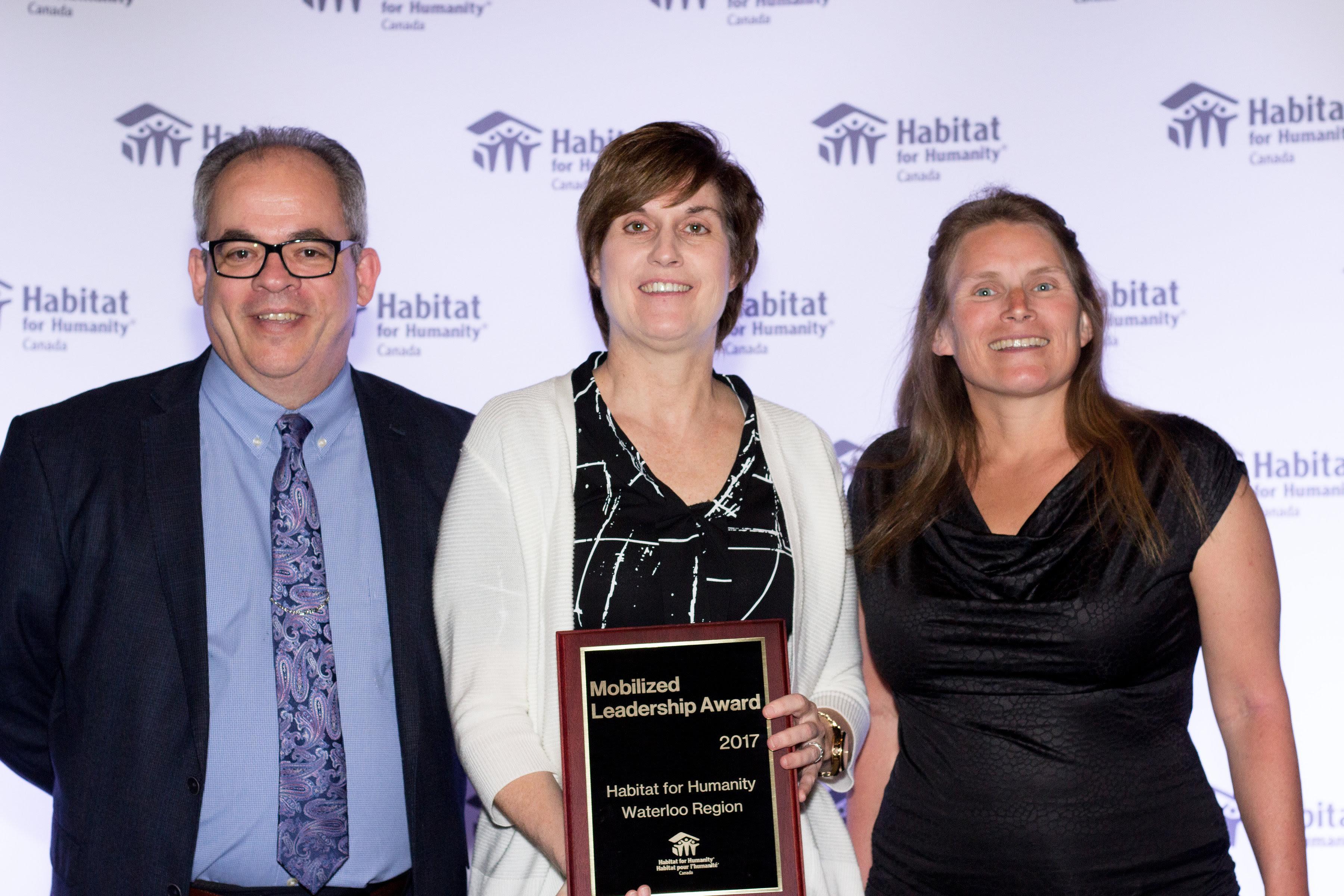 In addition to continuing to actively serve families over the past 30 years in Waterloo Region, this local Habitat is also committed to global engagement, supporting families both here and abroad who are in need of decent housing. They support an engaged community of youth and have well-established Habitat chapters at local post-secondary institutions where students actively recruit, inspire, train, fundraise and travel with Habitat Global Village to build homes. When these students return home, Habitat Waterloo Region works hard to chronicle their stories, celebrate their accomplishments and engage them in local volunteering opportunities. Their CEO has been a valued and active mentor to other local Habitat leadership through Habitat Canada's capacity-building leadership program.
Epic Engagement Award
This award goes out to local Habitats who demonstrate that they can provide a platform that ignites action in their community while significantly raising awareness about Habitat for Humanity's work. The 2018 award winners are:

Habitat for Humanity Niagara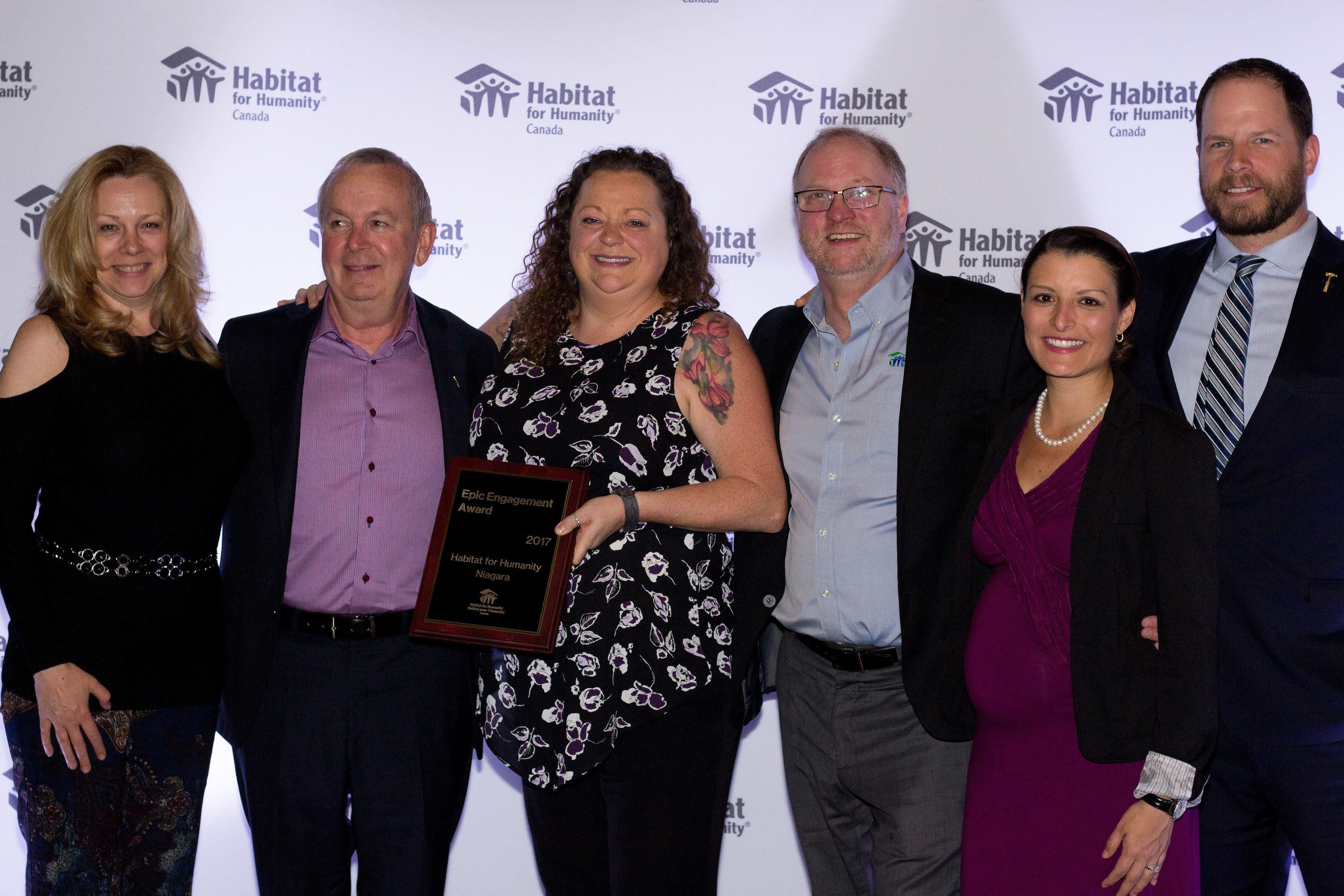 Habitat for Humanity Niagara held a Women Build initiative in 2017 to increase local engagement, raise their profile, attract new sponsorships and build two new homes, from start to finish over a period of four months, for local families in need of decent and affordable homes. Between selling build days, their designer bag bingo event and major gift fundraising efforts, they raised more than $325,000 to build the two homes. In addition to the funds raised, the 2017 Women Build engaged more than 650 women from across the region.
Habitat for Humanity Edmonton and Habitat for Humanity Manitoba

Habitat Edmonton and Habitat Manitoba engaged took the lead on hosting Habitat's 34th Jimmy and Rosalynn Carter Work Project in Canada, building 75 homes in Edmonton and 25 homes in Winnipeg! It was a visible, vocal demonstration of the powerful effect a community coming together can have in empowering families through Habitat's model of affordable homeownership. Thanks to the dedication of over 10,000 volunteers, hundreds of suppliers of both materials and services, along with thousands of corporate and individual donors.
Sustainable Funding Award
As a charitable organization, Habitat for Humanity relies on active, engaged partners and generous donors. While there are always new challenges in the fundraising sector, the Sustainable Funding award goes to two local Habitats who have shown innovation, collaboration and leadership in this area, ensuring accountability to donors and a strong financial foundation to their work. The 2018 winners are:
Habitat for Humanity Vancouver Island North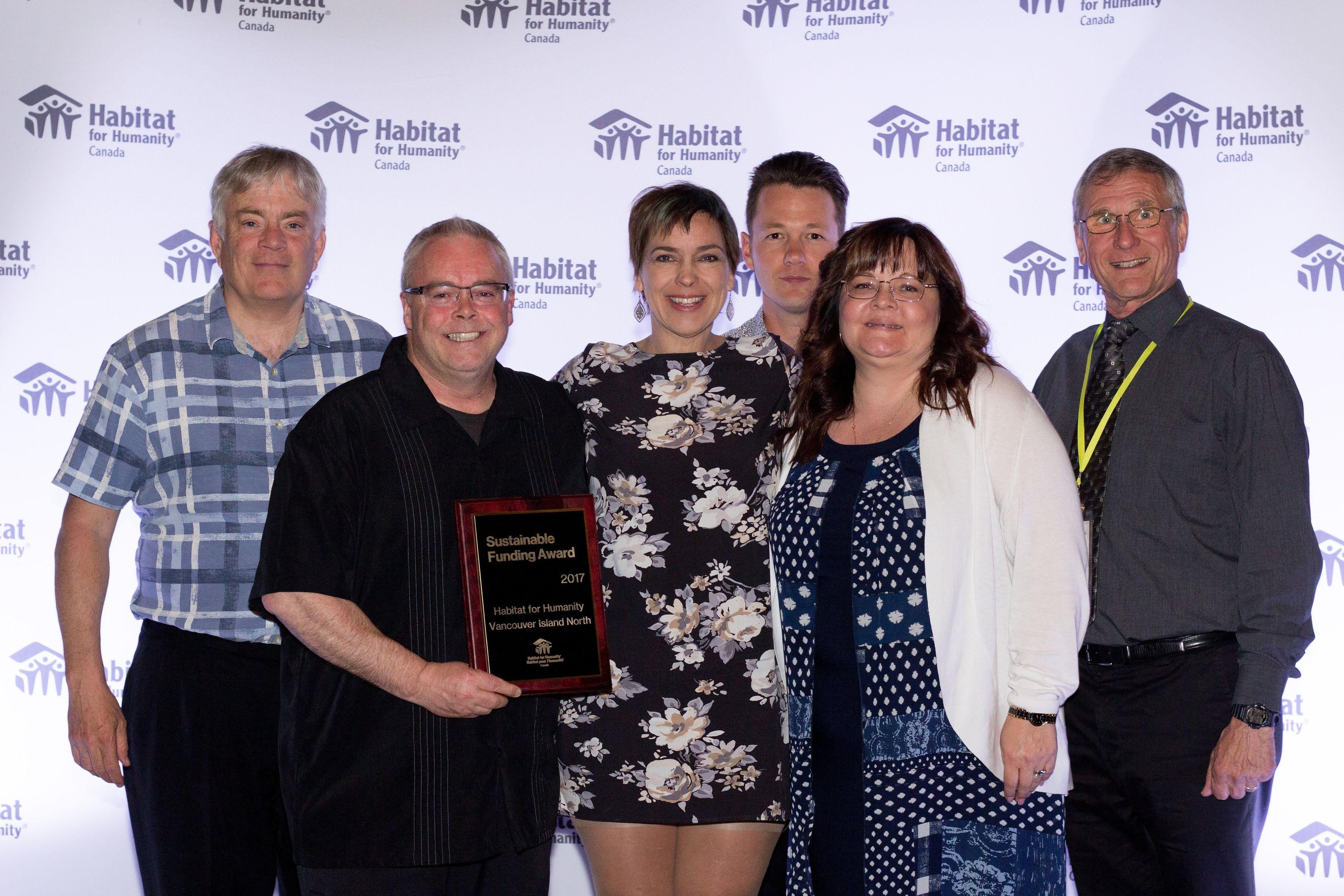 Habitat for Humanity Vancouver Island North joined a coalition who work in partnership to "plan, coordinate, recommend, and implement community responses to homelessness." As a part of this collective, they were able to pass an innovative referendum that ensures a consistent source of funding for all members of the coalition. The referendum introduced a new property tax to provide funding to local nonprofits with a focus on housing which will help Habitat work with the community to increase access to affordable homeownership.
Habitat for Humanity Windsor-Essex
Habitat Windsor-Essex partnered with local kitchen companies with the goal of increasing revenue for the Habitat ReStore, specifically in kitchen recycling. Their Kitchen Salvage Program includes a group of skilled retired tradespeople who volunteer their expertise and time to execute careful and efficient removals of kitchens that they can resell at Habitat ReStore. They've also expanded their network to include more partner companies, which has in turn increased their ability to market the service. Their annual revenues from this program alone have increased 170 percent.


One Habitat Award
"One Habitat" is the integration of all we do – communication, operations, governance – with the intention of serving more families in our country and in the world. To be "One Habitat" is to go above and beyond every day not only for your own community, but in the commitment to Habitat's vision of a world where everyone has a decent place to live.
Our "One Habitat" award recognizes a local Habitat whose culture and extraordinary accomplishments in advancing the "One Habitat" spirit with Habitat for Humanity across Canada.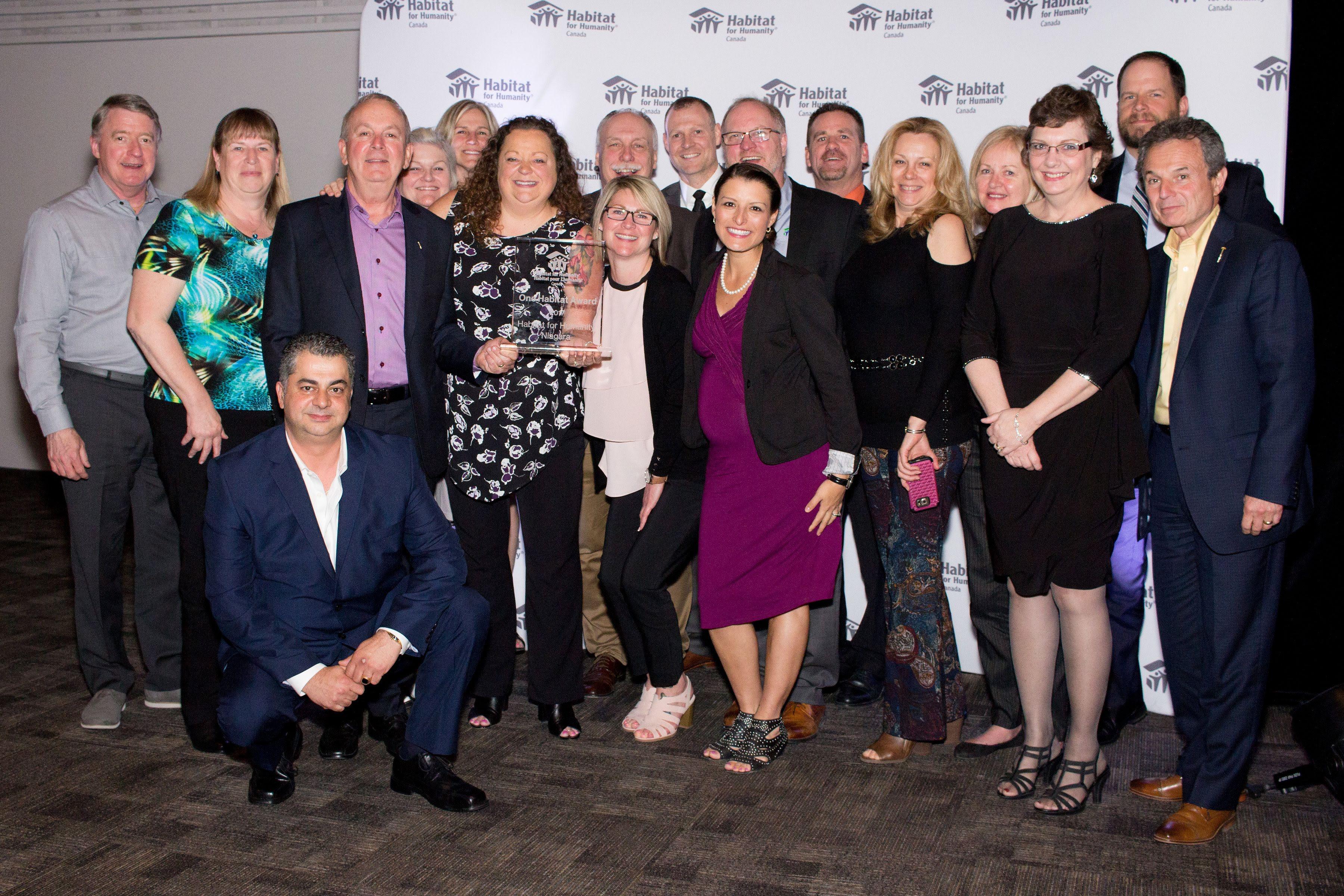 Habitat for Humanity Niagara first began operations in 1993 through the efforts of a small, but committed group of volunteers and has grown to employ 24 people full time, led by a governing board of directors. At the end of 2017, they have built a total of 57 new Habitat Homes, empowering 61 families to build brighter futures through affordable homeownership. They also operate three successful ReStores which, together, achieved $2.1 million in sales in 2017 and helps support their homebuilding efforts.
Habitat Niagara is committed to collaboration, whether it is with other local Habitats, or with Habitat Canada. Most importantly, Habitat Niagara is committed to making sure all of their actions are connected back to ensuring all families have a safe and decent place to live. Congratulations to Habitat Niagara on winning this award!
Kenneth J. Meinert Leadership Award
Habitat for Humanity Canada established the Kenneth J. Meinert Leadership Award to honour individuals who, through exceptional leadership, have significantly advanced the mission of Habitat for Humanity in Canada.
This award has been developed to pay tribute to the contributions of Ken Meinert, and to articulate and reward those leadership traits that personify the very best of Habitat's values and culture. The winner of this award also receives $10,000 in prize funding to donate to the local Habitat of their choice.
Brett Marchand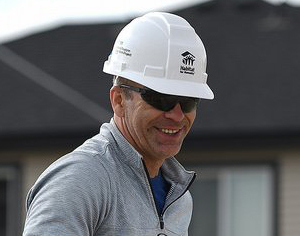 Brett is a long-time and deeply-valued friend, supporter, volunteer, ambassador and advocate for Habitat for Humanity in Canada and around the world. He has been actively involved with Habitat's cause since 1986. His breadth of engagement with our cause has included the involvement of his family and friends as well as the involvement of his company, Cossette and their PR firm, Citizen Relations. For many people within the Habitat network and beyond, Brett's name is synonymous with Habitat. Brett has been exceptionally giving with his time, his expertise and his resources, all in support of our cause. He does so selflessly and for no reason other than to contribute to the good work of our organization. Congratulations to Brett on winning this award, and for choosing Habitat Quebec as the recipient of his prize funding. Thank you to Brett and his wife, who generously matched this with a personal donation of $10,000 to Habitat Quebec.