Congratulations to the award winners of the 25th Habitat Canada Awards Gala
Eleven awards handed out by Habitat Canada during national conference
Last week, during our national conference, we recognized nine local Habitats and one individual for their outstanding and innovative contributions to Habitat for Humanity's mission. The conference was held in St. John's Newfoundland and Labrador and over 250 delegates shared innovations, ideas and best practices with each other and came together to recognize and celebrate the achievements of this year's winners of our national awards program.
Housing Innovation Award: This award focuses on how local Habitats are serving more families by employing new and improved, cost-effective construction technologies, adapting mortgage models and creating innovative housing solutions all with a goal of increasing the number of families served.
Habitat for Humanity Grey Bruce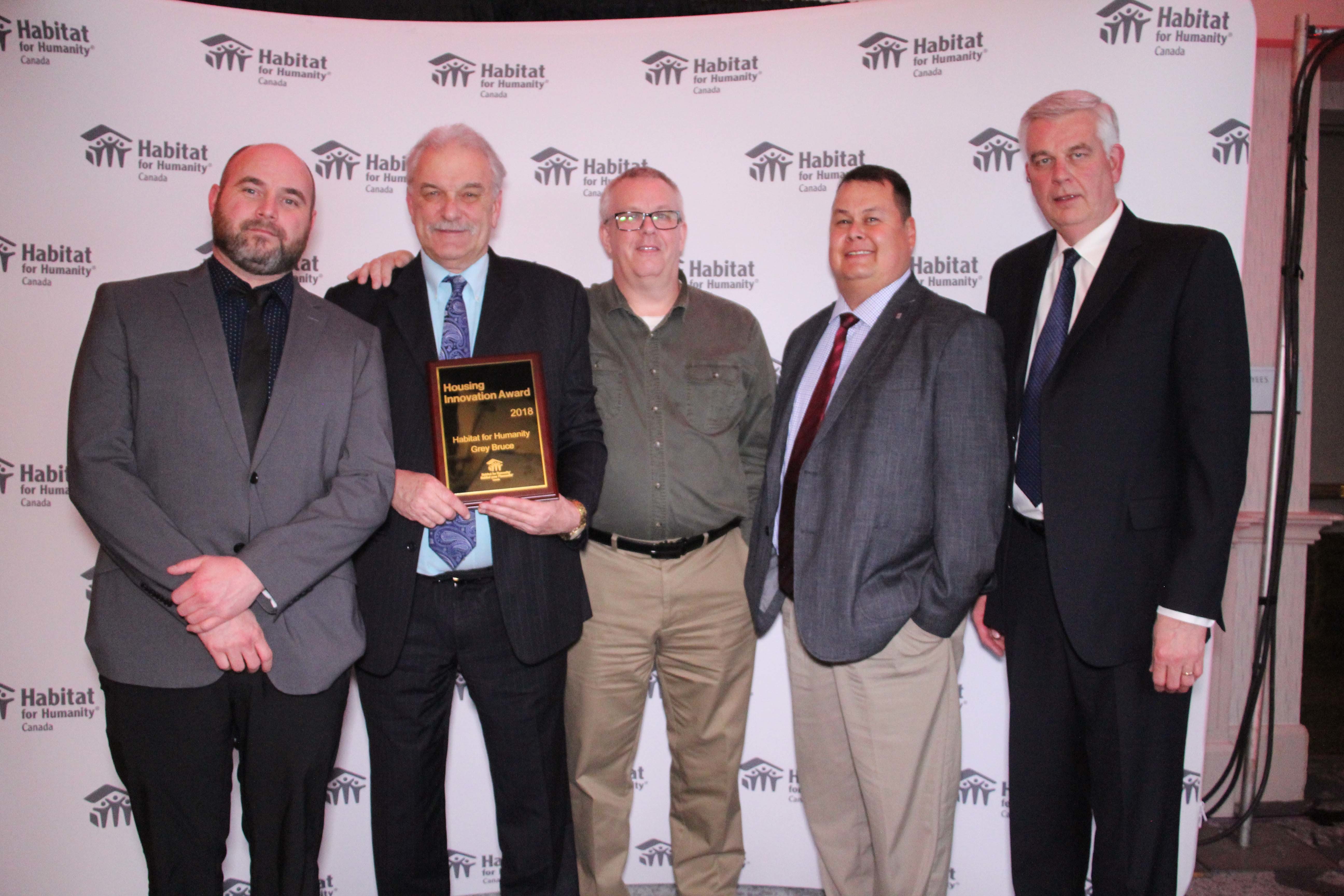 Their partnership with the Chippewas of the Nawash Unceded First Nation has resulted in plans to support a 25-acre subdivision for 19 new homes with additional funding from a third partner, the Canada and Mortgage Housing Corporation (CMHC). Four homes were completed in 2018 as a part of this innovative Indigenous Housing Partnership.

Habitat for Humanity Sarnia/Lambton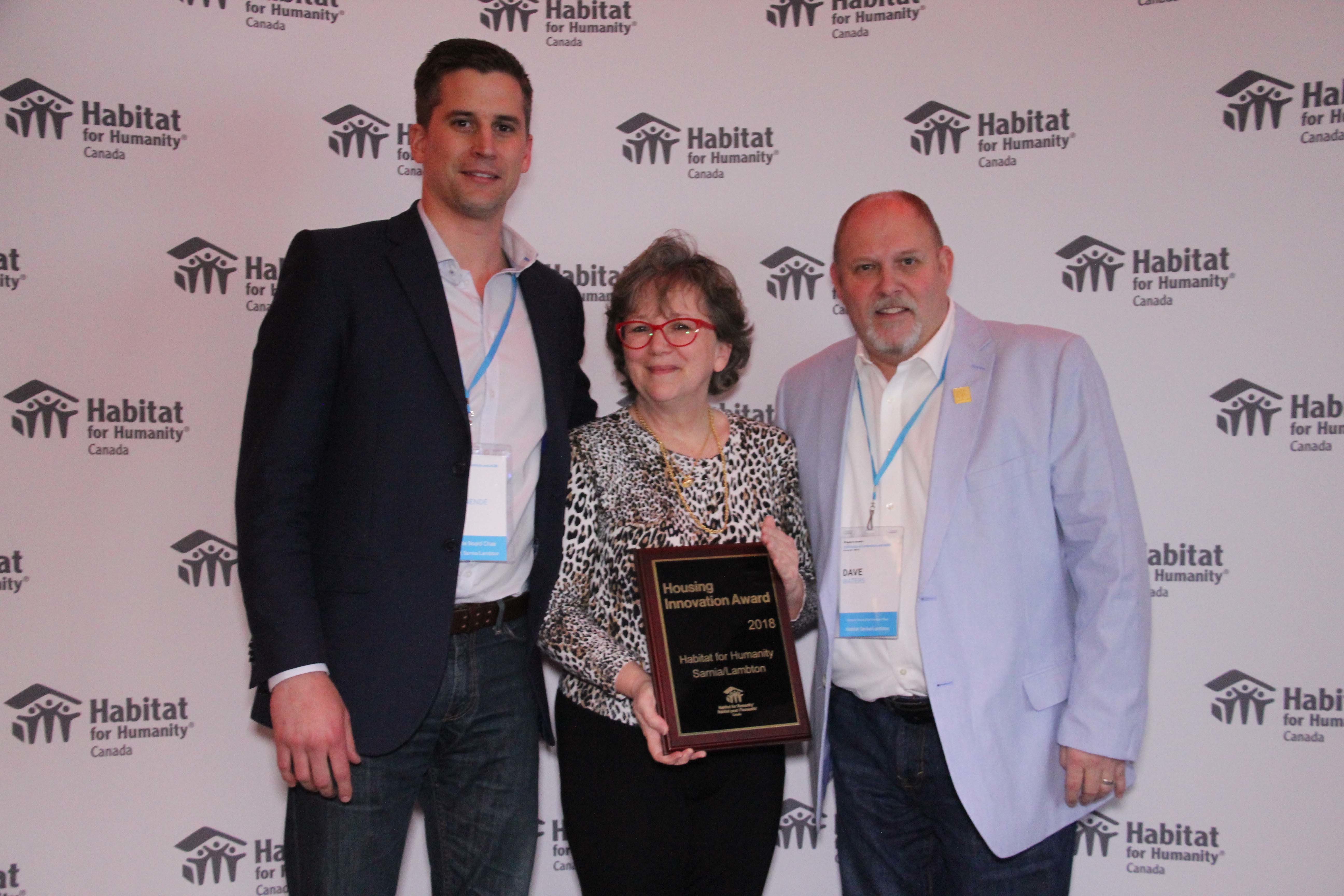 Building its first-ever five-unit multiplex, Habitat Sarnia/Lambton constructed five accessible units for seniors. The units were also built using an Insulated Concrete Form (ICF) basement, tank-less water heaters and insulation in excess of the current code in order to be as energy efficient as possible.
Optimal Performance Award: These two awards recognize local Habitats that have undertaken projects and processes to optimize their capacity and performance -- all in the interest of serving more families.
Habitat for Humanity Heartland Ontario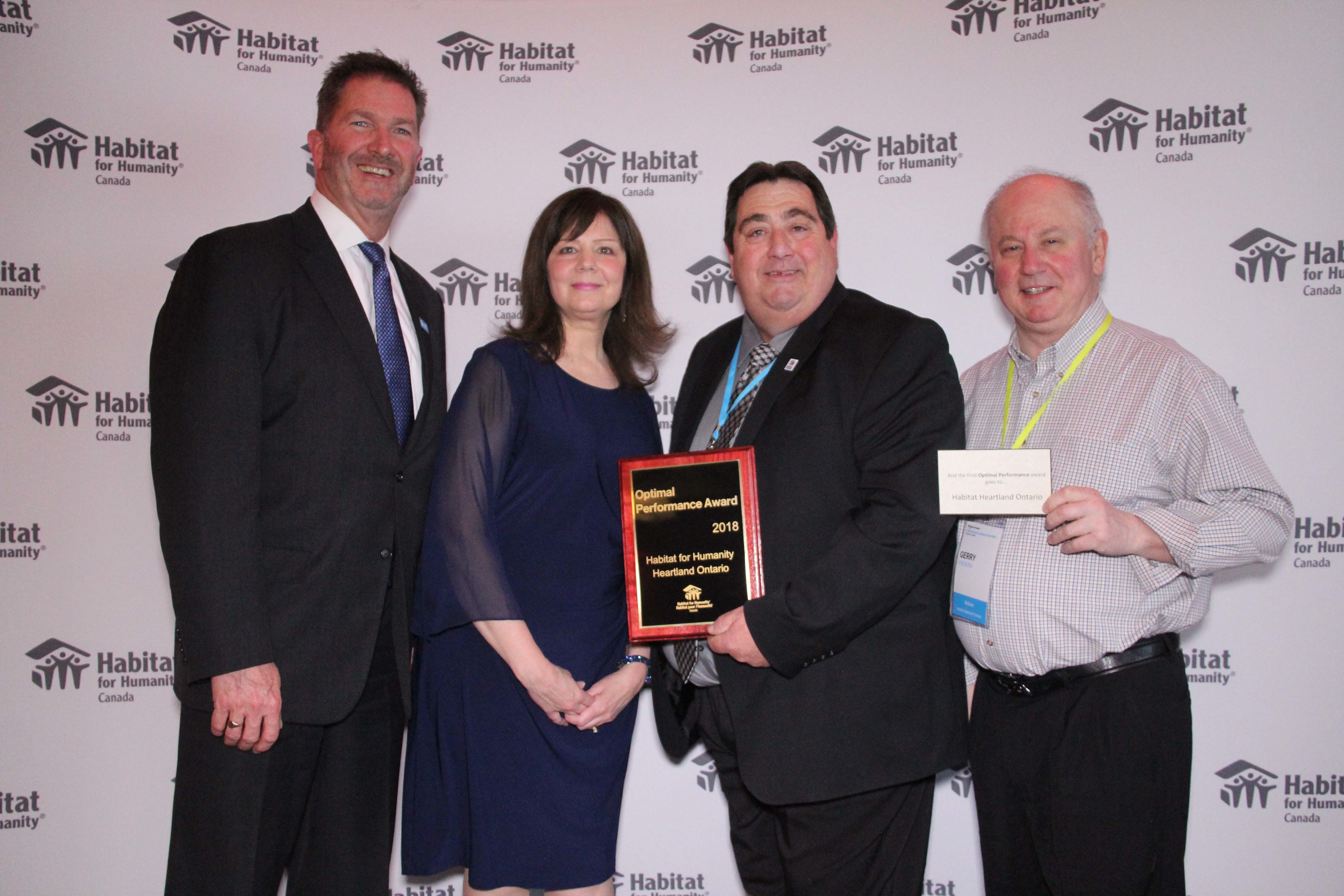 Habitat Heartland Ontario moved to a more user-friendly online system for family selection pre-applications, and an online quiz helped applicants determine if they were eligible for the affordable homeownership program. This helped make it easier for families to complete and submit an application as well as receive a faster response and helped increase the number of eligible applicants at the same time.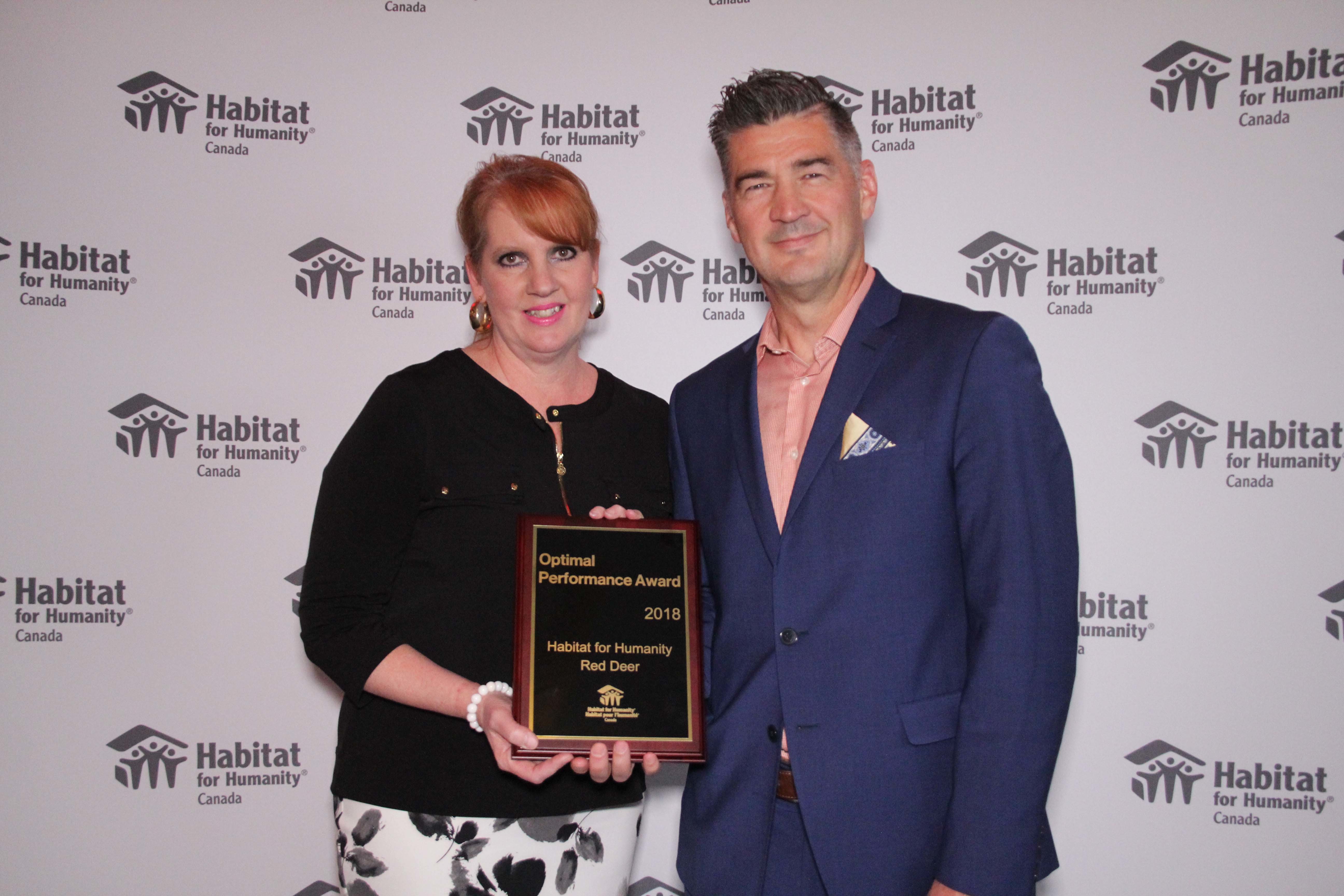 Incorporating new technologies and online systems for payroll processing, health and safety management and volunteer management, Habitat Red Deer also launched a digital newsletter and an Instagram account to improve communications with their supporters. By incorporating new technologies, Habitat Red Deer has improved productivity and efficiency in terms of staff time, improved service and information management as well as growing their volunteer pool and increasing donations and build gift-in-kind partners.
Mobilized Leadership Award: This award recognizes local Habitats who foster and enable a culture of leadership that inspires leaders at every level.
Habitat for Humanity Heartland Ontario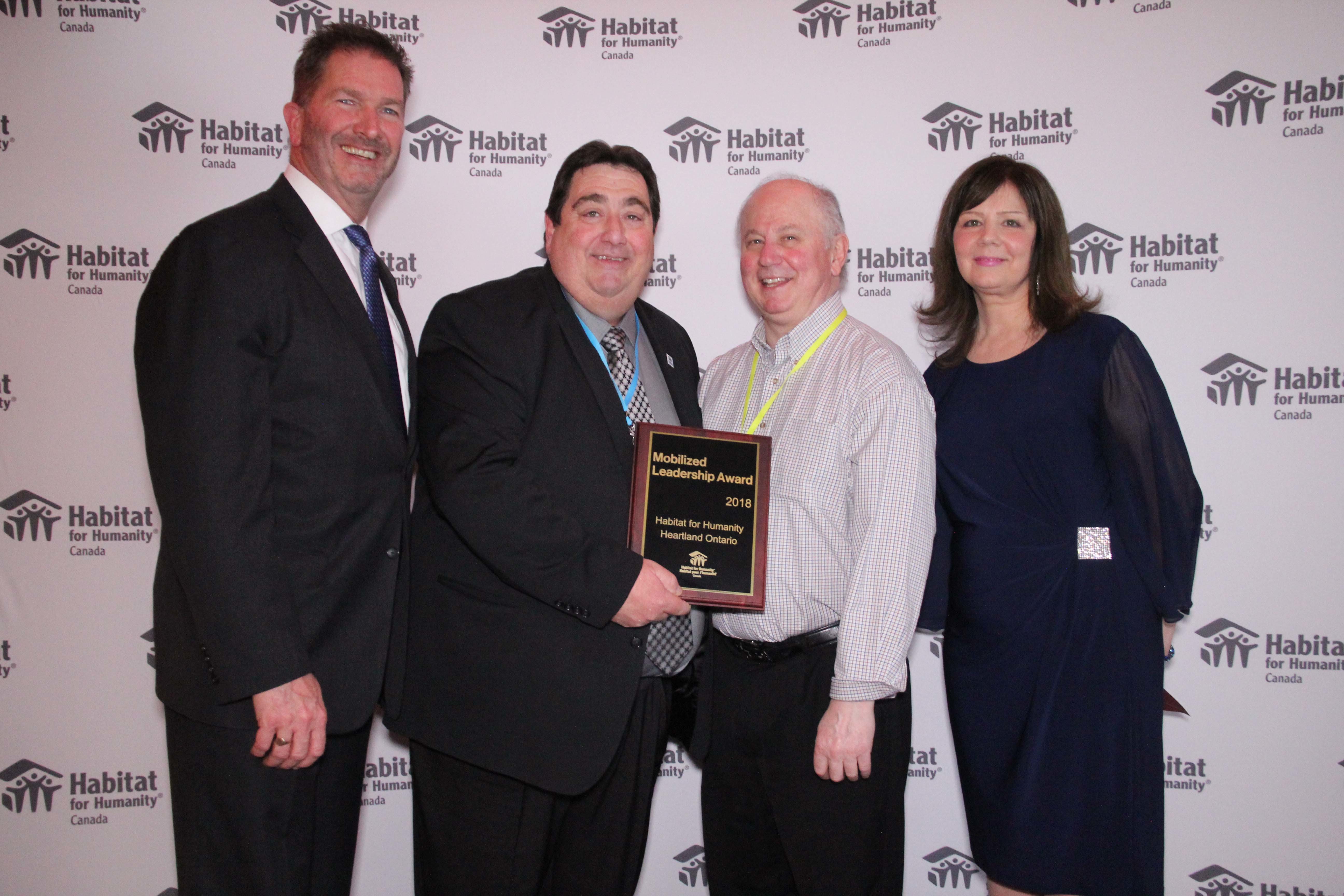 This local Habitat shares its resources regionally, including policies, procedures as well as building and land opportunities. They are also involved nationally in influential leadership roles on several committees on philanthropy, an internal intranet and mortgage models. They actively reach out for help and collaborate with other local Habitats when needed. Aligned with an innovative strategic plan, they are successfully focused on nurturing past, current and new partners.


Epic Engagement Award: This award goes to two local Habitats who demonstrate they are igniting action among their communities while significantly raising Habitat for Humanity's brand and profile. This award is about engaging their community to join us in tackling the growing affordable housing crisis and establishing Habitat for Humanity as a leading voice of affordable housing and homeownership in their market.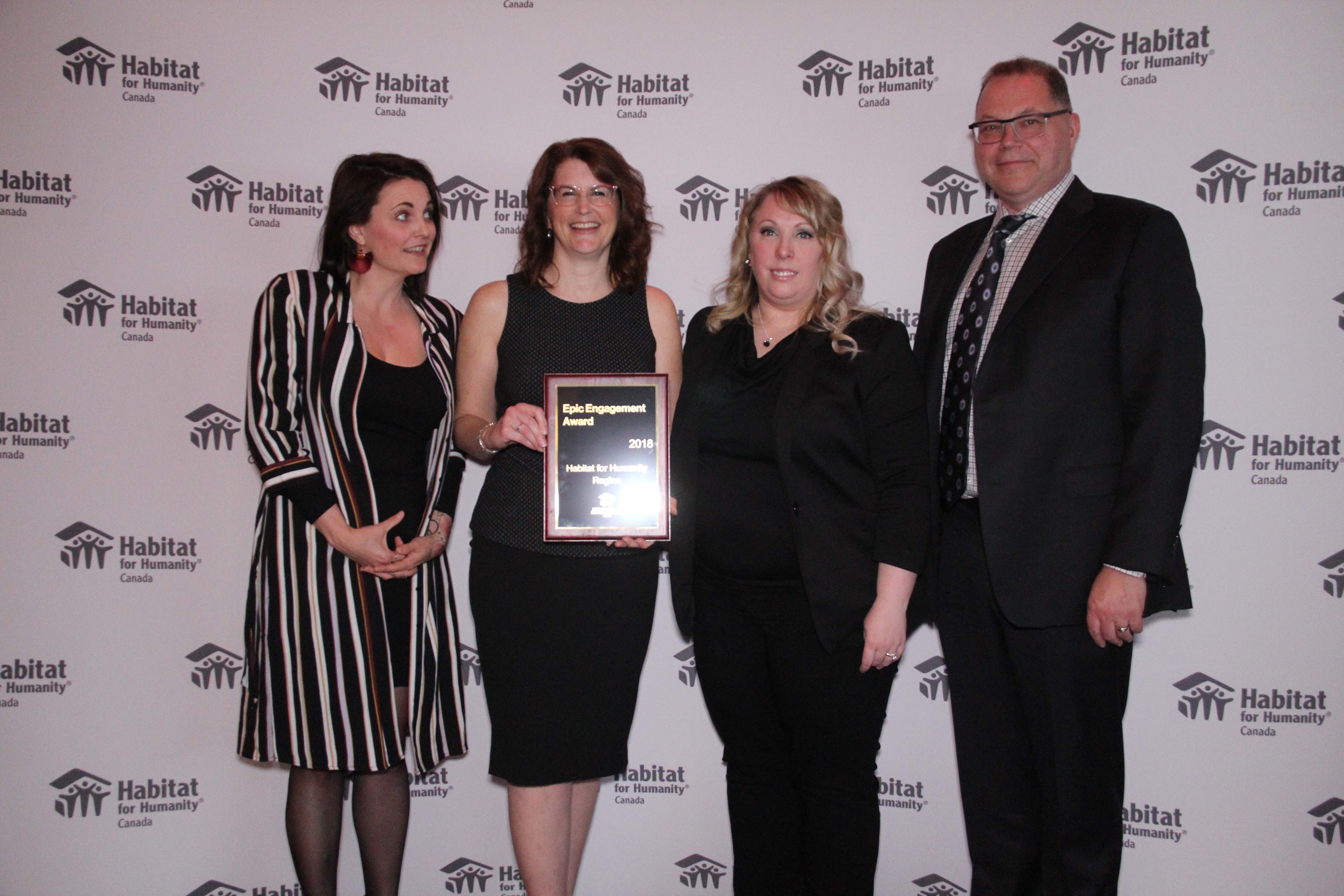 This local Habitat recognized a need for a dedicated staff member to execute the marketing and communications strategy and in turn, increase engagement and exposure. Since creating the new position, they have hired a marketing and communications coordinator responsible for increasing brand awareness, building a new website and developing and implementing a communications and social media strategy. As a result, Habitat Regina has seen increased Habitat ReStore revenues, increased website and social media engagement and increased engagement rates for their newsletter among other benefits!
Habitat for Humanity Vancouver Island North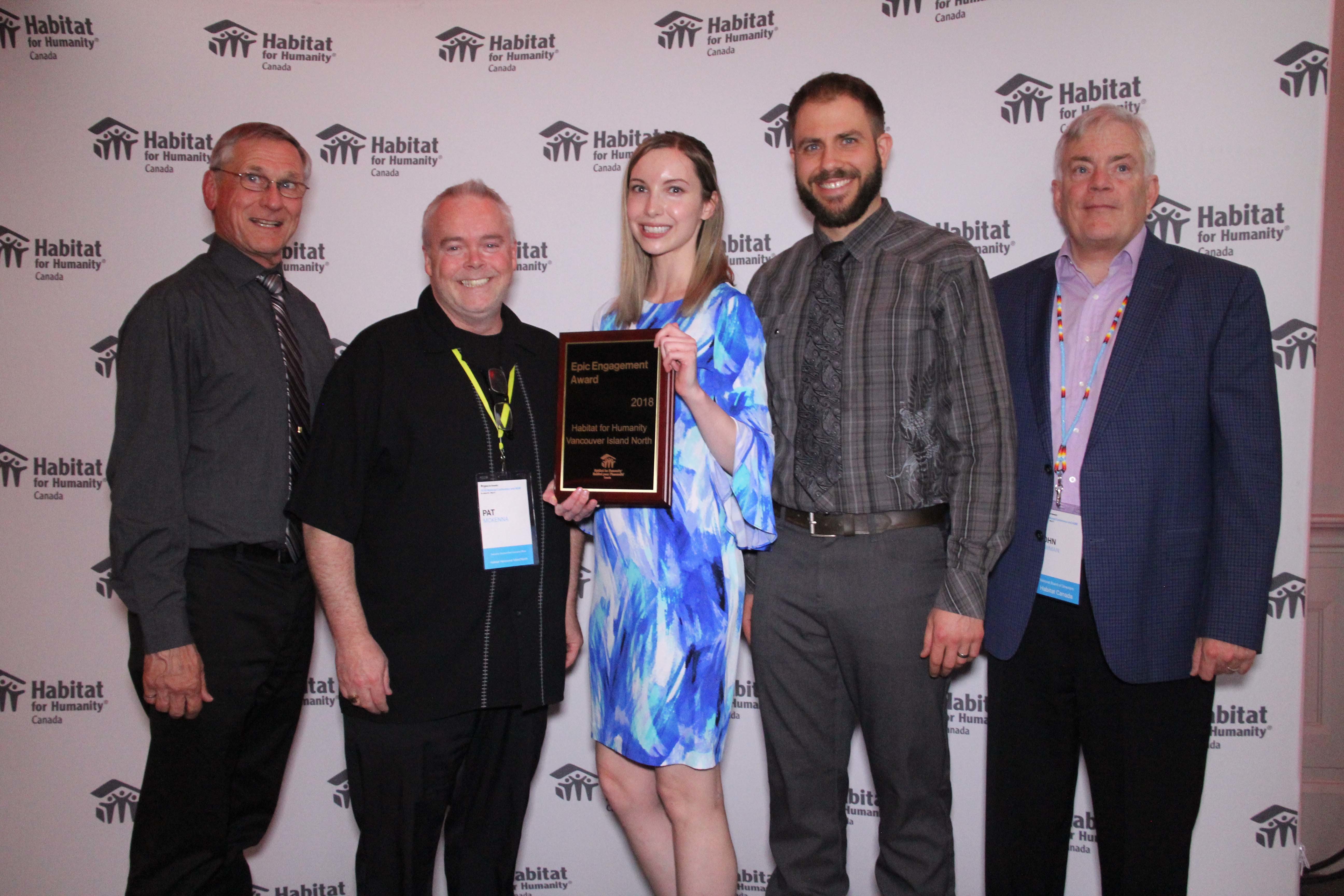 Needing to recruit more volunteers and raise additional funding because they were building in two different communities at the same time, Habitat Vancouver Island North had the additional challenge of reconnecting with a community they had not built in for five years. Using the new Habitat brand guidelines, they reinvigorated their image and actively engaged with both communities while eliminating some of the frequent misconceptions about Habitat's program. They moved from a model where brand was delivered by marketing to a model where the mission drives the brand and the brand is delivered by all employees.
Sustainable Funding Award: Pursuing new funding through a time of uncertainty and challenges in the fundraising sector is something each Habitat for Humanity organization in Canada faces every day. This award highlights the efforts of two local Habitats over the past year to find new ways to ensure growth and success.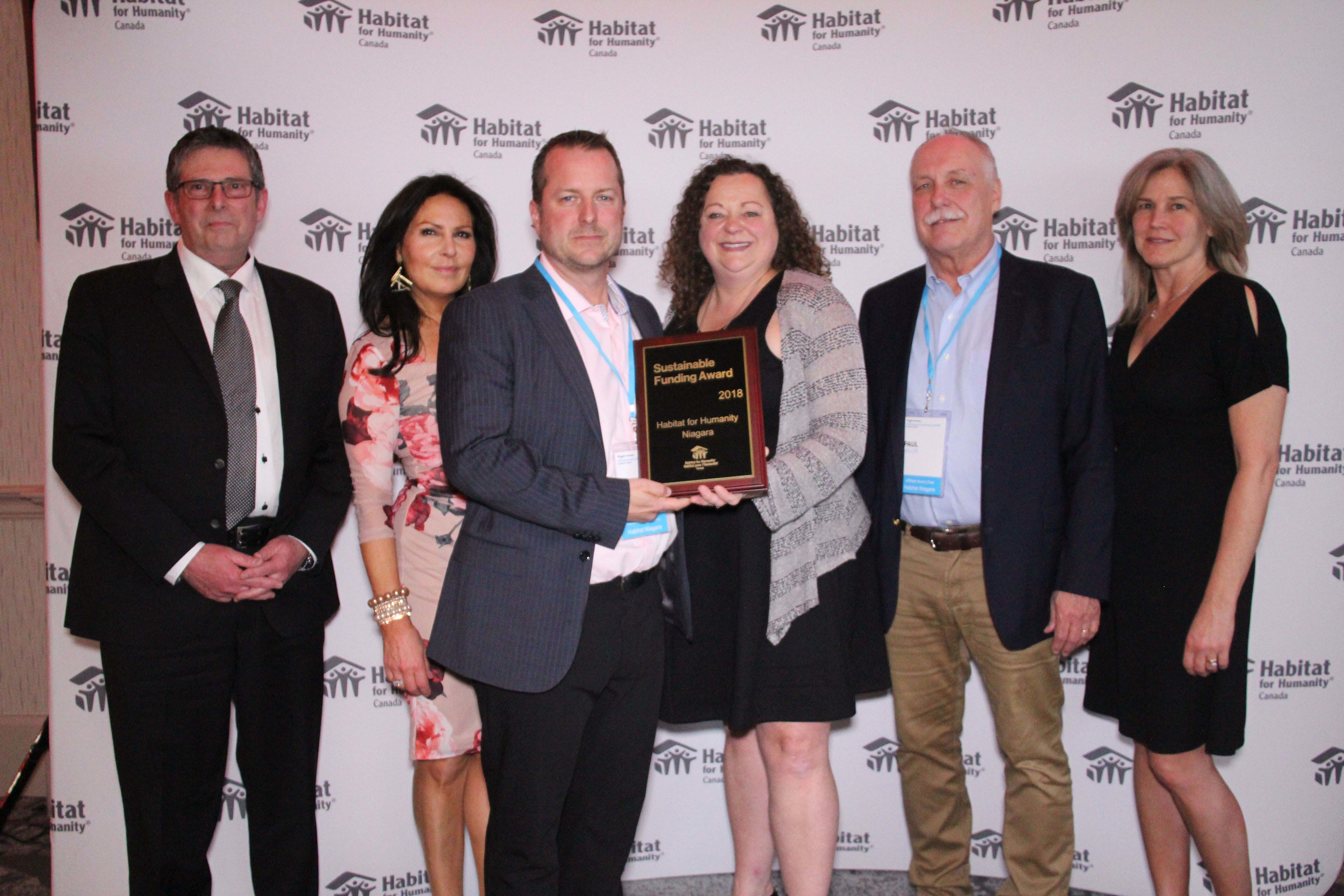 In 2018, Habitat Niagara announced its involvement in a new program that would not only build brighter futures for 15 Habitat Niagara future homeowners, it would also enhance employment opportunities and provide skills training for 150 Indigenous youth from the region. The Building Futures Program, in partnership with The Niagara Peninsula Aboriginal Area Management Board (NPAAMB), is a socially innovative and unique approach to employment and training that provides lasting results and significant social impact while contributing to affordable housing.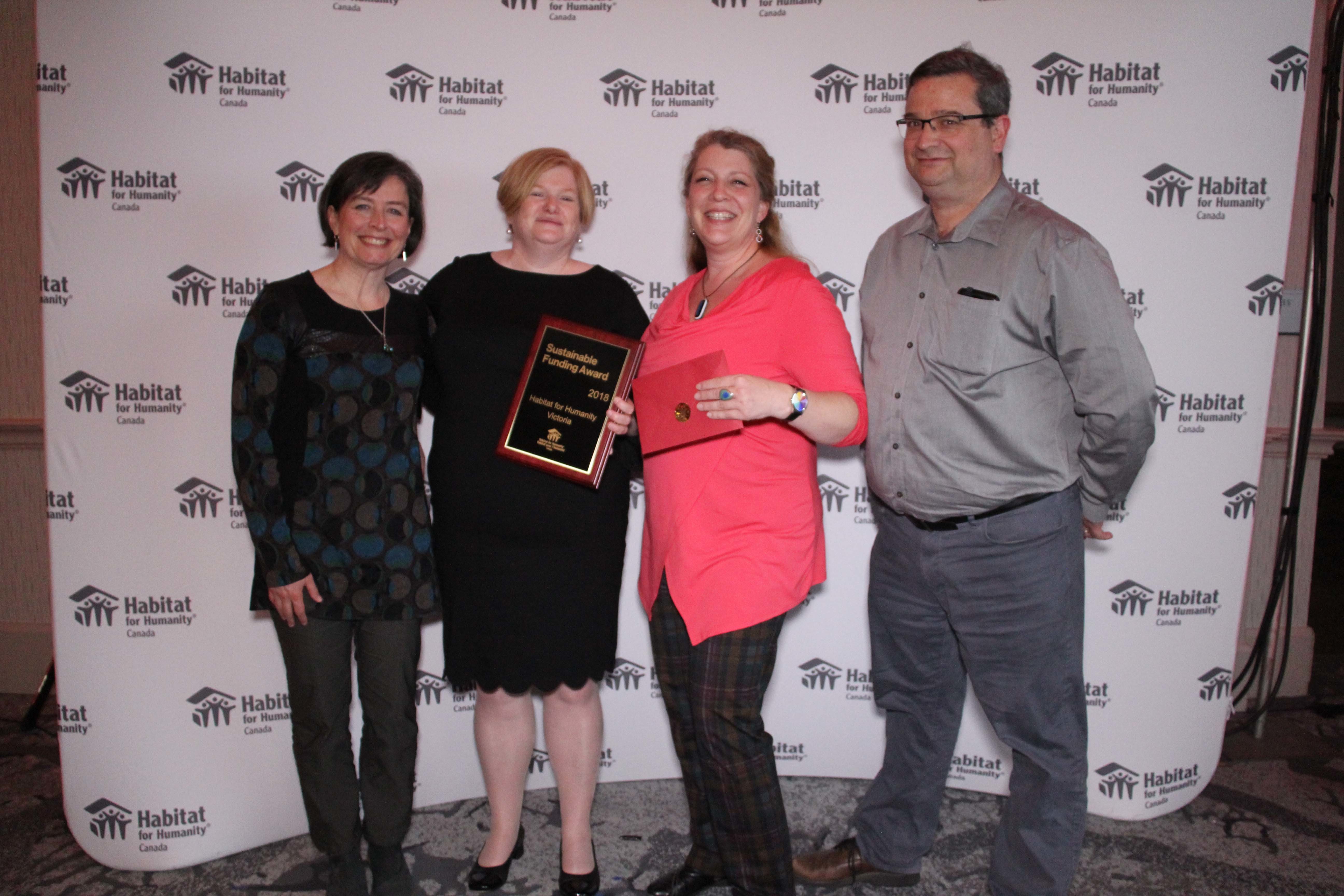 Habitat Victoria approached developers to partner with them on rezoning applications. Given the affordable housing crisis, more municipal governments were requiring that for-profit developers contribute to the creation of affordable housing, mostly through amenity fees. Habitat Victoria's approach allowed for the concurrent delivery of affordable housing units with the delivery of market units as the rezoning would be contingent upon the donation of land to Habitat. As a result of this strategy, Habitat Victoria has secured the donation of serviced land for 16 new homes, over three municipalities and in partnership with four for-profit developers.
One Habitat Award: "One Habitat" is the integration of all we do – communications, operations and governance – with the intention of serving more families in our country and around the world, wholly supporting our vision of a world where everyone has a decent place to live and helping all Habitat for Humanity organizations in Canada and around the world. The winner of this award truly lives and breathes this spirit.
Habitat for Humanity Windsor-Essex: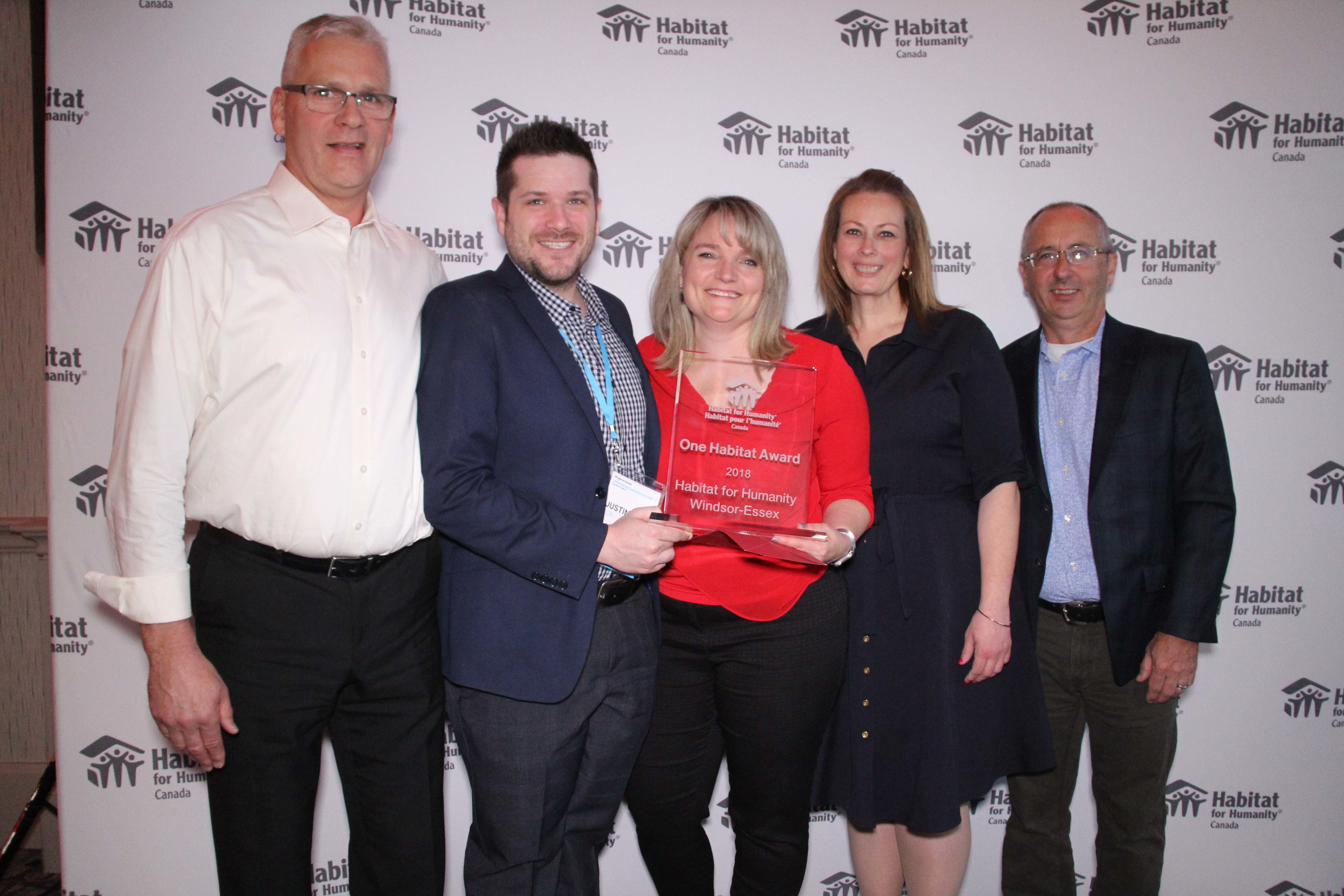 Not only does Habitat Windsor-Essex bring collaboration to life internationally and within their own community, they have also been collaborative trailblazers, sharing three successful Trillium grants as well as plans and information on other fundraisers with any local Habitat interesting in replicating their programs or proposals. They partnered with other Ontario Habitat for Humanity organizations on a successful grant application to the Walker Family Foundation. Board members have volunteered on Habitat for Humanity Canada Global Village builds to Vietnam, Kyrgyzstan, New Orleans, Ghana, Haiti and more. Their goal is to help in any way they can to inspire the next generation to create a world where everyone has a decent place to live.
Kenneth J. Meinert Leadership Award: Established to honour individuals who, through exceptional leadership, have advanced the mission for Habitat for Humanity Canada. This award goes to a staff member or volunteer who always puts the organization, and the needs of others, before themselves; inspires others to engage and work towards a significant shared goal and, most importantly, acts with compassion, dignity and graciousness. This award was presented by Ken Meinert this year, and the award recipient also received the opportunity to designate a $10,000 grant to the Habitat activity of their choice (local, national or international). The grant was generously donated by Bailey Metal Products in honour of Ken's retirement form that company.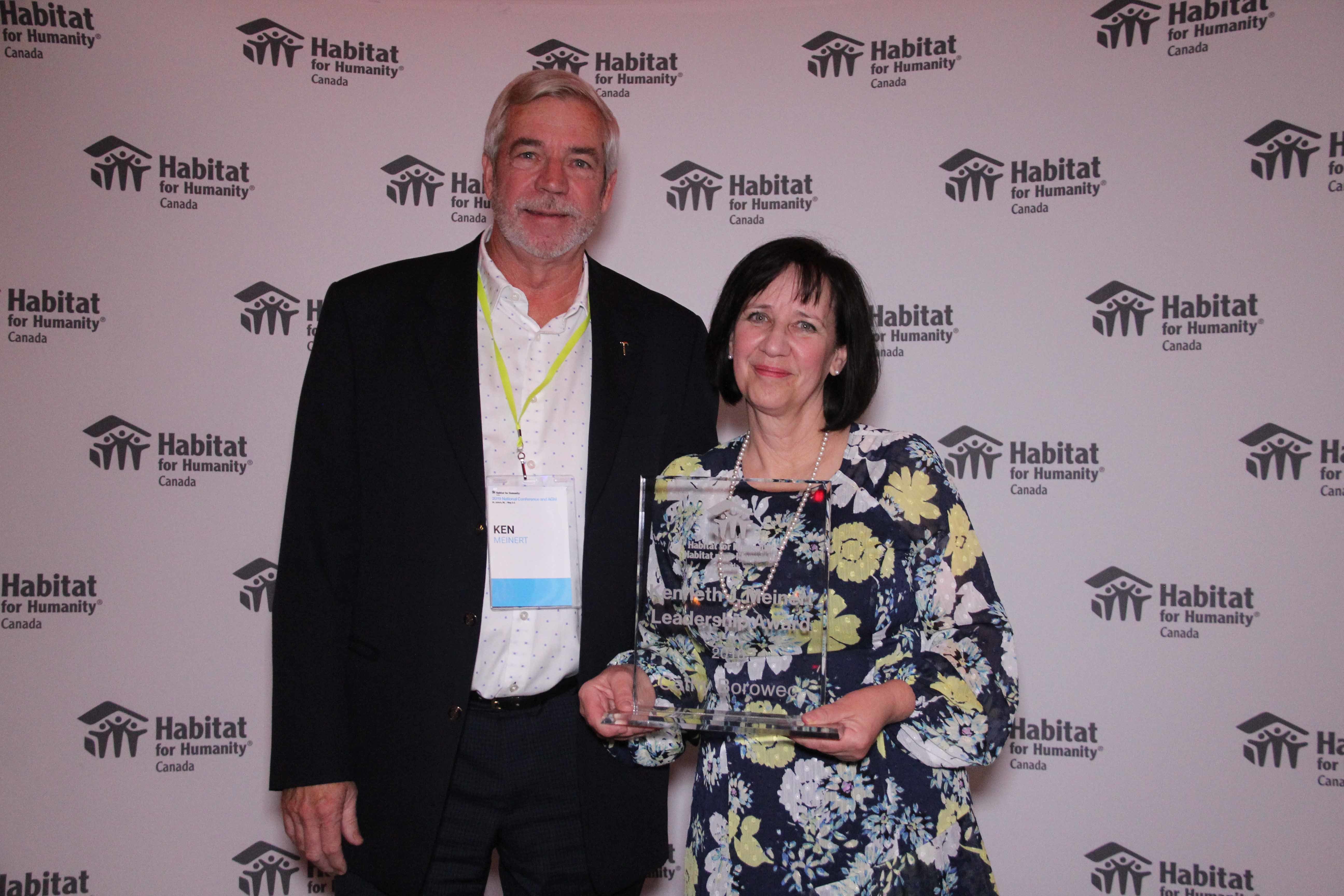 Cathy Borowec (pictured at right with Ken Meinert): Always focused on families first, Cathy has dedicated nearly two decades to Habitat for Humanity's mission, Cathy is a Habitat for Humanity advocate known for her gracious, compassionate and respectful style of leadership. She has led a number of local Habitat for Humanity organizations and is currently the executive director of Habitat for Humanity Kingston Limestone Region. Cathy has also provided invaluable support to many more local Habitats across the country in her roles at both the local and national levels.
Not satisfied to address the affordable housing need in her own backyard, Cathy was part of the team behind the creation of Habitat Canada's Global Village, an international volunteer program, in 2005. Cathy has volunteered as a team leader on numerous Global Village builds around the world, inviting, inspiring and welcoming newcomers to support Habitat's vision of world where everyone has a decent place to live, Congratulations to Cathy!
All photos by Christina McGory Photography