Homeownership
May 31, 2022
Home is for the future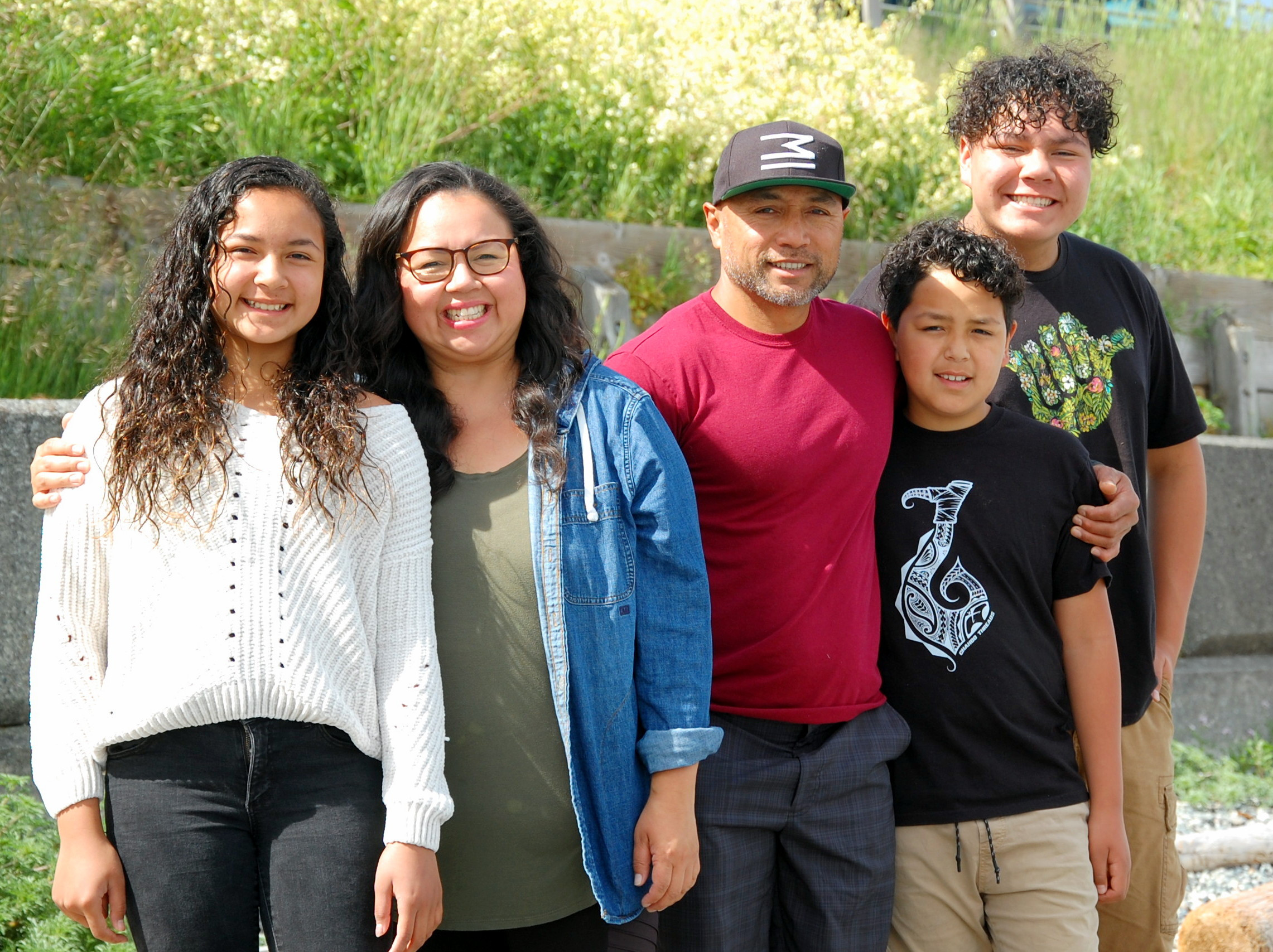 Tina and Niu had been living in a basement suite for nine years, sharing the work in the garden and looking after the place when their landlords were away. Their landlords knew they were saving for a home of their own and had done everything they could to keep the family's rent affordable. "We were raising three kids and saving as much as we could, but it felt like it was going to be 100 years before we had a deposit ready at the rate we were going!" shared Tina.

Faced with the difficult choice of continuing to rent indefinitely or moving back to Saskatchewan and away from the life they had built on Vancouver Island, their property owner had another suggestion: "He had volunteered with Habitat for Humanity Victoria and thought we might be a good fit for their homeownership program. We applied and now here we are, in a home of our own," laughs Tina.

Tina grew up on the prairies in her home community of the Keeseekoose First Nation. She felt safe at home growing up in a strong community and as part of a large family. But once she separated from that community, she found herself struggling with her own identity and self-worth, particularly in the public-school system. "Niu has taught me how to value who I am; I have such admiration for the connection he has with his culture and family and seeing him with them gave me a deep appreciation for who he is and just what he has given up to be with us here in Canada," says Tina. She now works as a facilitator and trainer for the Kairos Blanket Exercise and as an on call Indigenous EA for the school district.

Niu, who works on ground maintenance for the local school district, came to Canada as a volunteer from the Polynesian Island of Samoa. "My mom saw an opportunity for a better life and to serve others, so she paid for my flight, gave me a twenty-dollar US bill and sent me to Canada," smiled Niu. "That's how I met Tina." Travelling with Youth with a Mission, Niu came to Canada to share his culture and his traditional dances with Canada's First People. Tina's mom, who had met Niu and the group first, thought YWAM would be a good fit for her daughter. A year later Tina joined, and they began to train and volunteer together with the charity. They married in 2004.

Both cultures are rich in community and believe strongly in the value of family. For Tina and Niu, it is so important that their children carry that knowledge with them.
"We want our children to have a strong sense of who they are, so they can be leaders in the community and stand on their own. For us, owning our home is about investing in our children's futures and Habitat is making it possible for us to do that."
Having lived just three minutes from Habitat Victoria's build site allowed Tina, Niu and the kids to regularly help with building their own house and neighbouring Habitat homes, as part of their family's volunteer hours. This also meant all three children were able to stay in their local school. Their eldest son is an academic and enjoys history, their daughter dances and plays sports, and the youngest is artistic and loves traditional Polynesian designs.

The family moved into their new home earlier this year and are looking forward to building community. "We already had some amazing friends in the area and we are looking forward to making many more!"