Homeownership
Dec. 05, 2018
Putting down roots - Kim and Kevin's story
A fresh start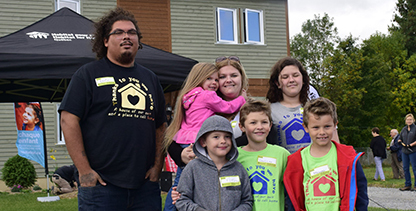 When Kim and her husband Kevin moved from Montreal to Châteauguay, it was supposed to be a fresh start for their family. They'd found a big enough home for them and their five children, Kiara (13), Christian (9), Anthony (7) Clifford (6) and Lillianna (5). It was in a smaller town, had more space for the family, a backyard, and manageable rent.
Just three months in, the mould began showing up on the basement walls of their rental home, where two of the bedrooms were located and four of the children slept. It turned out that there was a leak in the foundation. The problem had been there all along, but was temporarily hidden by a fresh coat of paint.
Fix it yourself

They contacted their landlord, who simply told them that it was their house and their problem – and to fix the leak, all they had to do was dig six feet around the foundation and fill the leak in with cement.
"We're not professional contractors. We tried to scrub out the mould – we bought a dehumidifier but it didn't make a difference," says Kim. "The mould was starting to grow on the mattresses. Everything smelled awful." Then the back porch railing fell apart. After that, it was a wasp's nest in the ceiling of their daughters' room. Their landlord still did nothing to help. Kim and her husband began looking around for other places to rent but quickly found that they couldn't afford to move anywhere else.
It was in this stressful atmosphere that her son brought home a pamphlet from school about a new Habitat build in the nearby town of Ormstown. The construction of the two platinum-LEED certified homes was already underway. But luckily, Habitat for Humanity Quebec was still looking for families to apply. All Habitat homeowners go through a rigorous application process so that the local Habitat for Humanity can determine their level of housing need, their ability to repay Habitat's interest-free mortgage, and their willingness to partner with Habitat, which includes up to 500 hours of volunteering.
"I remember showing my husband and saying 'look at this!' And we both thought it was too good to be true. We'd never get it," said Kim. She put the pamphlet away and forgot about it.
But a few months later, her son came home with another pamphlet. Habitat Quebec was still looking for one more family. At this point, Kim and Kevin had discovered another leak in the rental house and the heaters weren't working.
"I had the kids at the kitchen table doing their homework, and I sat on the couch for a second and opened up Facebook. And the first thing that came up was a video from New Frontiers School Board about the home they were building with Habitat for Humanity," said Kim, with a laugh. Sitting with the pamphlet on one side and the video in front of her, it was the push she needed. Kim decided to give it a shot and sent an application off that night.
Applying to become Habitat homeowners

For Kim and the kids, the application process felt like forever, but their patience paid off. When Kim finally got the call to let them know that they had been chosen to partner with Habitat, she rushed outside to tell her husband and the kids.
"Everyone just stopped and looked at me," said Kim. "They thought I was pranking my husband. I said 'Guys, I'm going out right now to buy boxes. We're moving!' And at that point, the kids realized I wasn't joking."

Since the construction of Kim and Kevin's Habitat home was almost complete when they signed the mortgage papers, their 500 volunteer hours were earned working at the Habitat ReStore, helping out at Habitat events, and painting the unfinished rooms in their home.
The difference a Habitat home makes
As she looks towards a more independent, financially-stable future, Kim says she's noticed that not only is she happier, but so is the rest of the family. While Kim and her husband had initially worried that the
transition from Châteauguay to Ormstown would be hard for the kids, the children are thriving in their new schools. Kiara, who's now 13, has made honour roll and is already talking about which college she wants to
go to. The boys' grades – and attitudes – have also been steadily improving.
"It's like that light at the end of the tunnel – it's here," says Kim. "And whereas before I always had dreams of owning a home, hoping one day I'd be able to give my kids that security, now I have it. When I pay the mortgage every month, I know I'm investing in my own house."
A stronger foundation for a brighter future

On the day of their Habitat home dedication ceremony last September, the whole family wore custom T-shirts designed by Kim – a family tradition to celebrate milestones. The kids helped Kim design the shirts, which read, "Thanks to you we have a house of our own and a place to call home" on the front. The backs displayed the roots of a tree along with the date they moved into their Habitat home. For their family, the roots of the tree represent the new, stronger foundation where they're now building a successful future.