Homeownership
Jun. 13, 2023
Home is for putting down roots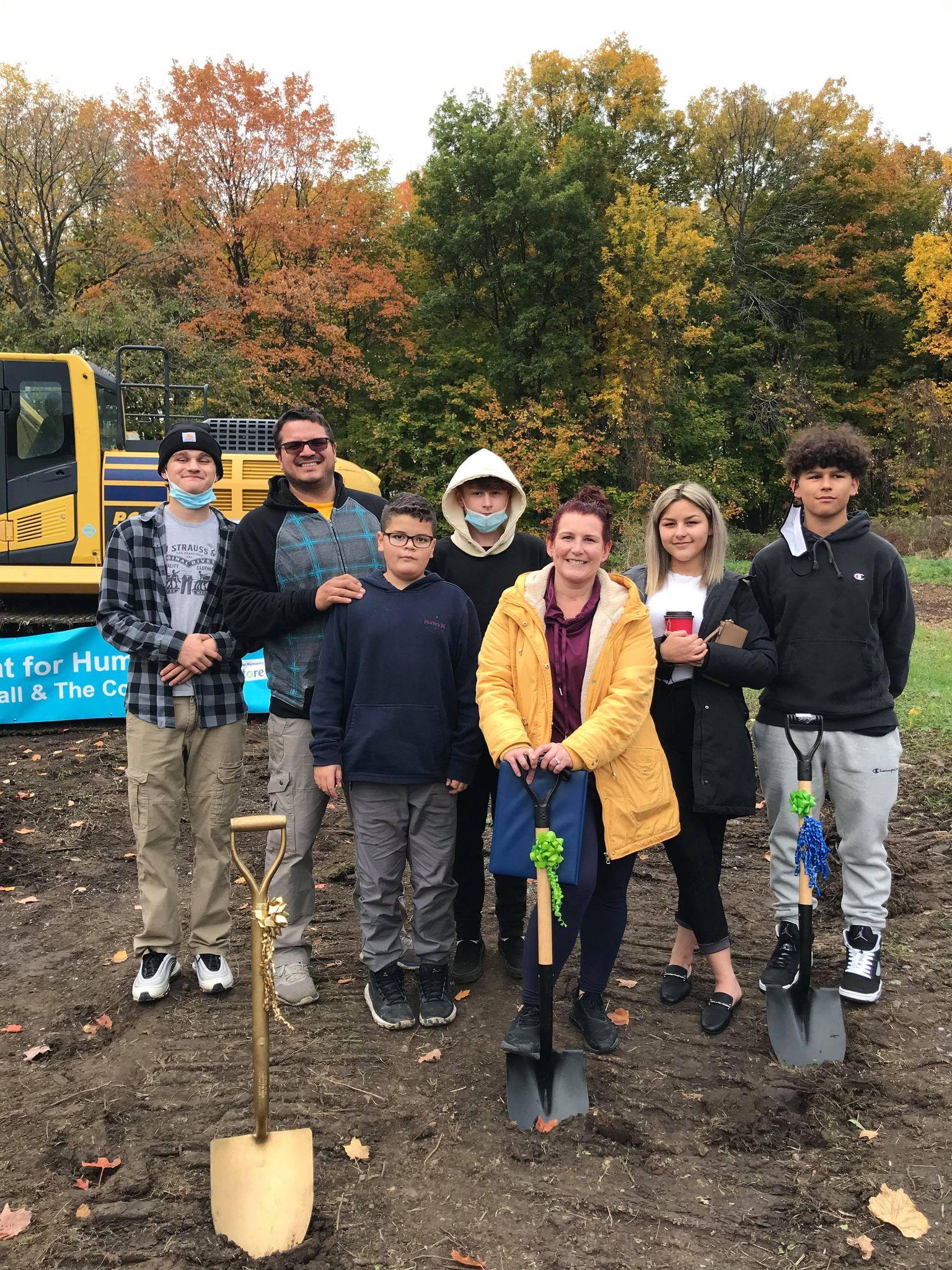 For Chelsey and Owen, finding out they would be Habitat homeowners has felt like winning the lottery. "My father still lives in the same home that I grew up in. There are so many memories. Knowing that you can come back to the home you grew up in, for holidays and family dinners – there's comfort in that. And that's what I want for my family," says Chelsey.
Chelsey and Owen have a beautiful, blended family. They have five children and initially couldn't live together under one roof as their place was too small. But when their eldest daughter, Bailey, moved out to go to college, they were able to squeeze in together, although with four growing boys, aged 10, 14, 14 and 17, the place was still cramped. Finding a new apartment at a price they could afford with the space they needed was next to impossible.
"It's been a struggle. We live in a rental and while it's not the worst of neighbourhoods, it's not the best either. There's limited housing in our area and we just couldn't come up with a down payment to buy a home," shares Chelsey.
Years ago, a college classmate who volunteered for Habitat for Humanity, told Chelsey about Habitat's homeownership program. A single parent at the time, she applied but didn't have the necessary income to qualify. However, when Habitat for Humanity Cornwall & The Counties reached out to Chelsey two years later, this time Chelsey and Owen applied together and were accepted.
The land Chelsey and Owen's home will be built on was donated by the Mohawk Council of Akwesasne. Owen belongs to the Band, and the land is across from Pilon Island, where Owen's grandfather used to live. Many years ago, Owen's grandfather sold his property on the Island to the Mohawk Council, and in partnership with Habitat Cornwall, the Mohawk Council donated land for Chelsey and Owen's family to live on. This land too, has significance and memories. It was the meeting place where Owen's grandfather would pick him up before they canoed over to his property to spend time together. The groundbreaking for the family's new home was held this past October and was attended by Mohawk Grand Chief Abram Benedict.
Although Chelsey and Owen's home build was delayed due to the pandemic, the family is close to finishing their 500 mandatory volunteer hours. Pre-COVID they volunteered at the Habitat ReStore and at several Habitat fundraisers. During the summer of 2020, Owen who is a carpenter, built over 50 bird houses and feeders and the family painted them, giving them to their local Habitat ReStore to sell. They plan on helping on the build site once construction is underway.
For Chelsey, homeownership means safety and security for her children and putting down roots in a forever home so that her family can thrive. It means a place for making memories. They're looking forward to the extra space, privacy, and creating a vegetable and herb garden and canning backyard produce.
Their new home will be a warm and inviting place for family and extended family to gather for holidays and dinners. And most importantly, their new home will also be a launching pad for their children's future.
"It gives us stability. I want my kids to get a good education. To do well and succeed. That's my dream."