Homeownership
Aug. 30, 2022
Hassina's Story
Hassen and Hassina's Canadian story began in a cramped 2-bedroom rental in Calgary, after Hassen moved here from South Africa for a better life in 2008, with Hassina and their five-year-old first-born son following him three years later. They had to adjust to living in a new country, to understanding a new culture, to fitting into a new community, and, as their family grew, to finding affordable housing.
"Mortgage prices are so high and with the interest too, we couldn't afford it. Even if you are working two jobs, we knew it was going to be a struggle for our family," Hassina explains. However, they still needed more room to grow and privacy for their children, particularly given the 6.5-year age difference between them, so they moved into a bigger subsidized housing rental. This new house was located close to a main highway, presenting a safety hazard for their kids in an already unsafe neighbourhood that was only exacerbated after Hassina gave birth to their third son.
After learning about Habitat for Humanity from friends, they applied twice but did not qualify before being approved in 2020. "We were so excited when we found out we had been approved... the kids, everybody, my husband and I were so happy," Hassina recounts. "The kids were like 'we're going to make a pitch in the basement and play soccer!'"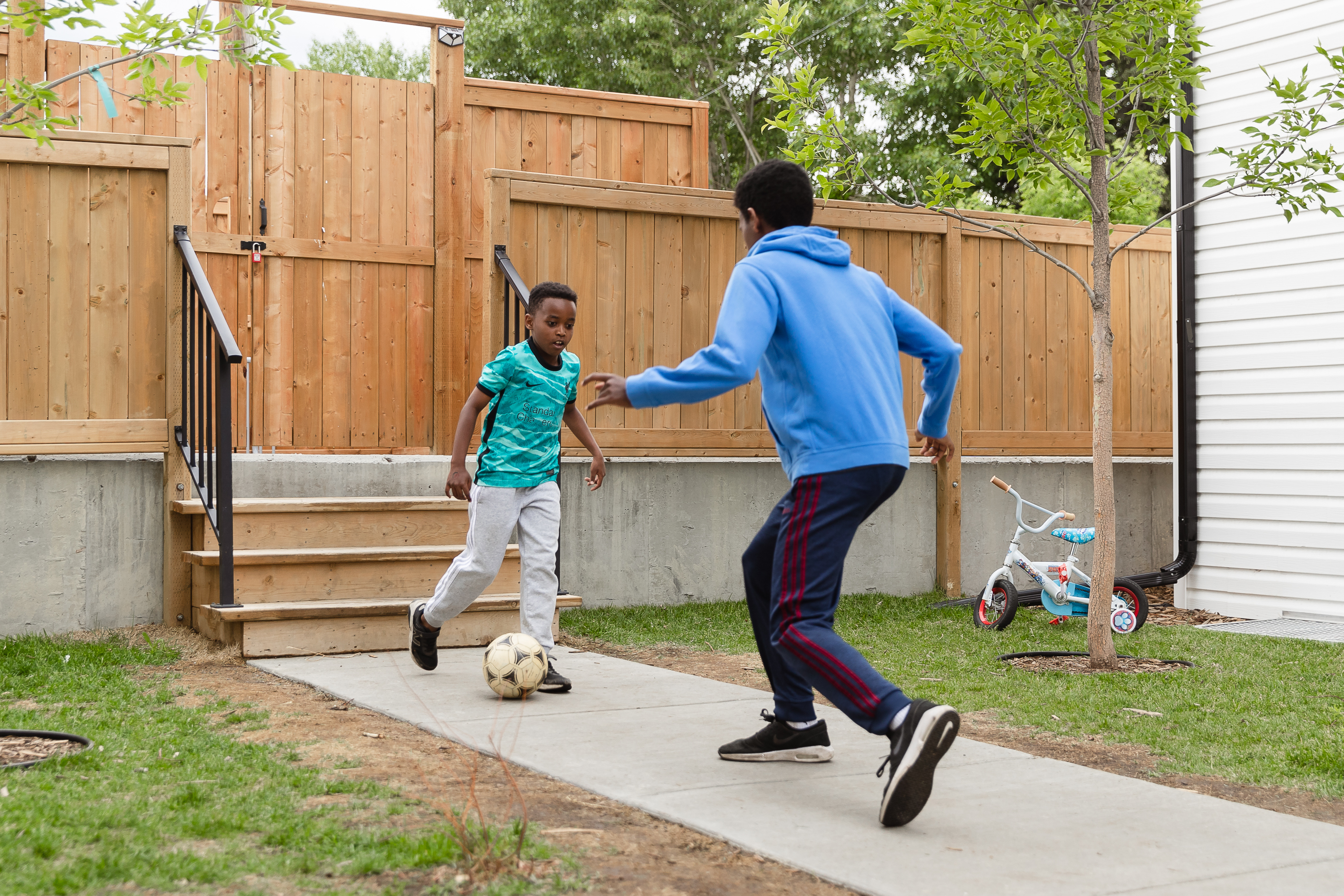 One of the key criteria of becoming a Habitat homeowner is having a "willingness to partner," alongside being in need of housing and being able to make the affordable mortgage payments which are geared towards their income. This partnership is one where both parties are actively engaged; on the homeowner side, this includes investing 500 hours of volunteer work before moving into their new home.

With the end of their tenancy agreement fast approaching and not wanting to renew it, the family got to volunteering right away. Hassen took time off from his job as a taxi driver, spending six days a week volunteering at the construction site or their local Habitat for Humanity ReStore. Meanwhile, Hassina put in hours during vacation and off-days from her position as a healthcare aid worker, cleaning construction debris inside the house and working at the Habitat ReStore along with putting up doors, trimmings, fences, and the deck.
They had to balance their hours with childcare, the COVID-19 pandemic – particularly given that Hassina works with seniors – and the build's overlap with Ramadan, a holy month of fasting from sunup to sundown in Islam. Nevertheless, between themselves, they finished their volunteer hours in just two months and moved into their Habitat home in 2021.
For Hassina and Hassen, being a homeowner means that they now have one place for their kids to grow up – no more worries about changing schools or making new friends. Their sons also have space to play, from their back and front yards to the local parks, while the parents and children alike have all become close with their new community.
Since Habitat mortgages are geared to a homeowner's income, the family has a new sense of financial stability. "I'm very, very grateful. I see others struggling. I have friends who are not homeowners, they're still renting, and their rent keeps going up," Hassina says. "It's crazy."
Through this stability, they are now able to save for their children's future: their eldest son, now 16, is already looking ahead to his future, with career dreams ranging from being a professional soccer player to a mechanical engineer to a doctor. Having a bigger house has also given him the space he needs to focus on his studies, bringing these dreams even closer to reality.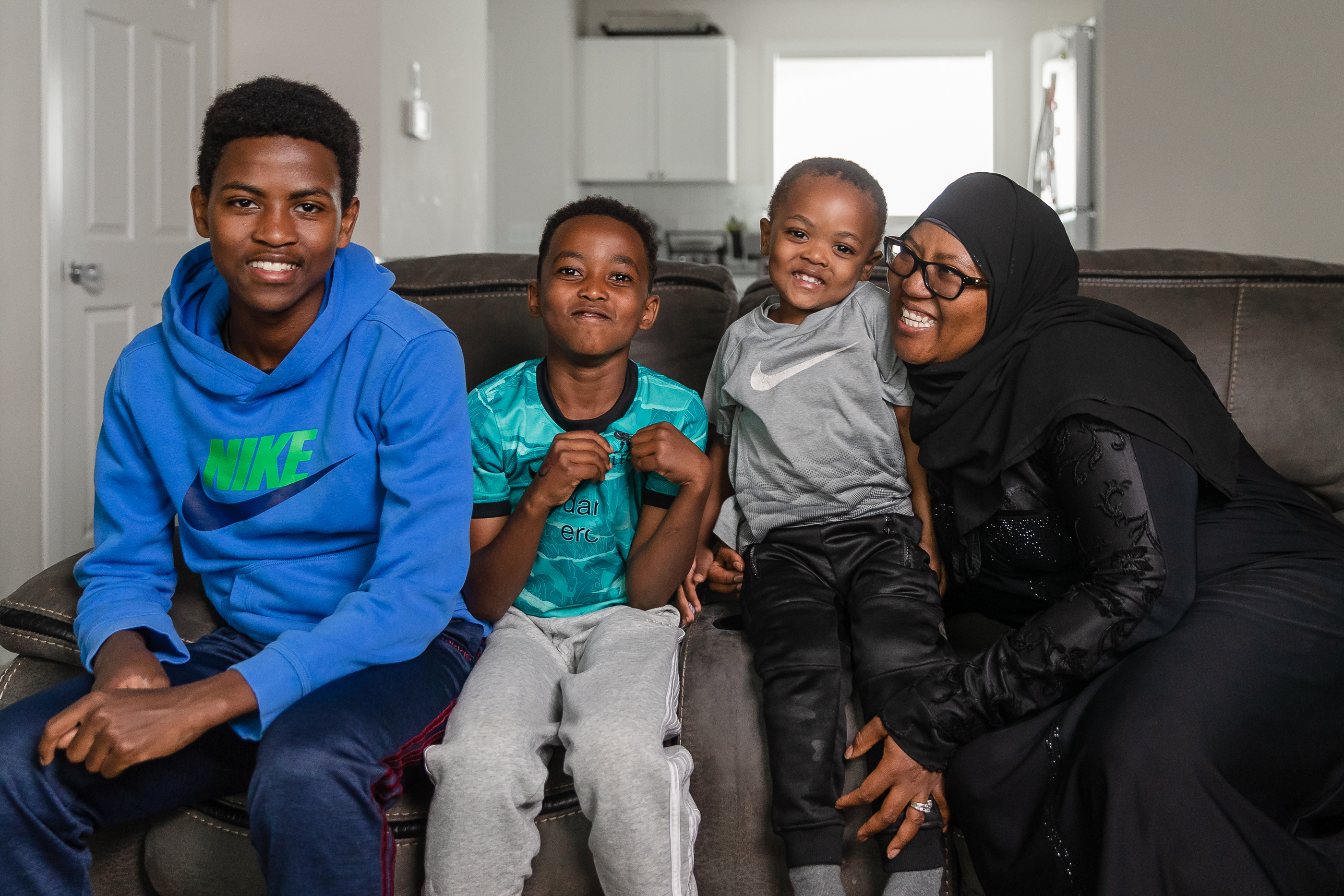 "We are so happy in our home," Hassina says. "We want to continue to volunteer so that other families can feel the same way we feel." Indeed, the family has already been serving as a stalwart ambassador for Habitat: sharing information about the program has resulted in several other families qualifying for a home, including before they themselves were approved.
"I'm just thankful for all the donors," she adds. "Keep doing what you're doing, even more. It's not only my family but there are a lot of families out there who really, really need your help. This is just awesome what Habitat is doing for us."