How Dennis helped his local Habitat ReStore raise more money to build homes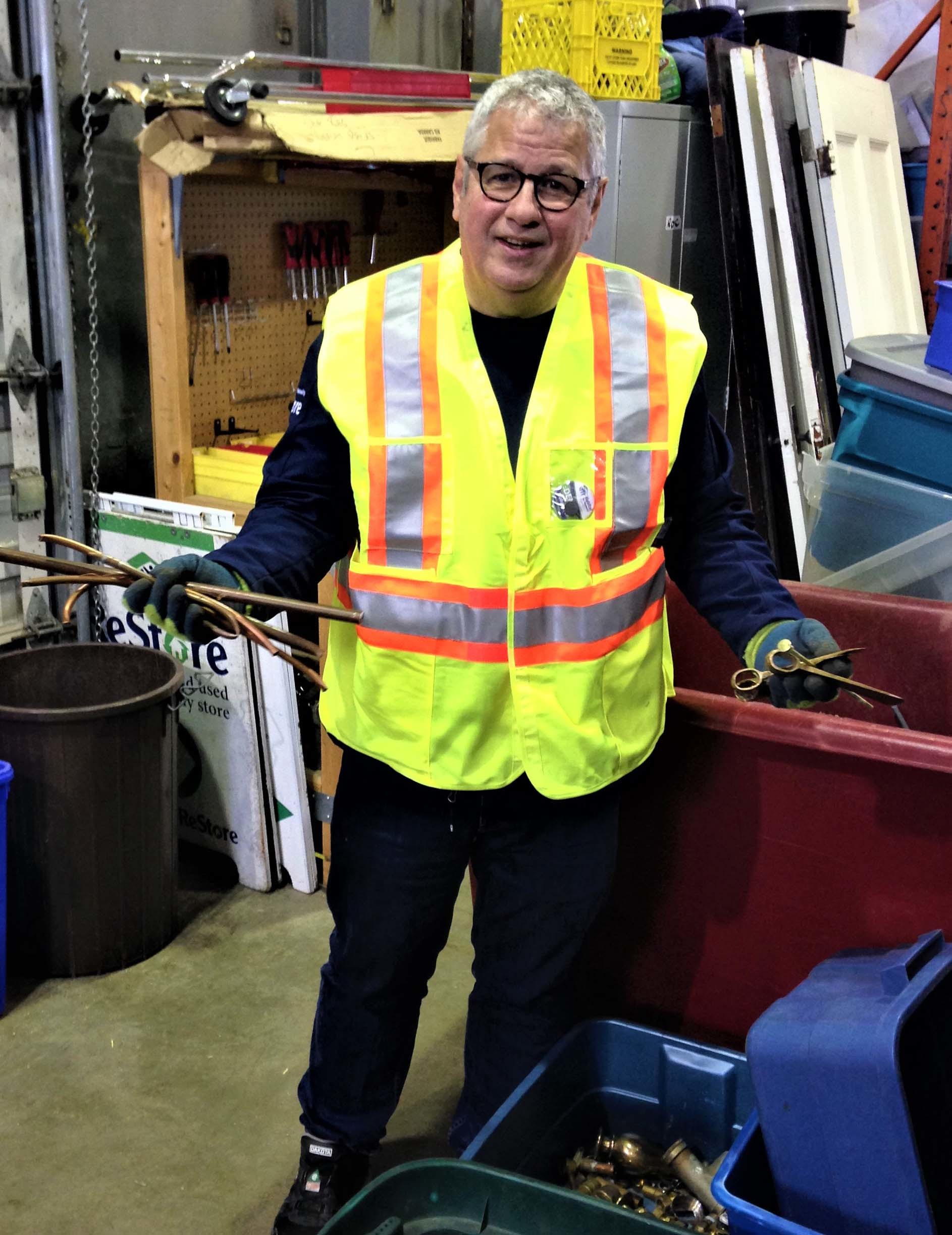 When Dennis Dubinsky retired in 2012 after working in the newspaper business for 33 years, he followed the wisdom of a book called How to Retire Wild, Happy and Free by Ernie Zelinski. One piece of advice he gleaned from the book was that if you're going to volunteer somewhere post-retirement, do something that's completely unrelated to your former job.
So rather than getting another position in a newsroom, Dennis started volunteering at Habitat ReStore in Victoria, where he's been a committed volunteer for the past two years.
Dennis began volunteering once a week and soon after started coming twice a week, performing general duties like testing electrical appliances in the receiving area and preparing newly donated products for the sales floor.
Revamping Habitat Victoria's metal recycling program
Habitat ReStores are home and building supply stores that accept and resell new and used building materials – and proceeds from those sales are used to fund local Habitat for Humanity operations and homebuilding projects. During one quiet shift, Dennis started helping out with the metal recycling program and he hasn't stopped since. He quickly learned that he could actually make more money for Habitat for Humanity Victoria if he broke down and sorted the different types of metals that came in through donations. He learned to spot the differences between brass, copper and aluminum, as well as different types of metal wires by grade.
"Because I'm a volunteer, I have the time to separate everything," says Dennis. "As a volunteer, I can take the extra time an employee can't."
Since revamping the program, Dennis has generated more than $8,000, all of which has contributed to Habitat Victoria's Build Fund.
Dennis loves to volunteer because he feels encouraged and appreciated by the Habitat for Humanity community. "I get far more positive feedback than I ever did working for a living," he laughs. "People here are so appreciative for what you do." In fact, thanks to his reorganization of the metal recycling program, Dennis was named 2017 Volunteer of the Year by Habitat for Humanity Victoria.
Living in Montreal, retiring in Victoria
Prior to retirement, Dennis was the Chief Digital Imaging Technician at the Montreal Gazette, where he worked in the newsroom's darkroom and then later when photography shifted to digital, ensured that the images were reproduced properly in print. When he left his job in 2012, he volunteered for three years at the Montreal Seafarers' Centre. Then in the fall of 2015, Dennis and his late wife moved to Victoria to retire. Dennis had grown up on Vancouver Island in a small town called Chemainus, about 80 kilometers north of Victoria.
When Dennis's wife passed away last spring, volunteering helped him during the immediate grieving process. He bumped up his volunteering hours from two shifts a week to three at the Habitat ReStore. "In some ways, it was a refuge away from the house," Dennis says.
These days, Dennis is back to two days a week, which allows him to keep a flexible schedule. While he worked in photography for decades, it's only in retirement that he actually enjoys going out with his camera to take photos by the ocean or out in the countryside.
While Dennis is modest about all that he's accomplished with the metal recycling program at the Habitat ReStore in Victoria, he's proud knowing that every little bit counts.

"In a real estate market like Victoria's, if I can help a person on a low income realize they can choose the joy of homeownership, then I feel good about that."