Ukraine Crisis Appeal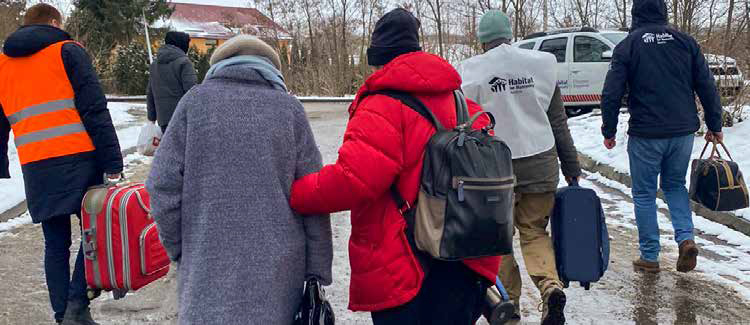 Millions of people have been forced to flee their homes in Ukraine. It is the biggest movement of people in Europe since World War II and a humanitarian crisis.

Your donations will help support the immediate shelter needs of refugees from Ukraine through Habitat's work in Hungary, Poland, Romania and Slovakia. In addition to the immediate and short-term needs of refugees, Habitat for Humanity is working closely with government officials and partners to help find long-term housing solutions so that families can rebuild their lives and access safe, decent and stable housing.

How Habitat for Humanity is helping
In Romania, many refugees are moving through the country to other parts of Europe. Habitat for Humanity is distributing emergency travel kits and securing hotel accommodations.
Habitat for Humanity Poland is working with the city of Warsaw to match refugees with Polish families who are opening their homes to host Ukrainian refugees. For people planning to move to other locations, Habitat Poland is covering hotel stays.
To meet the longer-term housing and shelter needs of refugees Habitat Poland, for instance, is offering housing and construction expertise to governments and other partners to explore the feasibility of repurposing so-called empty spaces – such as unused schools and factories – that can serve as shelter for refugees.
Habitat Hungary is helping refugees find temporary accommodations in and around Budapest, helping with translation, mediation with landlords and transportation.
Click here to learn more about Habitat's disaster response.
"I join my Habitat colleagues in 75 countries in calling for an immediate end to the terror being wreaked on Ukrainians. Canada has close ties to Ukraine and the people being targeted. We will support them as they rebuild their homes, communities and futures."
– Julia Deans, Habitat Canada President and CEO
Habitat for Humanity Canada is a member of Habitat for Humanity, an international organization with 70 local Habitats around the world. Habitat for Humanity has addressed shelter needs in Central and Eastern Europe since 1992, working in Poland since 1992 and in Romania and Hungary since 1996. Habitat's regional offices for Europe and the Middle East are based in Slovakia.