New Survey Findings Reveal Attitudes on Homeownership and the Housing Affordability Crisis
Habitat for Humanity Canada has released the results of a new national survey revealing Canadians' attitudes towards the affordable housing crisis in Canada and sheds light on the growing barriers to housing and homeownership. The Habitat for Humanity Canada Affordable Housing Survey, which measured the perceptions of Canadian homeowners and renters, also sheds light on the growing concerns and barriers to homeownership including lack of housing supply, increased cost of living, discrimination, NIMBY (Not in My Backyard) sentiment and more.
Habitat Canada's Affordable Housing Survey finds housing affordability is a top concern for Canadians - the third most important issue facing the country today behind inflation and healthcare.
"This survey underscores how deeply concerned Canadians are about their housing situations and futures as affordable housing becomes increasingly out of reach," says Julia Deans, President and CEO of Habitat for Humanity Canada. "To address these growing concerns and make affordable housing and homeownership a reality for all Canadians, we need an all-in approach from non-profits, corporate partners, individuals and all levels of government." Click here to read the media release.

"In our work, we see firsthand how access to stable housing transforms futures and fosters resiliency across generations," says Deans. "We must act now, and we must act together towards addressing the systemic barriers and creating sustainable solutions to achieve affordable housing for all."
Click here to read more about Habitat Canada's housing solutions.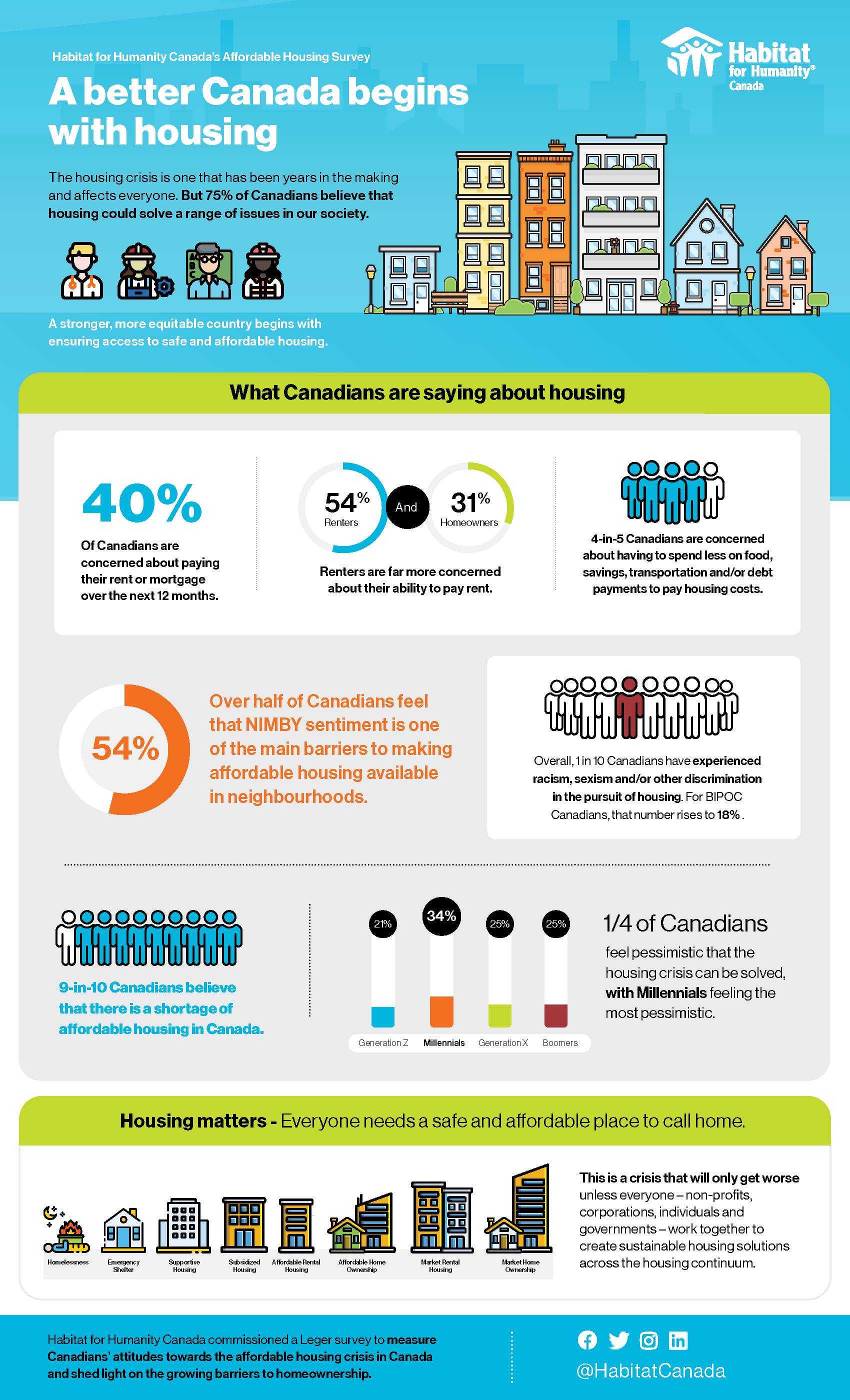 About the survey
Habitat for Humanity Canada commissioned Leger's online panel to survey 1501 Canadians between September 7th and September 17th, 2022. A probability sample of 1501 respondents would have a margin of error of ±2.5%, 19 times out of 2.