Habitat Canada Beer Store Bottle Drive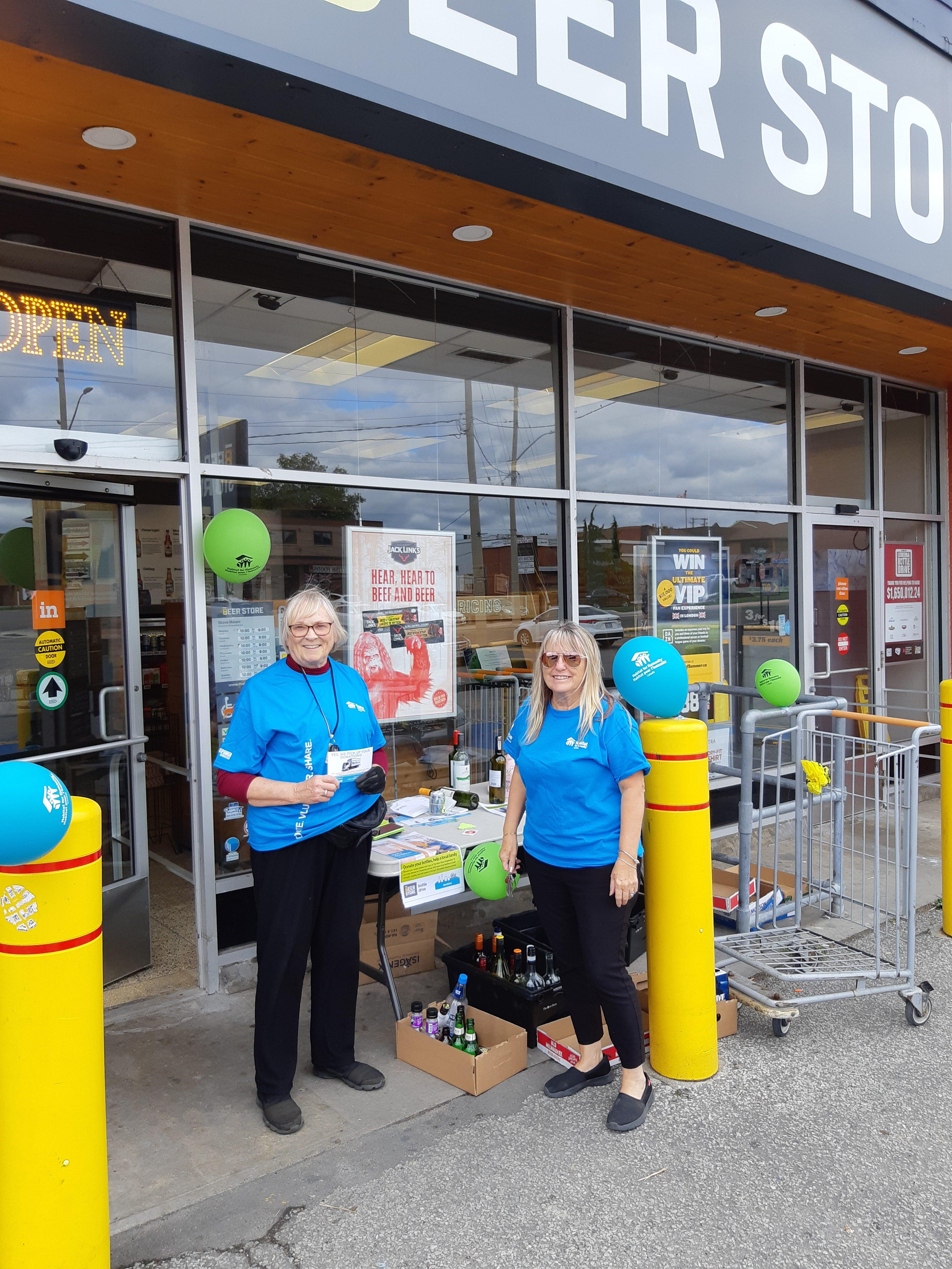 Mark your calendars and save your empties for the Bottle Drive from September 8 to 20! Participating Beer Store locations will also be collecting donations at the cash register in support of Habitat Canada.
Scroll down to see a list of participating The Beer Store locations.
How does a bottle drive work?
At The Beer Store they are proud to be environmental leaders! And for the past 80 years, they have been taking back empty beer containers they sell and giving their customers back their deposit refund. But with the introduction of the Ontario Deposit Return Program, they are now able to take back all beverage alcohol containers purchased in Ontario on which a deposit has been paid. All wine, beer and spirit containers over 100ml have a deposit value of 10 or 20 cents. During a bottle drive, this deposit can be donated!
Last year, 177 Beer Store locations participated in the Bottle Drive, and helped raise more than $54,000 which supported build across 13 local Habitats! Along with helping to raise over $50,000, last year 25 Beer Store employees came out to the build site in the Greater Toronto Area and contributed 200 volunteer hours, helping families build strength, stability, and independence through affordable homeownership.

Almost 200 Beer Stores locations will be participating in this year's Bottle Drive.
How can you help?
Save your empties!
This year from September 8 to 20, participating Beer Store locations will be collecting donations at the cash register, and through donation boxes. During this time, you can also return your empty bottles and cans and turn them into donations for your local Habitat for Humanity.
Volunteer!
If you'd like to volunteer, please contact your local Habitat to see if they are participating in this year's Bottle Drive.
| | | |
| --- | --- | --- |
| Phone | Address | Community |
| (905) 683-2960 | 95 Commercial Plaza | Ajax |
| (905) 426-7363 | 75 Kingston Rd. E. | Ajax |
| (905) 619-1993 | 1953 Ravenscroft Rd. | Ajax |
| (905) 727-4741 | 14800 Yonge St. | Aurora |
| (905) 727-7443 | 15820 Bayview Ave. | Aurora |
| (705) 426-7341 | 553 Mara Rd. | Beaverton |
| (905) 951-1068 | 150 McEwen Dr. E. | Bolton |
| (905) 623-8824 | 195 King St. E. | Bowmanville |
| (905) 451-4685 | 198 Queen St. E. | Brampton |
| (905) 799-0007 | 2890 Queen St. E. | Brampton |
| (905) 846-4450 | 180 Sandalwood Pkwy. | Brampton |
| (905) 790-3155 | 80 Peel Centre Dr. | Brampton |
| (905) 453-3110 | 374 Main St. N. | Brampton |
| (905) 791-6824 | 932 North Park Dr. | Brampton |
| (905) 793-8595 | 10585 Bramalea Rd., Bldg. D | Brampton |
| (905) 451-2721 | 55 Charolais Blvd. | Brampton |
| (905) 970-9473 | 11 Worthington Ave. | Brampton |
| (905) 655-0044 | 5929 Baldwin St. S., Bldg. M | Brooklin |
| (905) 895-2332 | 18307 Yonge Street, Unit 1 | East Gwillimbury |
| (416) 244-8522 | 1735 Kipling Ave. | Etobicoke |
| (416) 248-1153 | 250 Wincott Dr. | Etobicoke |
| (416) 251-1601 | 2458 Lakeshore Blvd. W. | Etobicoke |
| (416) 255-1021 | 1-3560 Lakeshore Blvd. W. | Etobicoke |
| (416) 231-3912 | 3429 Bloor St. W. | Etobicoke |
| (416) 747-7747 | 1530 Albion Rd. | Etobicoke |
| (416) 233-7821 | 10 The East Mall Cres. | Etobicoke |
| (416) 621-3870 | 666 Burnhamthorpe Rd. | Etobicoke |
| (905) 476-4581 | 443 The Queensway S. | Keswick |
| (905) 895-9921 | 1100 Davis Dr. | Newmarket |
| (905) 898-0083 | 16715 Yonge St. | Newmarket |
| (416) 225-3013 | 179 Sheppard Ave. E. | North York |
| (416) 221-2311 | 6212 Yonge St. | North York |
| (416) 241-6821 | 1718 Wilson Ave. | North York |
| (416) 638-9628 | 81 Billy Bishop Way, Unit D3 | North York |
| (416) 749-5777 | 2568 Finch Ave. W. | North York |
| (416) 745-3047 | 2005 Finch Ave. W. | North York |
| (905) 728-1132 | 200 Ritson Rd. N., Unit B | Oshawa |
| (905) 576-9595 | 257 Wentworth St. W. | Oshawa |
| (905) 723-2743 | 150 Midtown Dr. | Oshawa |
| (905) 576-9582 | 285 Taunton Rd. E. | Oshawa |
| (905) 723-6702 | 650 King St. E. | Oshawa |
| (905) 985-2322 | 677 Queen St. | Port Perry |
| (905) 884-7582 | 10375 Yonge St. N. | Richmond Hill |
| (905) 762-0482 | 8825 Yonge St. | Richmond Hill |
| (905) 313-8323 | 13469 Yonge St. | Richmond Hill |
| (416) 291-6751 | 2360 Kennedy Rd. | Scarborough |
| (416) 497-1257 | 2934 Finch Ave. E. | Scarborough |
| (905) 939-9225 | 17250 Hwy. #27 | Schomberg |
| (905) 722-3341 | 20903 Dalton Rd. | Sutton West |
| (416) 603-2846 | 761 Queen St. W. | Toronto |
| (416) 923-4535 | 452 Bathurst St. | Toronto |
| (416) 537-4882 | 500 Dupont St. | Toronto |
| (416) 323-0566 | 720 Spadina Ave. | Toronto |
| (416) 581-1677 | 350 Queens Quay W. | Toronto |
| (416) 244-7404 | 2625A Weston Rd. | Toronto |
| (416) 534-8084 | 120 Lynn Williams St. | Toronto |
| (416) 923-2122 | 227 Gerrard St. E. | Toronto |
| (416) 504-5405 | 41 Mill St. | Toronto |
| (416) 585-8041 | 10 Dundas St. E., Suite B-1 | Toronto |
| (416) 462-2617 | 400 Eastern Ave. | Toronto |
| (416) 531-6512 | 2135 Dundas St. W. | Toronto |
| (416) 531-1522 | 904 Dufferin St. | Toronto |
| (416) 536-4852 | 323 Symington Ave. | Toronto |
| (416) 767-5905 | 2153 St. Clair Ave. | Toronto |
| (905) 852-7542 | 178 Main St. N. | Uxbridge |
| (905) 417-6820 | 9771 Jane St. | Vaughan |
| (905) 417-1411 | 1470 Major Mackenzie Dr., Bldg. F | Vaughan |
| (905) 265-8375 | 7850 Weston Rd. | Vaughan |
| (905) 668-3451 | 301 Dundas St. E. | Whitby |
| (905) 576-5083 | 1801 Dundas St. E. | Whitby |
| (905) 666-4282 | 3950 Brock St. N. | Whitby |
| (905) 851-0435 | 7676 Islington Ave. W. | Woodbridge |
| (416) 652-0315 | 529 Oakwood Ave. | York |
| (416) 767-0441 | 3524 Dundas St. W. | York |
| (416) 651-8666 | 1515 Keele St. | York |
| | | |
| --- | --- | --- |
| Phone | Address | Community |
| (519) 369-3773 | 626 Garafraxa Hwy. #6, PO Box 1047 | Durham |
| (519) 364-7380 | 576 11th St. | Hanover |
| (519) 396-2782 | 427 Broadway St. | Kincardine |
| (519) 986-2420 | 33 Argyle St. | Markdale |
| (519) 538-2100 | 320 Sykes St. S. | Meaford |
| (519) 376-0542 | 1155 First Ave. E. | Owen Sound |
| (519) 376-1564 | 965 10th St. W. | Owen Sound |
| (519) 832-2352 | 355 Goderich St. | Port Elgin |
| (519) 422-1706 | 704 Main St. | Sauble Beach |
| (519) 797-3800 | 330 Railway St., PO Box 2312 | Southhampton |
| (519) 881-1871 | 430 Durham St. | Walkerton |
| (519) 534-1720 | 690 Berford St., PO Box 202 | Wiarton |
| | | |
| --- | --- | --- |
| Phone | Address | Community |
| (519) 853-0230 | 332 Queen St. | Acton |
| (905) 873-9191 | 236 Guelph St. | Georgetown |
| (905) 878-6744 | 51 Millside Dr. | Milton |
| (905) 693-9237 | 1071 Maple Ave. | Milton |
| (289) 851-9550 | 1015 Bronte St. S. | Milton |
| (905) 826-2651 | 65 Queen St. N. | Mississauga |
| (905) 812-3126 | 6780 Town Centre Circle | Mississauga |
| (905) 677-8211 | 3535 Etude Dr. | Mississauga |
| (905) 568-0090 | 50 Bristol Rd. E. | Mississauga |
| (905) 607-0761 | 2925 Eglinton Ave. W. | Mississauga |
| (905) 501-1863 | 5800 McLaughlin Rd. | Mississauga |
| (905) 277-8401 | 3154 Hurontario St. | Mississauga |
| (905) 279-2913 | 3030 Erindale Station Rd. | Mississauga |
| (905) 624-1832 | 4141 Dixie Rd. | Mississauga |
| (905) 804-1221 | 1550 Dundas St. E. | Mississauga |
| (905) 822-4411 | 2425 Truscott Dr. | Mississauga |
| (905) 823-3151 | 2458 Dundas St. W. | Mississauga |
| (905) 277-8404 | 1079 North Service Rd. | Mississauga |
| (905) 278-2334 | 420 Lakeshore Rd. E. | Mississauga |
| (905) 827-1301 | 1431 Rebecca St. | Oakville |
| (905) 845-6771 | 511 Maple Grove Dr. | Oakville |
| (905) 849-6154 | 1011 Upper Middle Rd. | Oakville |
| (905) 825-8264 | 1500 Upper Middle Rd. | Oakville |
| (289) 725-9269 | 290 Hays Blvd. | Oakville |
| (905) 845-4258 | 104 Lakeshore Rd. W. | Oakville |
| | | |
| --- | --- | --- |
| Phone | Address | Community |
| (519) 291-1710 | 850 Wallace Ave. N. | Listowel |
| | | |
| --- | --- | --- |
| Phone | Address | Community |
| (519) 357-2352 | 482 Josephine St. | Wingham |
| | | |
| --- | --- | --- |
| Phone | Address | Community |
| (705) 431-2884 | 945 Innisfil Beach Rd. | Alcona |
| (705) 435-9692 | 161 Young St. | Alliston |
| (705) 424-5601 | 4-17 King St. | Angus |
| (705) 728-4043 | 30 Anne St. S. | Barrie |
| (705) 726-1662 | 299 Blake St. | Barrie |
| (705) 726-3147 | 531 Bayfield St. | Barrie |
| (705) 735-0621 | 71 Mapleview Dr. | Barrie |
| (705) 737-5816 | 640 Yonge St. | Barrie |
| (905) 775-9350 | 452 Holland St. W. | Bradford |
| (705) 436-4151 | 7947 Yonge St. | Stroud |
| (905) 936-2524 | 55 Queen St. | Tottenham |
| | | |
| --- | --- | --- |
| Phone | Address | Community |
| (905) 372-3142 | 476 Division St. | Cobourg |
| (905) 885-4641 | 55 Peter St. | Port Hope |
| | | |
| --- | --- | --- |
| Phone | Address | Community |
| (705) 762-3306 | 3025 Hwy. #169 | Bala |
| (705) 645-2621 | 505 Hwy. #118 W., Unit 14 | Bracebridge |
| (705) 686-3370 | Sturgeon Bay Rd., PO Box 118 | Coldwater |
| (705) 322-2933 | 58 Queen St, Unit 8 | Elmvale |
| (705) 687-7758 | 230 David St. | Gravenhurst |
| (705) 788-2826 | 18 Hanes Rd. | Huntsville |
| (705) 526-5211 | 291 Midland Ave. | Midland |
| (705) 526-9111 | 9350 Hwy. #93, Box 17 | Midland |
| (705) 326-6391 | 426 Muskoka Rd. | Orillia |
| (705) 326-6483 | 275 Atherly Rd. | Orillia |
| (705) 549-2519 | 15 Main St., PO Box 6010 | Penetang |
| | | |
| --- | --- | --- |
| Phone | Address | Community |
| (705) 738-3596 | 25 King St. E. | Bobcaygeon |
| (705) 454-8983 | 6716 Hwy. #35, PO Box 269 | Coboconk |
| (705) 887-3222 | 125 Lindsay St. | Fenelon Falls |
| (705) 457-2023 | 15 Hops Dr. | Haliburton |
| (705) 324-3541 | 370 Kent St. W. | Lindsay |
| (705) 286-3578 | 12325 Hwy. #35 | Minden |
| | | |
| --- | --- | --- |
| Phone | Address | Community |
| (705) 445-4090 | 415 First St. | Collingwood |
| (705) 428-0336 | 7380 Hwy. #26 | Stayner |
| (705) 429-3762 | 100 Mosely St., PO Box 6 | Wasaga Beach |
| | | |
| --- | --- | --- |
| Phone | Address | Community |
| (519) 621-8830 | 200 Franklin Blvd. | Cambridge |
| (519) 653-4111 | 140 Chopin St. S. | Cambridge |
| (519) 621-0681 | 130 Cedar St., Unit 52 | Cambridge |
| (519) 220-1378 | 150 Holiday Inn Dr. | Cambridge |
| (519) 669-5452 | 6 Wyatt St. E. | Elmira |
| (519) 894-9120 | 1255 Weber St. E. | Kitchener |
| (519) 745-2261 | 400 King St. W. | Kitchener |
| (519) 895-0064 | 250 Bleams Rd. | Kitchener |
| (519) 571-7827 | 875 Highland Rd. W., Unit 80 | Kitchener |
| (519) 742-1383 | 1120 Victoria St. N. | Kitchener |
| (519) 662-2132 | 112 Burns St., PO Box 2240 | New Hamburg |
| (519) 885-6930 | 70 Weber St. N. | Waterloo |
| (519) 884-4811 | 462 Albert St. | Waterloo |
| (519) 747-7216 | 659 Erb St. W. | Waterloo |
| (519) 880-0226 | 624 King St. N. | Waterloo |
| | | |
| --- | --- | --- |
| Phone | Address | Community |
| (519) 846-1174 | 2-6458 Wellington Rd. 7 | Elora |
| (519) 833-2558 | 140 Main St. | Erin |
| (519) 843-3420 | 720 St. David St. N. | Fergus |
| (519) 822-5621 | 15 Municipal St. | Guelph |
| (519) 763-9661 | 111 Silvercreek Pkwy. N. | Guelph |
| (519) 780-2541 | 63 Clair Rd. E. | Guelph |
| (519) 822-9480 | 710 Woolwich St. | Guelph |
| (519) 323-1300 | 429 Main St. N. | Mount Forest |
| (519) 941-1430 | 270 Broadway St. | Orangeville |
| (519) 925-5321 | 802 Main St. E. | Shelburne |