International Program
Aug. 03, 2018
International Youth Day 2018: Safe Spaces for Youth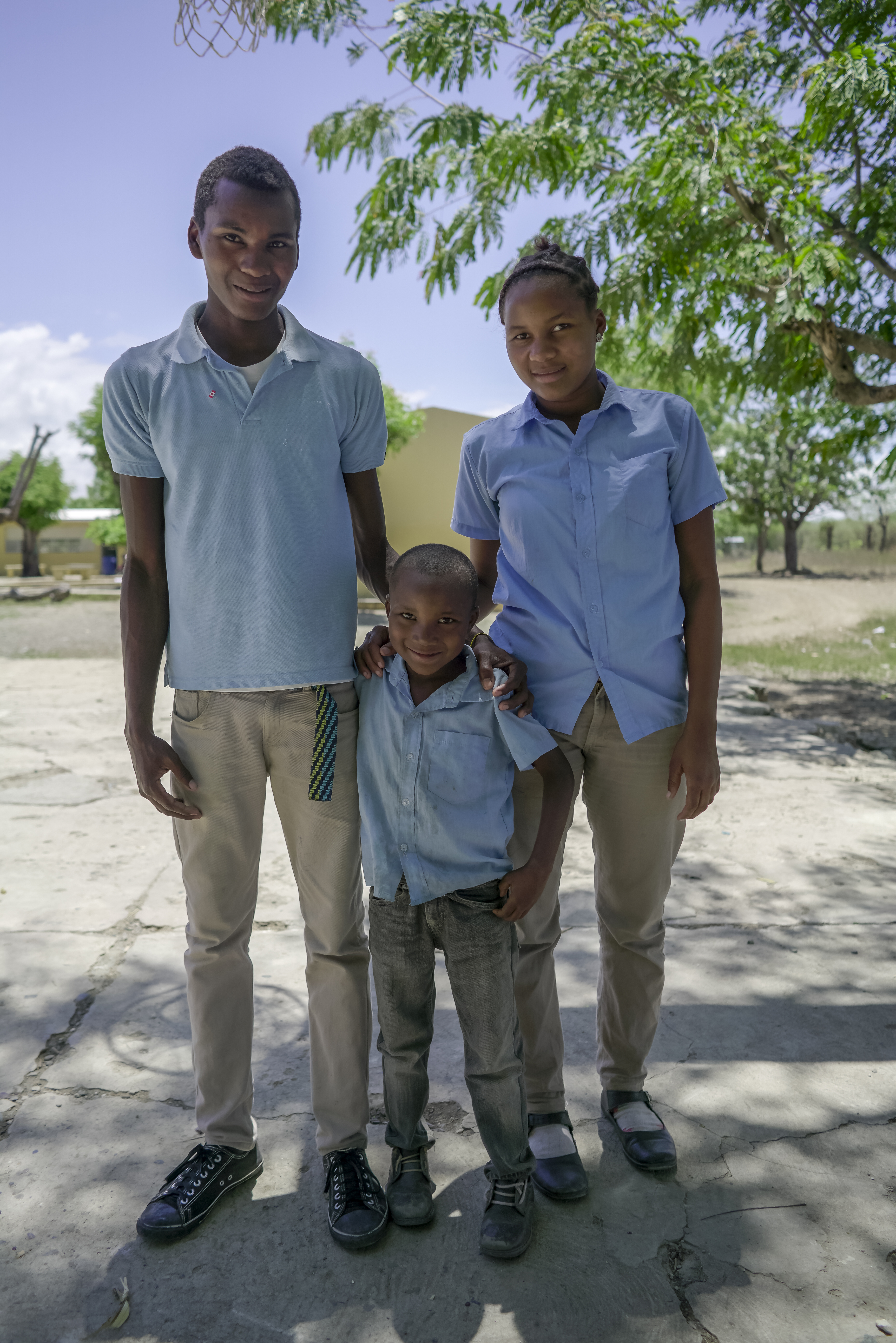 August 12 is International Youth Day, an awareness day designated by the United Nations that focuses on drawing attention to issues faced by young people around the world.
At Habitat for Humanity Canada, we believe that everyone deserves a safe and decent place to live, both locally and globally, which is why we support home-building and infrastructure projects in developing countries, in addition to the work we do in our own community. Through decent, affordable housing, we provide parents and youth with safe spaces to live, learn and grow. In addition to helping youth, we also help empower other vulnerable populations, including women and people with disabilities with the tools they need to improve their own lives. Each project is developed collaboratively with a local Habitat for Humanity in a partnering country to be sustainable and to meet the unique needs of the community being served.
Prior to moving into their Habitat home in the southern province of San Juan in the Dominican Republic, Tomas and Deisi Ramirez lived with their seven children and one grandchild in vulnerable conditions. The one-room building they called home was made of twigs and whatever materials were available and lacked clean running water and sanitation facilities – a common issue in the Dominican Republic where the need for decent housing exceeds 1,200,000 homes. Sixty percent of the housing deficit represents existing homes that are unsafe and are a health risk to the families that live in them due to constant dust and dirt, rodents and insects, and the absence of any sanitation facilities.
"Sixty percent of the housing deficit represents existing homes that are unsafe and are a health risk to the families that live in them."

Tomas and Deisi's family's living conditions were discovered by a concerned teacher who had sought out the family after their children, who do well in school, had been absent. When the teacher inquired about the absences she was informed that they were unable to attend classes because a leaky roof had soaked their mandatory school uniforms and the children had nothing to wear. From there, the teachers banded together and collectively agreed that they had to do something to help their students' family.

Community engagement is a critical element in Habitat builds
Community members and neighbours are often key partners in helping ensure the success of new Habitat home builds. Teachers in the family's local community of Hato del Padre in San Juan de la Maguana came together to raise the money necessary to purchase a plot of land for the family. Despite the teachers' generosity and effort, Tomas and Deisi's family, like many other families in San Juan and Azua (southern provinces of the country), did not earn enough for them to be able to take out a loan to build a decent home. In the Dominican Republic, the high cost of construction services and low family incomes are significant barriers to being able to afford to build or renovate homes.
The teachers approached the local priest, on behalf of Tomas and Deisi's family, to ask for his assistance in applying for a safe, decent Habitat home. The priest then worked with Habitat Dominican Republic's local partner Fundación de Desarrollo Azua, San Juan, Elías Piña, Inc. (FUNDASEP), to help Tomas and Deisi's family apply to become Habitat homeowners with the support of Habitat Canada's International Programs. FUNDASEP is a local not-for-profit organization with the purpose of supporting the social action of the Catholic Church in the Diocese of San Juan de la Maguana.
A safe space to call home
Through the local school and the local church under the Priest Santos Cabral, the community worked alongside Tomas and Deisi's family to empower them to improve their living conditions and help them build strength and independence through their new Habitat home.
"Our previous house was made of intertwined sticks and branches, and we lived very uncomfortably," said Habitat homeowner, Deisi. "Today, I thank Habitat and God. We feel very comfortable."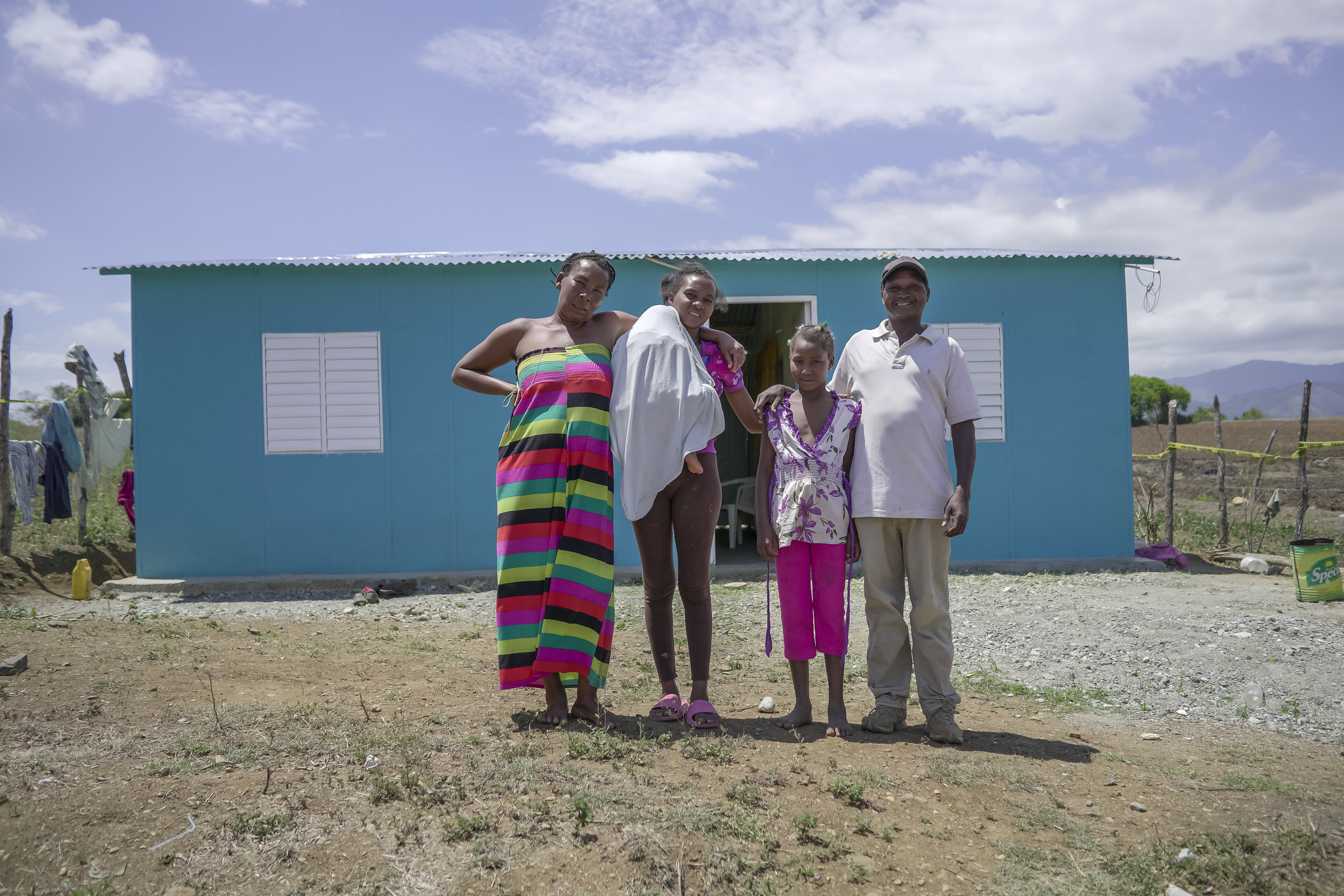 Tomas and Deisi's children now have a safe space to return to at the end of the school day. The parents are focused on a brighter future for themselves and their children, who are now attending school regularly and studying hard thanks in part to the new opportunities and stability that living in a Habitat home has given them.
Thanks to your generous donations, and our partnership with Habitat Dominican Republic, 36 families, including Tomas and Deisi's, will be living healthier lives in pre-fabricated Habitat homes through the Building it Together for San Juan Families project.