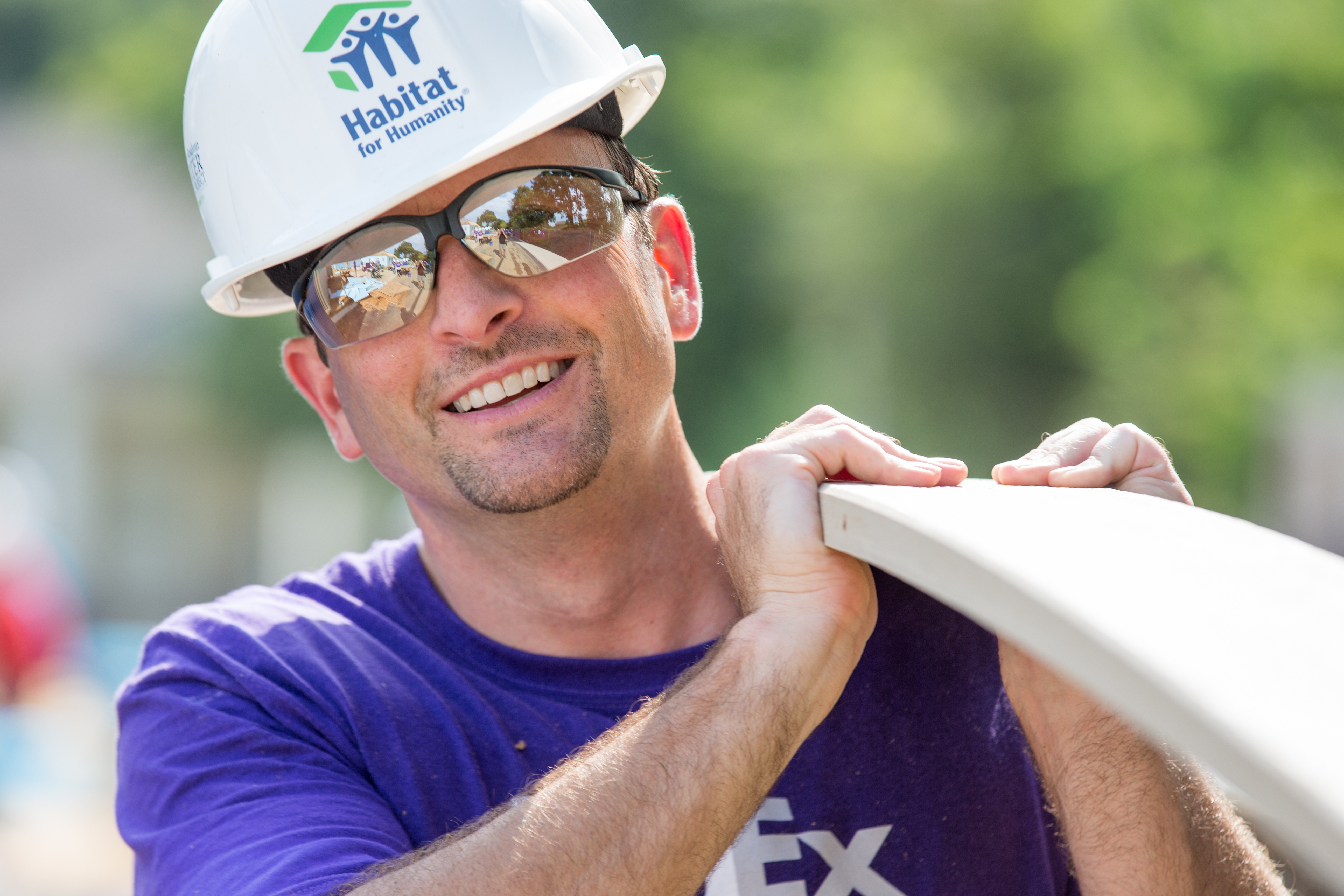 Is this volunteer experience for me?
Home construction

12 days

$2,500

Tropical climate

English/Filipino
Be a part of the journey
During this trip, you'll experience firsthand the effects a Habitat home can have on families in the Philippines. You can see how Habitat is serving families outside of the busy city of Manila and designing housing solutions for island communities that are often susceptible to fierce storms. On this trip, your team will construct a row house from concrete blocks in an existing Habitat community in Mindoro.
The Philippines, the third-largest English-speaking country in the world, has a rich history of Asian, European and American influences. During your downtime, you'll experience local cuisine, visit breathtaking sites and become immersed in the community and culture.
What will my week look like?
Along with building a new home for a family, you'll have time some free time to explore the country's culture.
Arrive in Manila (Ninoy Aquino International Airport)
Travel to Oriental Mindoro,welcome dinner
Typical housing solutions
Habitat for Humanity Zambia works on renovation and rehabilitation of existing houses, and new construction of houses. The standard house design is on average 24 - 46 m² and consist of approximately 3-4 rooms. For each Habitat house constructed; a pit latrine is also constructed and walls are made of either cement blocks. These houses are constructed under a program known as the Vulnerable groups housing project.
Typical volunteer tasks
Mixing mortar
Brick laying
Building walls
Moving material
Placing window frames
Breaking blocks
Compacting soil
Roofing
Painting
Habitat Individual Donation
The minimum individual donation to Habitat for this 9 day opportunity to build with Habitat Zambia is approximately $2595.00 (1) + excluding Air Transportation (2) + approximately $200.00 non-build day activity (3)*
(There may be costs related to passports, visa and immunizations etc., which are the responsibility of the volunteer and are not eligible for tax receipts)
*Costs for non-build days are approximate, and subject to change.
(1) The Habitat individual donation includes: daily living expenses (i.e. room & board) , traveler's medical insurance, orientation materials, and a donation to Habitat for Humanity Zambia and to Habitat for Humanity Canada Global Village. Habitat for Humanity Canada will issue a charitable donation tax receipt for this individual donation .
(2) Participants will need to independently arrange and pay for air transportation from their point of departure to Lusaka and must be done in consultation with the Team Leader. Habitat for Humanity Canada will issue a charitable donation tax receipt for the eligible airfare.
(3) Non-build days compromise of activities organized by the team leader where you will take some time to rest, acclimatize, and reflect on your experience in addition to discovering local customs and culture. Expenses for team-non build days including accommodations, meals and activities are not eligible for tax receipt and are paid separately by the team, not to Habitat for Humanity Canada as part of the donation.
Should volunteers need assistance with booking flights or non-build day activities, insurance or other services they may be interested in, please consider looking into industry registered travel agents within your local province.
There are additional travel costs such as passport and immunizations which the team leader will discuss with you. These costs are not tax deductible.
Meet your team leader: Alan Dickinson

I'm Alan Dickinson and along with Jane , my wife of 46 years, live in Ottawa. We have 2 grown children, a son who lives in Toronto and a daughter who lives in Ottawa and who also presented us with one amazing little granddaughter in 2010.

In 2011 I retired after 40 years in industry and quickly felt the pull to get more involved with global projects. I soon discovered the Global Village arm of Habitat for Humanity and I had my first Global Village experience in Cluj, Romania and just loved it. I have followed that with builds in Nepal (5) El Salvador, Thailand, Sri Lanka, Vietnam, Argentina, Philippines, P.E.I., New Zealand (2), India (2), Malawi , Carter Build in Winnipeg, Whitehorse and Chile with fifteen of them as the team leader.
Seeing what a small group of like-minded, motivated people can do in a relatively short period of time is truly amazing and I want to be part of more of it.
My main interests are family, kayaking, yoga, X-C skiing, reading and travelling.
I am very much looking forward to again be leading a Habitat for Humanity Global Village team, this time to Zambia and to making a positive difference in the local community.