Homeownership
Oct. 18, 2017
Steven and his children finally have a place to call their own
"When we walk in the front door and see all of our stuff — hopefully put back where it's supposed to be but inevitably on the floor from time-to-time —we'll know it's ours."

It wasn't until the first night in their new Habitat home, when Steven said goodnight, closed the doors to his son's and daughter's rooms, and began making his way down to the empty living room that it hit him — he and his kids officially have a place to call their own.
"It all happened so fast that it didn't actually seem real," he says. "For a long time I felt like I could wake up and it would all be gone."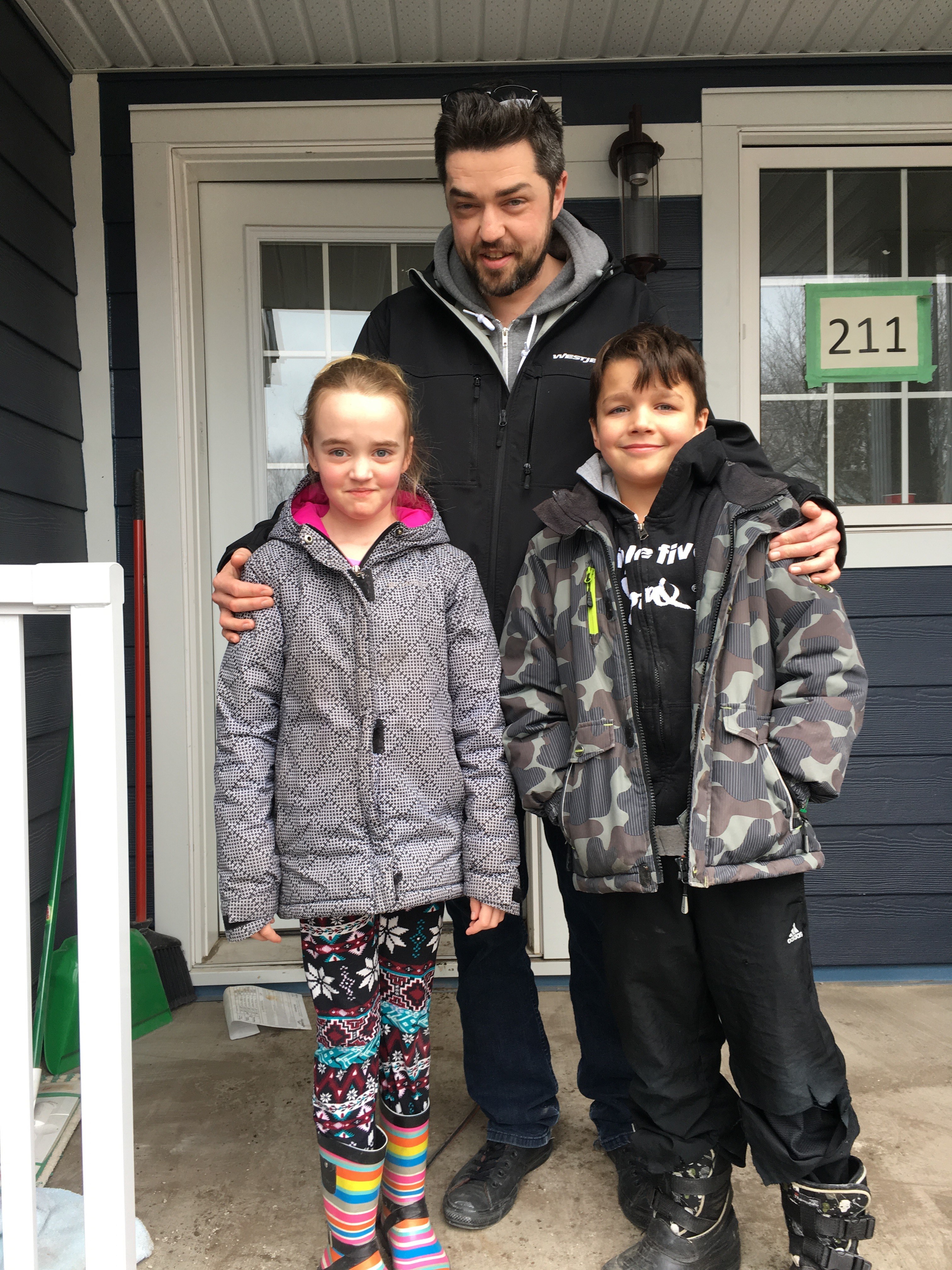 Before partnering with Habitat Huronia, Steven and his two kids, Tobio and Lily, were living at his mother and stepfather's house. The three of them had moved in nearly two years earlier, shortly after Steven and his wife separated. They weren't on their own long before Steven realized that he couldn't keep up with the bills himself, and his mother and stepfather agreed for them to move in. Unfortunately, with his two younger siblings still in the house, there wasn't a lot of room to spare.
"It's a small house to begin with," he says. "It definitely wasn't built for that many people."
When Steven's brother was away at college, they had a bit more space, and he and the two kids would take turns sleeping in his brother's room. Otherwise, all three of them shared one small room with a double-bed and bunk overhead. Not surprisingly, Steven says that sharing a single room with a nine-year-old and 10-year-old was stressful, and it could sometimes be tough to get a good night's sleep.
That small, single bedroom was the only space they had to themselves while living at his parents' house, which meant that many of their things were packed away in storage. Between that and having to ask before making plans or inviting other kids over, it was hard for them to feel settled and establish a routine of their own. Not having much space to themselves also left them feeling like guests, and with Tobio and Lily only a few short years away from becoming teenagers, the need to find a place where the three of them weren't forced to share a room continued to grow.
Searching for a decent and affordable place to live
Between working full-time, driving Lily to Girl Guides and attending Tobio's sports games, Steven used the little free time he had to start searching for a place of their own. He thought that if he could find an affordable duplex or split-level, which would allow him to rent out half of the house, he'd be able to keep up with the mortgage payments. Unfortunately, finding a decent and affordable place to live was tougher than he thought.
Not long into his search, he realized that no matter how much he was able to save while living with his parents, it would never be enough to buy a home.
"I was starting to feel like nothing was in my control, like I wasn't able to dictate my future," he says. Luckily, when Steven's stepfather saw his plans falling through, he mentioned an article he'd come across in their local paper about Habitat for Humanity. Steven admits that he didn't know much about the organization at the time, so he decided to do a bit of research.
"It was eye-opening to know that you're not just handed a house — you're still responsible for the same things anyone else is, Habitat is just putting it within your reach," he says.
In fact, Habitat sells houses to families for the fair market value of the home. After going through a stringent application process, successfully meeting all of the criteria, and committing to volunteering 500 hours with Habitat, families are provided with a zero-interest mortgage that requires no down-payment and is never more than 30 percent of the homeowners' gross income. This model breaks down some of the barriers to accessing traditional homeownership for low-income working families, which is exactly the "hand-up" that Steven needed to build a better life for himself and his children.
Accessing affordable homeownership through Habitat
Once Steven realized that a partnership with Habitat would not only give him and the kids more space to themselves, but a space they could call their own, he decided to apply. Then, just a few short months after completing the application process, he received the life-changing call from Habitat Huronia's family and volunteer coordinator telling him that he'd been selected to partner with them.
"I was a little emotional about it," says Steven, who was on his way to work when he received the call. "It was a huge relief."
He says he's feeling a lot more "in control" now that he's a Habitat homeowner, though deciding on furniture placement and paint colours is completely new to him and something he still needs to get used to. This is the first time he's had to make decisions like these as a single father, and he admits that it can be a bit daunting. Luckily, Tobio and Lily have been there to help.
"The kids had the idea to put the TV on the dining room wall — it sounded weird at first, but it really works," he says. "It opened the whole place up and makes our living space feel twice as big."
After living among other people's furniture and possessions for the past few years, Steven's looking forward to seeing more of himself and the kids when he looks around the house.
"When we walk in the front door and see all of our stuff — hopefully put back where it's supposed to be but inevitably on the floor from time-to-time — we'll know it's ours."