Local Build
Jun. 14, 2019
A solid foundation for a stronger future for Steven and his kids
To all the amazing dads that support our work, we want to wish you a Happy Father's Day! And to all the dads that might be spending their first, second or tenth Father's Day as a Habitat homeowner, a special Happy Father's Day. For single dad Steven, becoming a Habitat homeowner and buying his own home has had a life-changing impact on his family. If you'd like to help other dads like Steven become a Habitat homeowner, you can donate and contribute directly to building materials that are most needed to build a Habitat home.

For Steven, it's the simple things that make his new house feel like home. Being able to set his own routine – waking up in the morning and drinking his coffee and packing lunch for the kids while they eat their breakfast. Picking his kids up from their grandparents' house and coming home to make dinner and sit down as a family to chat about their day. Routine parts of their day that weren't always so routine when they had to share a house with Steven's parents and his younger siblings who were still living at home.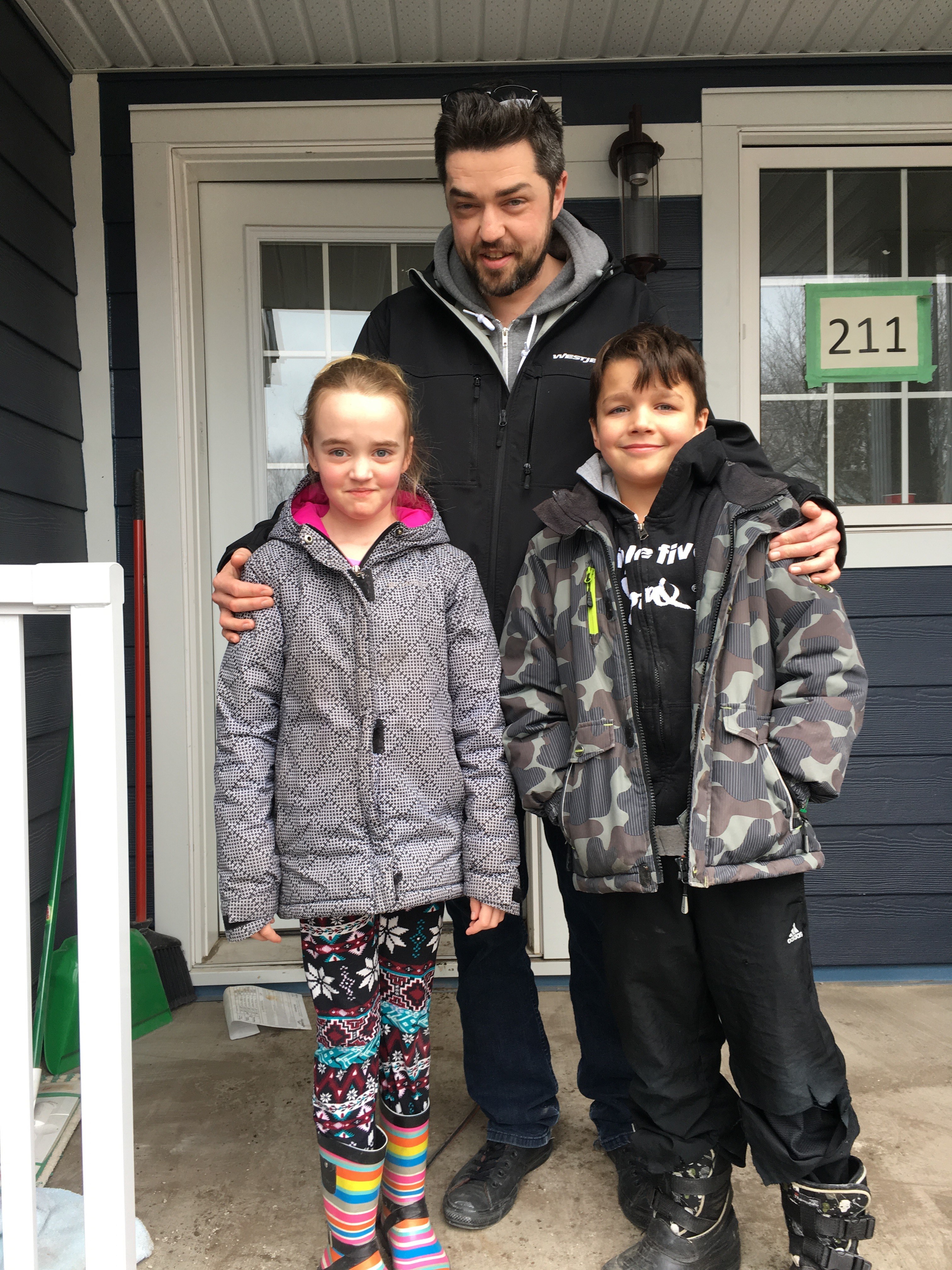 A Carter Work Project home
When we first shared Steven's story in 2017, he and his two kids, Lily, now 10 years old, and Tobio, 12 years old, had recently moved out of his parents' home, where they had all shared a bedroom, and into their new Habitat home where they each have their own bedrooms. Each having their own space to play or simply be alone, after sharing a crowded single bedroom for two years has been freeing, says Steven.

Their new home, a blue townhouse, is one of three Habitat homes that make up a triplex in Barrie, Ontario that were built by Habitat Huronia for the 2017 Jimmy and Rosalynn Carter Work Project. Living alongside other Habitat families has been great for the kids. It has given Lily and Tobio the opportunity to grow up alongside kids who are similar in age. "Whenever I hear the doorbell ring it's usually the little boy from next door asking if the kids can play," Steven laughs.

When asked what his favourite thing about his house is, Steven smiles. "I love everything about the house." He especially loves having a backyard where he can set up his hammock in the summertime and relax while the kids play.

Engaging in their community
Between playing in their yard with their neighbours, bicycling and playing catch in the park right around the corner, the family gets their fill of outdoor activity – something they share with many other Habitat homeowner families. According to a 2015 Boston Consulting Group study, Habitat homeowner families demonstrate higher activity levels than the average Canadian family and engage more in their communities. Steven's kids are also involved in extra-curricular activities, baseball and ball-hockey for Tobio and acro-dance for Lily who has also tried gymnastics and been involved in girl guides.

Building independence
Becoming a Habitat homeowner and moving into their new home , which is closer to work for Steven, has given him not only more time to volunteer and spend time with his kids, but also helped build his independence. It's allowed him to take advantage of more opportunities to give back to his community. As a coach for Tobio's baseball and ball-hockey teams, he gets to do both. "I wouldn't have been able to do that in previous years, or felt confident enough to try to do that. Now I find myself trying to volunteer to help out more often." While Tobio and Lily aren't quite at an age where they can be left on their own for extended periods of time, Steven hopes that in the next few years, when high school starts, he'll be able to take on even more responsibilities and develop a more prominent role in his job at the nearby hospital. Steven is also looking forward to the day that he can pay it forward for another family. "I like to keep the idea that I will do better for myself and be able to move onto something else and this house could help out another family."

For now, Steven, Lily and Tobio are grateful for the opportunity for growth and the chance to build strength and stability that their Habitat home has provided.

"We are just so thankful. I want people to know that having this house has made our lives work a lot better than they did before."

Click here to make a gift and send an e-card for Father's Day. Whether you're honouring your own father, your son who is now a father himself, or another great dad in your life, you can show how much you appreciate him by sending an ecard and letting him know essential materials have been donated in his name to help a family build strength and self-reliance. Something that is paramount for all fathers.