Five Habitat homes in five years: Bonnie's volunteer story
The last five years have been a wonderful whirlwind for Bonnie Guigon.
In 2013, Habitat for Humanity Prince Albert approached Duck Lake's town council with a proposal for a new housing project that would build five Habitat homes. As a town councillor for Duck Lake, Saskatchewan, Bonnie was immediately interested. "We're a small community of just 500 people, so any chance to get more homes and more families is very welcomed."
Bonnie was so interested, that she helped form the small town's first Habitat for Humanity chapter and took on the role of board chairperson. She has been deeply involved in nearly every aspect of the chapter, from attending and supporting family application meetings and leading fundraising efforts, to helping out on build sites and supporting families as they prepared for affordable homeownership.
That first council meeting was in February of 2013. By May, the Duck Lake chapter, part of Habitat Prince Albert, was up and running. By June, families were applying to buy their own Habitat home as part of Habitat's affordable homeownership program. By the summer, they had broken ground on the first of the five homes for the project.
Collaborating with First Nation communities
During the builds, the Duck Lake chapter had a unique relationship with the Beardy's and Okemasis First Nations/Corrections Canada-Willow Cree Healing Lodge, which is just outside of Duck Lake. Men from Willow Cree Healing Lodge were taught carpentry skills and then helped build each of the homes.
"I saw how important the program was for the men in the healing lodge. They were getting so much out of it," says Bonnie. "I think it gave them a sense of self-worth and pride, and for a lot of them, this was their last step before they go back in the community."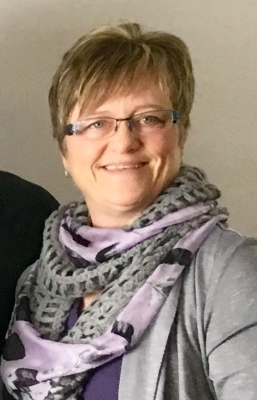 I wanted to build up other peoples' lives
Looking back, Bonnie is proud of what the chapter accomplished. She wants to continue volunteering with Habitat in the future, whether that's helping other communities start their own chapters or working with families, which was her favourite part.
"When you bring a family the letter that says they've been chosen, it's really emotional. Lots of the families never thought they'd be able to own their own homes and to be able to help them do that was so gratifying," Bonnie says.
"In the beginning, I wanted to get involved with Habitat because I wanted to build more homes in the community. In the end, I wanted to build up other peoples' lives."