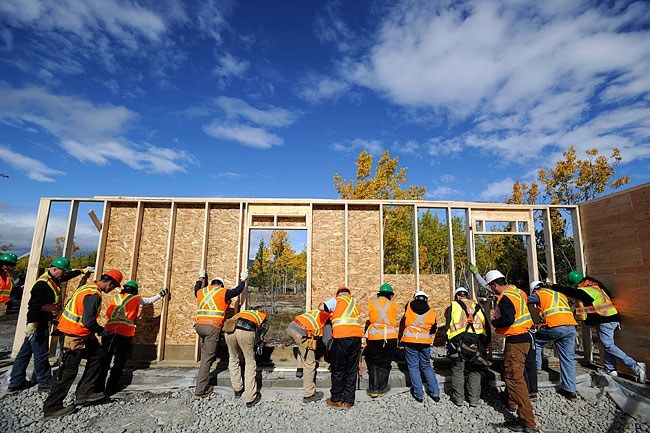 Is this build opportunity for me?
Home construction

Warm

July 18 - 25

English

~$1,680 + air transportation
The Yukon has a population of around 40,000 people, most of whom live in Whitehorse. Indigenous people account for one-quarter of the population in the Yukon. The vacancy rate for all types of units as of April 2018 was 3.4 percent, up from 2.8 percent in October of 2017 according to the most recent report released by the Yukon Bureau of Statistics. According to the same report, if you're looking for a one-bedroom apartment, the vacancy rate drops to just 1.9 percent. Renters can expect to pay around $950 a month before utilities.
Scarcity aside, the sheer cost of what is available on the market is an impediment to housing for many families, as affordability is skewed by the high number of government workers in the territory, which makes up 41.3 percent of the entire workforce. The average worker employed by the Yukon government makes $81,000 a year. By contrast, at $11.51 an hour the Yukon has the lowest minimum wage among the territories.
Habitat for Humanity Yukon recently commenced their most ambitious construction project in their history. Over the next 2-3 years, they will build eight new, safe, decent, and affordable homes for families living in the Yukon. Construction has begun at 18 Bailey Place in the Whistle Bend subdivision. The project consists of 2 4-plexes. Each 4-plex will have 1 - 2 bedroom home, 2 - 3 bedroom homes and a 4-bedroom home.
Habitat for Humanity Yukon
Habitat for Humanity Yukon was given official affiliate status in September 2004. To-date, Habitat Yukon has completed homes at the following locations: Kodiak Place (1 unit, completed November 2006); Keewenaw Drive (2 units, completed July 2010); Wheeler Street (3 units, completed February 2011), Pintail Place (3 units, completed February 2013), Bailey Place (2 units, completed September 2014), Takhini River (3 units, completed November 2014), Eldorado Road (2 units, completed January 2016) and Iskoot crescent (2 units, completed in May 2017).

Habitat building or in-country schedule
Cultural day and welcome orientation
Day 3-6: Monday, July 20 - Thursday, July 23
Final build day and farewell
(The above itinerary may be subject to changes)
Habitat individual donation
The Habitat individual donation for this 8 day opportunity to build with Habitat Yukon is approximately
$1,680 (1) + air transportation (2)
(1) The Habitat individual donation covers all costs associated with hosting volunteers on the project site as well as support to the project and programs of the local Habitat for Humanity organization: room and board, orientation materials, transportation, traveler's medical insurance, and a donation to Habitat Yukon and to Habitat for Humanity Canada Global Village programs. Habitat for Humanity Canada will issue a charitable donation tax receipt for this individual donation.
(2) Participants will need to independently arrange and pay for air transportation from their point of departure to Whitehorse and must be done in consultation with the team leader. Habitat for Humanity Canada will issue a charitable donation tax receipt for the eligible airfare.
Meet your team leader: Ken Caissie

Hello, I'm Ken Caissie and I live in Slave Lake, Alberta. This will be my 14th Global Village build (fifth as a Team Leader) since 2007. Ever since I was on a 2014 build in Whitehorse, I've wanted to return. I am excited to be going back as part of this build. The Yukon is another beautiful part of Canada everyone should visit at least once. If you want to help a family achieve home ownership while immersing yourself in northern culture this build is definitely be for you!
Please feel free to contact me at kcgvteam@outlook.com if you would like to learn more about this trip or apply now using our on-line application!