Is this build opportunity for me?
Community centre rehabilitation

Warm

July 18 - 26

Hungarian

~$2,210 + air transportation + ~$250*
Habitat for Humanity Romania has three main programs: HAB (Healthy and Accessible Buildings), DRRR (Disaster Risk Reduction and Response) and advocacy, which aims to influence policy through improved housing solutions that positively impacts communities and socio-economic sectors nationwide. The team will work alongside Habitat Romania and the community to rehabilitate several existing homes in the community to transform them into multi-use community space.
Habitat for Humanity Romania
Habitat for Humanity Romania started in 1996 in a small town situated in the north-west part of the country. Now, Habitat Romania has projects in several part of the country, and is the biggest Romanian NGO focused on eliminating poverty and providing safe, decent, and affordable housing as a basic human right.
The housing situation in Romania is one of the most difficult in the European Union.
5.5 million people are in need of home renovations.
Over 58% of the population is living in overcrowded conditions, compared to an EU average of 17.8%.
42.5% of the population is living in houses without a bath and toilet with running water.
Habitat Romania has 88,500 beneficiaries, built or renovated more than 2,000 homes, and constructed 600 new homes under the following program areas: new home construction, renovation/rehabilitation, technical assistance and support, disaster response and prevention, energy efficiency and financial education training, and community projects.
Specifically, in the village, there are 12 active family homes (each hosting a social family consisting of 6-7 children), which have been previously rehabilitated as part of the "Everything Starts at Home!" program carried out by Habitat for Humanity Romania. In addition to the 12 family homes there are another 6 buildings, 2 of which serve an administrative role and a third, is out of use due to safety reasons. By rehabilitating the Children's Club, House 5 and House 7, which involves not only replacing parts of the roof, thermal insulating the facades and the roof, upgrading the heating system, but also changes to the layout in accordance with the new use of the buildings (previously homes, used since 1993). Through the renovation much needed new functional, healthy and energy-efficient spaces will be created which will host social and educational activities for over 400 children and parents from the SOS Children's Villages community.
Habitat building or in-country schedule
Cultural day and welcome orientation
Day 3-6: Monday, July 20 - Thursday, July 23
Final build day and farewell
(The above itinerary may be subject to changes)
Habitat individual donation
The Habitat individual donation for this 9 day opportunity to build with Habitat Romania is approximately
$2,210 (1) + air transportation (2) + $250* non-build activities (3)
(There are additional costs such as passport, visa and immunizations which the team leader will discuss with you. These costs are not tax receipted)

(1) The Habitat individual donation covers all costs associated with hosting volunteers on the project site as well as support to the project and programs of the local Habitat for Humanity organization: room and board, ground transportation to and from the build site, orientation materials, transportation, traveler's medical insurance, and a donation to Habitat Romania and to Habitat for Humanity Canada Global Village programs. Habitat for Humanity Canada will issue a charitable donation tax receipt for this individual donation.
(2) Participants will need to independently arrange and pay for air transportation from their point of departure to Bucharest and must be done in consultation with the team leader. Habitat for Humanity Canada will issue a charitable donation tax receipt for the eligible airfare.
(3) The costs of any debrief activities will be determined by the team leader, not eligible for a tax receipt and are not paid to Habitat for Humanity Canada.
*Costs for non-build days are approximate, and subject to change.

Team Leader: Sophia Chaudhery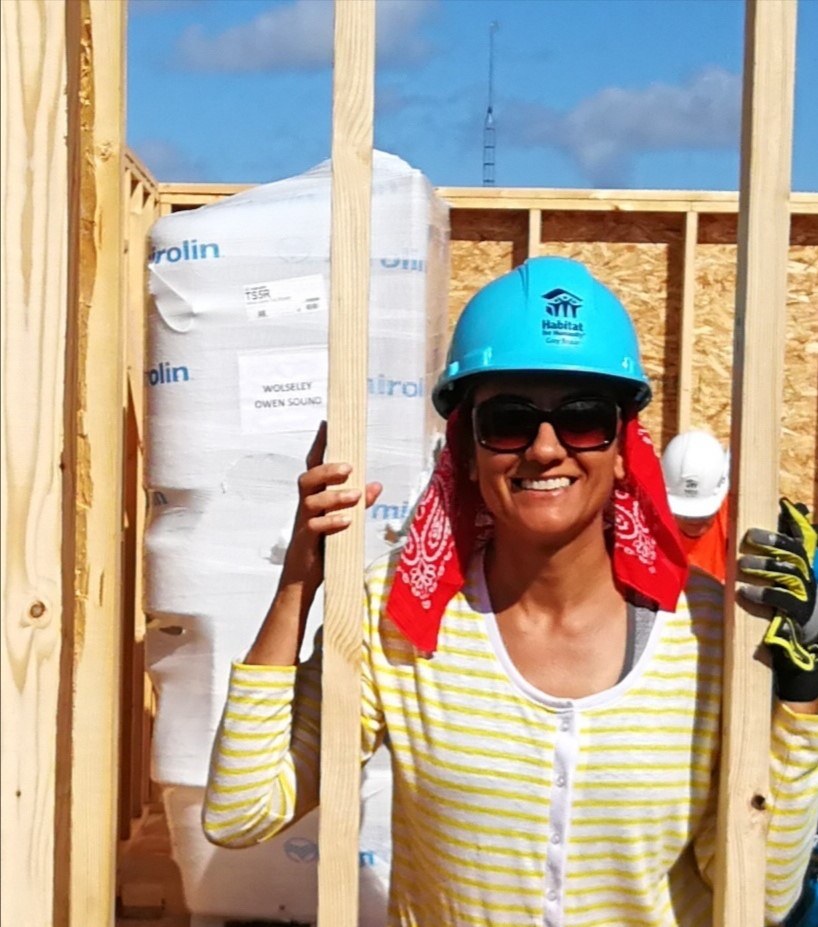 Hi my name is Sophia and I'm very excited to be leading a team to Romania this summer! I've done quite a bit of travelling over the years and love the idea of travelling for purpose. Habitat is a great way to experience something new and help others in need of affordable housing. I participated in my first Habitat project to Jordan some years ago and was inspired to continue on the Habitat journey. I've had the opportunity to be team leader on builds within Canada (Grande Prairie, Whitehorse, Iqaluit and Grey Bruce), and overseas (Hawaii, Jordan, Cambodia and Chile). I am hoping this experience will be motivational and impactful for everyone involved and I hope you will join me on this European build.
Please feel free to contact me at sophiah4h@hotmail.com if you would like to learn more about this build or apply now using our on-line application!