Is this build opportunity for me?
Home construction

Warm

August 22 - 29

English

~$1,895 + air transportation
Buying a house in New Brunswick is a lot more affordable compared with the rest of Canada, but families living in Fredericton still face a lot of obstacles. In 2018, the provincial and federal governments signed a 10-year housing agreement that would invest nearly $300 million to protect, renew and expand social and community housing, and support the provincial government's priorities related to housing repair, construction and affordability.
The agreement committed both governments to higher standards of public engagement and housing quality, including improved energy efficiency and accessibility. It also acknowledges the important of prioritizing people most in need, incorporating a human rights-based approach to housing, and applying a gender lens to all investments.
As a result, these commitments and priority areas have helped shape and inform Habitat for Humanity Fredericton's focuses. It is only through the generous support of tremendous partners, donors and volunteers that we are able to build homes - and build hope - for families who otherwise would not have a home of their own.
For Angela, a partner family since 2014 her Habitat home is so much more than a home: "we didn't just get a home. We got a fresh start, a new beginning, a sense of freedom. I am happier, less stressed, more confident. I love our home, our community and I like the person I am becoming. I am so grateful."
Habitat for Humanity Fredericton
Habitat for Humanity Fredericton Area is a nonprofit charitable organization working towards a world where everyone has a safe and decent place to live.
Habitat for Humanity brings communities together to help families build strength, stability and independence through affordable homeownership.
To date, the local Habitat has provided housing to 37 families throughout the region - 15 of those families within the past two year.
Habitat Fredericton serves the Fredericton areas, western and northern New Brunswick.
Habitat building or in-country schedule
Day 1: Saturday, August 22
Cultural day and welcome orientation
Day 3-6: Monday, August 24 - Thursday, August 27
Final build days and farewell
Day 8: Saturday, August 29
(The above itinerary may be subject to changes)
Habitat individual donation
The Habitat individual donation for this 8 day opportunity to build with Habitat Fredericton is approximately
$1,895 (1) + air transportation (2)
(1) The Habitat individual donation covers all costs associated with hosting volunteers on the project site as well as support to the project and programs of the local Habitat for Humanity organization: room and board, orientation materials, transportation, traveler's medical insurance, and a donation to Habitat Fredericton and to Habitat for Humanity Canada Global Village programs. Habitat for Humanity Canada will issue a charitable donation tax receipt for this individual donation.
(2) Participants will need to independently arrange and pay for air transportation from their point of departure to Fredericton and must be done in consultation with the team leader. Habitat for Humanity Canada will issue a charitable donation tax receipt for the eligible airfare.
Meet your team leader: Sheila Wells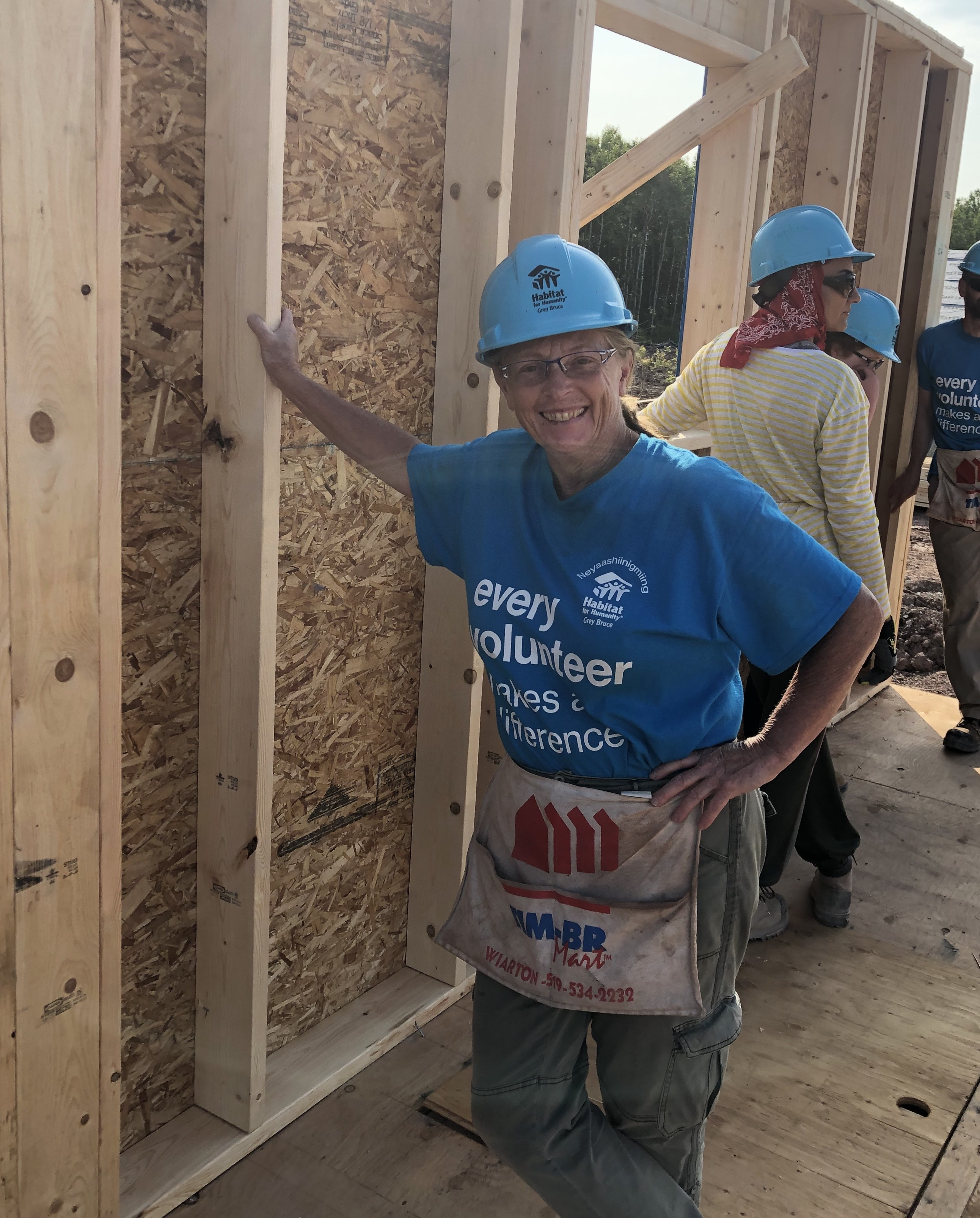 Hi, my name is Sheila and I live in Northwest British Columbia. As a retired teacher/principal with a plethora of passions (some still emerging), I am always ready for a new learning adventure. Any time I can combine travel, culture, food, woodwork, history, exercise and building I am happy!
My first Habitat build in March 2017 to Hawaii hooked me and I have since build in Iqaluit, Jordan, Cambodia, Chile and Grey Bruce. Having the opportunity to lead my first team to Fredericton is very exciting.
Why not volunteer and travel with the purpose of contributing to making a positive impact for a family/community? Bring your own "tool kit" of an open-mind, sense of humour, flexibility, willingness to get dirty and teamwork to this build. You will meet new friends, and form lasting memories during this enriching experience.
Please feel free to contact me at sheilamwells54@gmail.com if you would like to learn more about this build, or apply now using our on-line application!