Meet your Crunch Canada Health and Wellness Break Instructors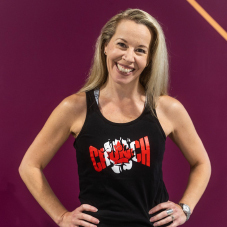 Katz Foley
With a strong passion for fitness, wellness, and kindness for others, Katz is in her eleventh year with our organization and has more than 13 years experience in the Canadian fitness industry as a Group Fitness Instructor, Functional Training Coach, and Group Exercise Regional Manager.
Since 2017 and as our National Director of Group Fitness, she has helped Crunch Canada with our group fitness management, program development, and our training & education components of more than 350 instructors, a leadership team of 25 members, and our under 30 clubs across the country in three provinces – Alberta, Ontario & Québec. Katz continues to lead the way with day-to-day operations of our exclusive programming in the Main Studio, The Ride Studio & the HIITZone/Small Group Training Ground for all of our corporate and franchise clubs. Recently and during COVID-19, she was instrumental in launching our virtual Live Unfiltered class platform which to date has 105K views and over 85 videos in our library. She wholeheartedly and truly embodies our company philosophy of "Fiercely Fun Fitness".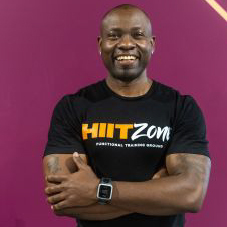 Antonio Fongang
Antonio has been with our organization for more than 8 years now and has primarily worked out of our Crunch Waterloo location. Within our Crunch FitFam, he is a Group Fitness Instructor, a HIITZone Coach, a Master Trainer for our educational platform, and one of our elite instructors for our virtual classes.
He dove into the fitness industry because as a former professional soccer player and with his background in pharmacy as a healthcare provider, time and time again, he was reminded of the positive effects exercise has on his own physical and psychological well-being, and his appreciation for what our bodies and minds can achieve.
As a bilingual Coach and Master Trainer with Crunch Canada, Antonio wants to inspire, motivate and support the will inside every participant to achieve a permanent lifestyle through exercise, healthy nutrition, and to consistently exceed their own expectations about what they can achieve.
Antonio loves the world of Group Fitness because of the high energy that he can share with all his participants, its state of comradery, and the sense of community it brings. His favourite classes to teach are all of our HIITZone functional training formats that Crunch Fitness exclusively has to offer. It's our own adult playground!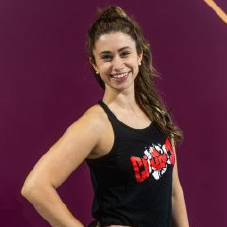 Chelsea Jenish
Chelsea began her fitness journey training as a ballet dancer from a very young age and continued her education, receiving a Bachelor of Fine arts in Performance Dance & Acting with Ryerson University. She has performed across Canada & the United States and continued to teach young athletes the techniques of ballet, strength training, and conditioning. Her love for dance soon transitioned into a strong passion for health and fitness.
Chelsea has been a certified Group Fitness Instructor and Personal Trainer with the National Academy of Sports Medicine for 5 years and has been with Crunch Canada for more than 3. During her time with Crunch, Chelsea has trained to become one of our Master Trainers and has educated over 250 instructors across Canada. She has managed and organized several Group Fitness programs within various locations and is now responsible for all of our National Group Fitness Community Events & Social Media. Namely, she coordinated our first ever pan-Canadian Terry Fox 5 KM Walk & Run with more than 500 participants, our Bell Let's Talk virtual event with our partner, POUND Fitness, with under 100 participants, and launched our Live Unfiltered virtual classes with more than 105K views & 85 videos to date.
Chelsea continues to teach nationally & internationally as one of our Elite Instructors and has a vast knowledge for the Crunch Fitness proprietary programming. She enjoys motivating and inspiring her participants to find the confidence and drive to reach their goals. "Remember we all need to start somewhere. So, start where you are, use what you have, do what you can, and most importantly HAVE FUN!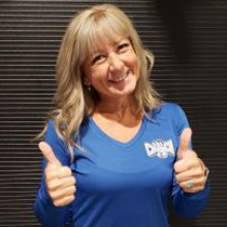 Carole Harinen
Carole has always lived an active lifestyle, participating in sports all of her life. She transitioned into fitness after a career as a flight attendant and studying computer science by teaching Zumba on her "down time". Carole started teaching Zumba in 2011 and it changed her life! She left her existing world behind, and became a full-time Group Fitness Instructor and Canfitpro Personal Trainer. Since then Carole has obtained many other certifications such as Body Weight Specialists, TRX Trainer, Bosu Certified Trainer, PiYo, Piloxing, Insanity, and many more as she also continues to expand her education with Crunch Canada.
Carole joined her new fitness family of Crunch Boisbriand, just before it's opening in February 2020. This was our 1st location in the rapidly growing Montréal North-Shore Region. She has been such an integral part of building this new team as well as kicking off their hugely successful Group Fitness program. She continuously left us in awe with her drive and creativity by putting together a launch schedule of more than 55 hours of weekly programming where all of the classes were filled.
Over and beyond this, she reached out to local community organizations and partners such as the local chamber of commerce and various restaurants. One of her initial successes was a parking lot party with over 100 members participating safely & socially spaced in a wide variety of Crunch proprietary Group Fitness programming. Through COVID-19's lockdowns, Carole continued to teach amazing virtual classes and organized a vast virtual platform for her Québec team.
Even after a short year with us, Carole was the recipient of Crunch Canada's 2020 Group Fitness Coordinator Award which she received in front of over 1,000+ instructors during our Global Virtual Convention. Bravo et félicatations, Carole!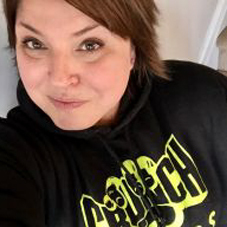 Maggie Moniz
Maggie first became a Group Fitness Instructor to hold herself accountable so that she didn't miss a gym day, but she has come to understand and love that it is so much more than that. She calls Crunch her family and believes that when you sweat together you stay together! Maggie is a licensed Zumba, Strong Nation & TRX Instructor. She also teaches many, many more of our Crunch Canada proprietary formats. She was recently certified to become one of our HIITZone Functional Training Coaches and loves to spread her contagious energy with all of her participants up and down the turf!
Since the lockdown, Maggie has helped maintain and grow our Crunch Community by teaching virtual classes on our Live Unfiltered platform. Maggie also participated in our Zumba Boxing Day Pajama Jam with over 75 participants from across Canada and the United States.
Maggie has been with Habitat for Humanity for nearly three years - first with the Wellington Dufferin Guelph Region and just prior to the COVID-19 lockdown she continued her journey with the Waterloo Region. In previous years, she helped to warm up the Habitat for Humanity teams of Guelph as they prepared for a day on the build site.
Maggie truly believes that the secret to life is finding what you love and doing it!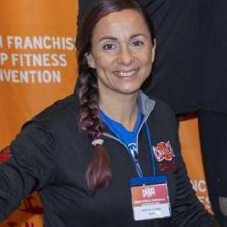 Chantal Palmer
Having just won our 2020 Crunch Group Fitness Leadership Award, Chantal is an extremely valuable asset to our organization having been with us for over 12 years. Joining Crunch Canada after a successful career in health as a registered massage therapist, she possesses a unique mix of operational, administrative & membership knowledge.
Additionally, she has extensive regional & club management experience as an Elite Crunch Group Fitness Instructor and Regional Group Fitness Manager. She is trained and licensed in Zumba, Zumba Toning, Zumba Kids, and POUND Fitness.
Currently responsible for our GF Department's operations and administration, Chantal is focused on ensuring that all of our corporate & franchise clubs meet data & reporting tracking, training & onboarding requirements, payroll submission, online reservations system implementation, continued education credits, and schedule management. Most importantly, Chantal is the Queen of body rolls as she slays them during our kickA@$ dance classes.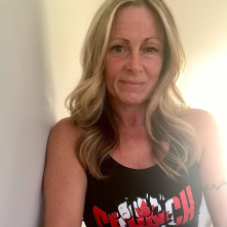 Jenny Rowland
Jenny entered the fitness industry over 29 years ago as a Customer Service representative at a local all women's fitness centre. Very quickly she developed a strong passion and love for helping people get started on a positive, healthy journey. She also developed a true calling of leadership through Group Fitness. Throughout the years she has been certified as a Group Fitness, Group Cycling and Yoga Instructor. Jenny is one of our elite instructors and has a diverse knowledge in programming for her sold out HIITZone, Ride and Group Fitness classes. Over the years, Jenny has assisted our Education Team by training over 100 instructors in our exclusive Ride programming at the Live Crunch Canada Group Fitness Conventions. Since COVID-19 Jenny has grown a large virtual following on our Crunch Live Unfiltered platform with videos over 1.5k views in multiple formats.

Group Fitness provided the confidence she needed to take on other key Management roles within a fitness centre. Currently, she is the General Manager of our Crunch Cambridge location. Her honest approach to helping others live their best lives has also helped her develop strong, confident, committed and caring staff. Developing and empowering staff to be the best advocates for the importance of health and fitness has brought a new found joy into her life. Finding a work/life balance has become extremely important and beneficial as well. "I want to make sure all my staff and members are happy when they are with us. I never lose track that I am surrounded by good people that simply want to feel great everyday".